Making space for trans remembrance, resistance and resilience
Families, activists and advocates gather at Simmons University to honor trans lives lost this year and advocate for better safety for trans and queer people of color.
Content warning: The following articles makes mention of transphobic and intimate partner violence. 
On Saturday afternoon, a vigil was held in honor of Transgender Day of Remembrance at Simmons University. The event was organized by Trans Resistance, a Boston-based trans-and-community-led organization that advocates for the safety and wellbeing of trans and queer people of color. 
"We're taking space in honor of those we've lost," said Julia Golden, a Latinx non-binary member of the Trans Resistance board who spoke at the vigil. 
Transgender Day of Remembrance (TDOR) began in Boston in 1999. Transgender advocate Gwendolyn Ann Smith started it to commemorate Rita Hester, a Black transgender woman murdered in 1998. She was 34. Two decades later, TDOR has grown into a global movement, observed annually on Nov.20th. 
At the Trans Resistance vigil, attendees held a moment of silence after Nich McCaskill read the list of names for 2021. So far, at least 47 people have been killed, the highest number on record since the Human Rights Campaign began keeping track of fatal violence against the trans and gender-nonconforming community in 2013.
"[TDOR] is a heavy day; but for so many people … in the community, every day is a heavy day," said Tre'Andre Calentine, the executive director of Massachusetts Transgender Political Coalition (MTPC).
"For a very long time, it was focused on how people died. I think that just brought on even more trauma to the community," said Valentine. "What has been shifting is to celebrate and remember people as they were, how they lived and celebrate them."
This sentiment has been reflected in the work of many transgender advocates like Golden, a Black, gender non-conforming, trans-femme artist and activist. On Nov. 16, Golden led a community conversation on the legacy of Rita Hester as part of the Globe's "A Beautiful Resistance" series. Golden also hosted a virtual event dedicated to TDOR on Nov. 18, continuing the virtual series WE BEEN HERE, which they started in April 2020. WE BEEN HERE created a space for transgender people of color to be themselves and express themselves through poetry.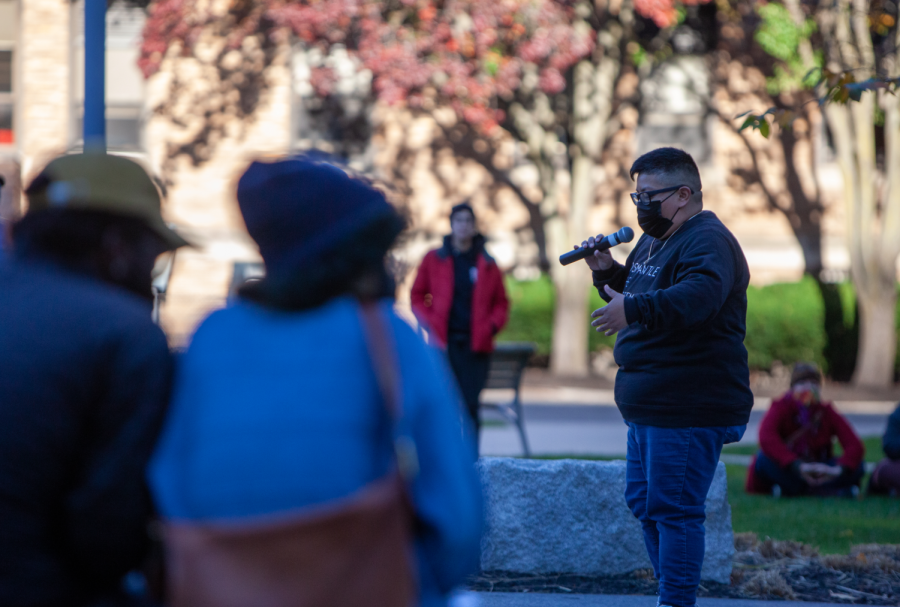 Last year, Golden also proposed a mural to honor the life and legacy of Rita Hester. The city of Boston is currently taking submissions of ideas for the mural, with priority given to artists with ties to the trans and nonbinary communities and communities of color. 
Saturday's vigil also included a tribute to Jahaira DeAlto, a leader in the advocacy, ballroom and LGBTQ+ communities. DeAlto had cared for survivors of abuse as an intimate partner violence and sexual assault counselor at the Elizabeth Freeman Center in Pittsfield. She was working in her home neighborhood of Dorchester as a Safelink coordinator at Casa Myrna, which provides shelter and support to survivors of domestic abuse. At the time of her passing, she was working towards her master's in social work at Simmons University. 
"Jahaira was someone who you shouldn't have took for granted," said De'Zyre Cassadine Lewis, for whom DeAlto was a mother figure. "It's sad that she passed doing something that she loved, and that was taking care of people."
On May 2, DeAlto was murdered in her home along with 28-year-old Fatima Yasin. DeAlto had opened her home to Yasin and her two children, along with Yasin's husband, Marcus Chavis, who is charged with the two counts of murder.  
DeAlto left behind an extensive family whose bonds were forged in love and shared resilience. She was a a maternal figure to several gay children and legend in the local House of Balenciaga, a chosen family that performs the art of drag, runway and dance as a celebration of queer culture and subversion of gender norms.
"I'm so grateful that I was able to share space with somebody like that," said Patrick Michael, one of DeAlto's gay children. "Jahaira was truly a once-in-a-lifetime person." 
Michael met DeAlto at the age of 18 at a time in their life where they lacked direction and guidance.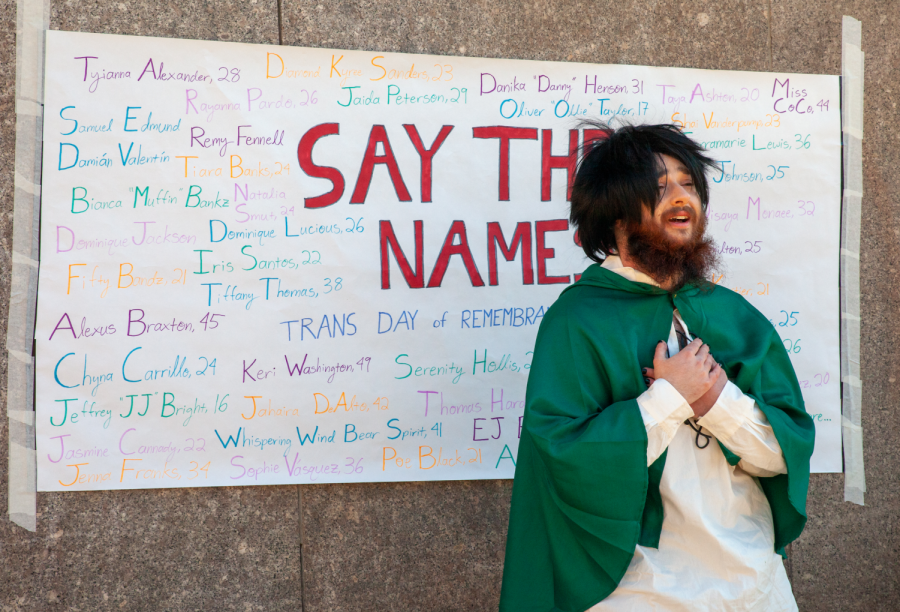 "For 12 and a half years, [she] claimed me as her daughter and I claimed her as my mother, and she showed me the ins and outs of ballroom, the gay life, all the stuff that they don't necessarily give you a handbook on," he said.
"Jahaira just taught us all how to shine in our own way; she showed us what it meant to be a real woman," said Lewis, another of DeAlto's gay children.
Lewis, now 35 and running a health center, also met DeAlto at a crucial time in her life when she was only 16. DeAlto encouraged her to pursue her education and was there to talk her into participating in her first drag show. 
"Jahaira believed in us, and because she believed in us, we started to believe in ourselves," said Lewis. "I never thought I would be a Black trans woman who wasn't afraid to live in this world … but I had an example. I had a mother and a role model who led by example."
In April 2019, DeAlto was awarded the Special Recognition Award by the Massachusetts Office of Victim Assistance for Victim Rights Month. In her keynote speech, DeAlto spoke about her work as a mentor, advocate and living example of an empowered transgender woman of color. 
"Mine is the story of a person who lost hope, and a person who found hope, and then a person who became hope," said DeAlto."By whatever means that you do the work that you do, you are serving as a possibility model, and it is through you that somebody can be inspired to be greater than where they are now."
DeAlto also spoke to the trends of violence against the transgender community throughout her life. She was a close friend of Rita Hester and not only spoke when Hester was killedbut continued to honor her and demand change for the rest of her life. 
"For her to have started and have gone out almost in the same way is unbelievably cruel," said Michael. "The work is never done, you know, and the needle has not been moved far enough."
Charlese Horton, another trans activist, also personally knew DeAlto and spoke Saturday about their fight against discrimination. Horton said that as one of the first openly transgender women to attend high school in Boston, she had to push for social change in the face of constant threats of violence.
"I took the bullets. I took the spit. I took the desks being thrown. I took the rocks, you know, and I'm happy that I did because I paved the way for those after me," said Horton.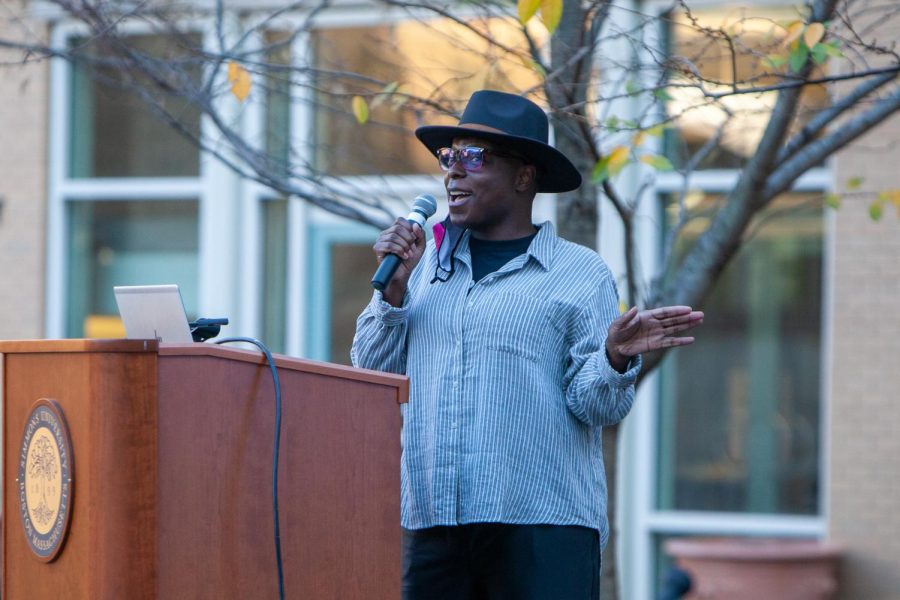 Horton is a mutual aid and reentry coordinator at Black and Pink Massachusetts and one of the founders of Boston GLASS. Both organizations support members of the queer, trans, nonbinary and Black, Indigenous and Latinx communities who are at disproportionate risk of incarceration, homelessness and mental health crises.
Horton also took the time to recognize other local victims of transphobic violence, including her mother Lisa Daniels and twins Gabriel and Chanel Roman Pickett. 
Transgender Day of Remembrance is not just about honoring those the community has lost, although that is certainly an important part. It is also about celebrating the beauty of the transgender community and inspiring change to protect those in it. 
"When we see like the underdog, or we see people that are really struggling, I think everybody needs to pull out more for these people," said Michael. They pointed to the continued struggles many at the intersection of gender nonconformity and other marginalized identities encounter in their daily lives.
"We really need to address mental health issues among our communities and quality health care because [DeAlto's loss] could have been prevented," said Lewis.
Although there is hope in Massachusetts' adoption of new laws protecting trans rights in public spaces, advocates say the work is not over. Valentine said the way forward needs to be paved by the trans and non-binary activists dedicated to raising awareness and funds to help their community. Allies can look to trans-led organizations that lobby for political change for guidance on how to lobby for more protections for trans Americans.
In their closing speech, Julia Golden spoke about the need for more people to lift up the transgender community as they fight for the right to survive and live in this world. "Hope is not a plan. We have to think about the action we're going to take," they said. "How do you individually make a difference each and every day?" 
Colette Pollauf contributed to this story.