Walsh delivers likely final State of the City address, says "our city is deep down Boston strong"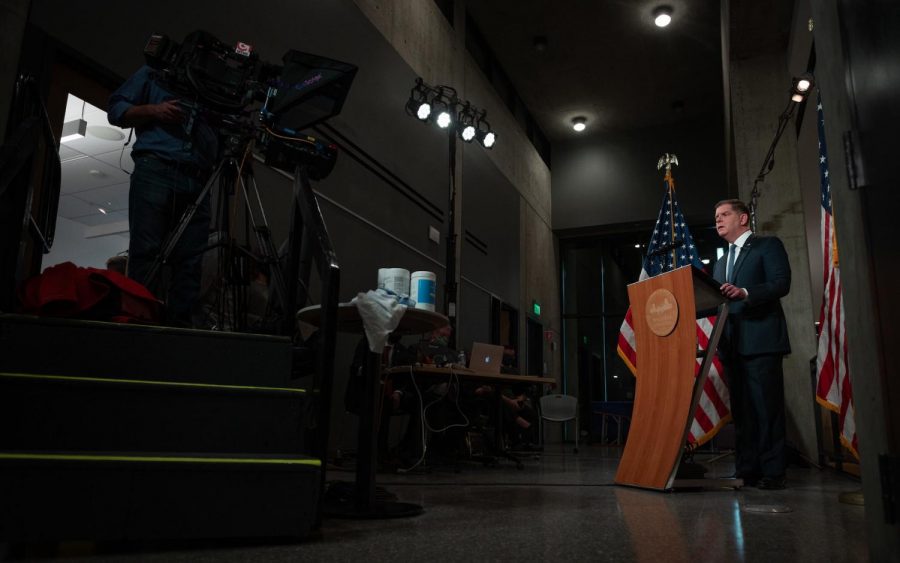 On Jan. 12, Mayor Marty Walsh addressed the city likely for the final time during his 7-year tenure as mayor in the 2021 State of the City address. Recently tapped for a position in the Biden-Harris administration, Walsh will serve as the incoming labor secretary if confirmed by Congress, and City Council President Kim Janey will step in as acting mayor. 
"I'm not going to Washington alone," Walsh said. "I'm bringing Boston with me. The city is not just my hometown, it's my heart."
Walsh's likely final State of the City address was given from the Boston Public Library's recently renovated Roxbury location, the reopening of which represented a major success for the city in 2020 despite difficulties presented by the pandemic. 
Walsh's address focused heavily on the toll that COVID-19 has taken on the city, but emphasized the robust response that represents Boston's community values, mentioning the expansion of social services across the city to meet residents' needs, including housing vouchers, food distribution, and technological access for students. These successes, the mayor said, represent the strong sense of community that Bostonians must continue to embrace during the final months of this pandemic.
Walsh spoke also of the Black Lives Matter movement and emphasized the need for lasting, generational change in the community. The city, he said, recognized racism as a public health crisis and has created government oversight offices to improve police accountability and transparency, but this work will continue to be a city priority in 2021. 
"I'm proud of the work we've done in Boston," Walsh said of the fight for racial justice in Boston. "But doing better than before isn't enough."
Rebuilding Boston's economy with a focus on economic justice and climate change is another priority in 2021, Walsh said, Boston will remain committed to its responsibilities under the Paris Agreement and continue to invest in green energy for the community, green jobs, and infrastructure that will improve flooding and air quality. 
"The state of our city is deep down Boston strong," the mayor said. "Boston has been knocked down before, and we always get back up."