The balancing act of reopening Boston Public Schools
When Shirley Jones Luke heard that the Boston Public Schools were transitioning back to remote learning on Oct. 22, she was relieved. 
A teacher at John W. McCormack Middle School and a breast cancer survivor, Luke said her doctors strongly advised that she teach from home. Prior to Boston's return to remote learning in late October, Luke was required to teach from her classroom in Dorchester but limited her contact with others to a small number of students from a distance.
The rising COVID-19 positivity rate in Dorchester, which, as of Dec. 13 sits at 12.1%, makes her concerned that she may be required to return to the classroom amid a rapidly worsening public health crisis if Boston Public Schools (BPS) decides to resume in-person instruction without making proper safety adjustments.
"I just want those in charge in Boston and at the state level to listen to the scientists, look at the data, look at the rates of infection and be mindful of putting the proper safeguards in place," Luke said.
As infectious disease experts learn more about the transmission of COVID-19, data continues to emerge that schools are not the super-spreading locations they were once considered to be. Doctors around the U.S. have suggested that the negative impact of keeping schools closed may be more detrimental to students than the risks of reopening. 
The National COVID-19 School Response Database, one of the first efforts to track the spread of COVID-19 in schools reopening across the U.S., has reported data that supports the belief that schools are not a large contributor to virus spread: the daily case rate is 16 per 100,000 students, and 30 per 100,000 staff members, both well below a 1% positivity rate. 
But with weak national guidance on how the reopening process should be implemented, schools have been left scrambling to find an answer to the complex question of how to allow for in-person learning while keeping teachers and students safe.
"It's one thing to emphasize the importance of face coverings and physical distance at the level of the CDC," said Dan M. Cooper, a professor of pediatrics at the University of California, Irvine. "But how do you convince a parent that when they bring their child to school at 7:30 a.m. that the individual school is ready for that child? That's where we have failed." 
The reopening of Boston Public Schools
The BPS has reported 50 COVID-19 cases to date, though in-person learning this semester has been short-lived: A remote start on Sept. 21 was followed with only high-need students returning in person on Oct. 1. The switch to fully remote learning in late October came after Boston's seven-day average positive test rate rose to 5.7%. 
A shift came on Dec. 8 when BPS announced that 28 schools in the district would be reopening on Dec. 14 to provide in-person learning to 1,700 high need students—those with complex disabilities and language needs.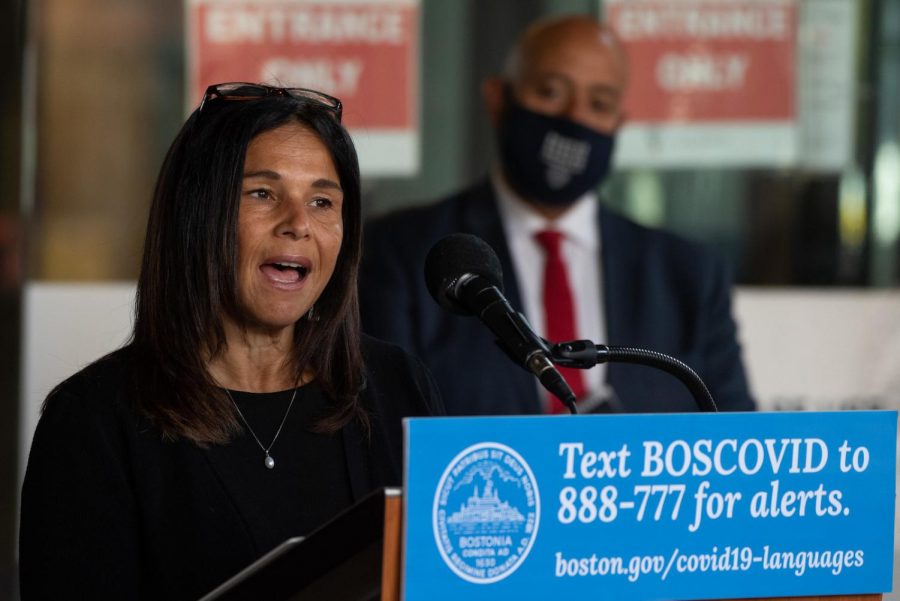 The drive toward reopening schools has ignited tensions between the Boston Teachers Union (BTU) and the city. The city faced backlash from teachers in early October after it refused to transition to remote learning when Boston's positivity rate surpassed 4%, resulting in a lawsuit filed by the union against city and school district leaders.
With the nearly 51,000 BPS students still learning from home, some experts say they are worried about the negative impacts that time away from the classroom will have on children. Many students rely on school for consistent meals, health care and basic socialization. Cooper said this damage to children is "profound," especially for those that come from low-income or minority families. 
Zachary English, a teacher at the Mario Umana Academy, a bilingual school in East Boston, has witnessed the pandemic's impact on his students firsthand. 
"Some kids may not be sure where their next meal is coming from or are stuck inside because their parents didn't want to risk them going outside, so we have students that have been in their rooms for months," English said. "During school, some kids are in cars outside while their parents are working because there's nowhere else for them to be. It's all been challenging emotionally for them." 
The inequities arising during the remote learning period persist in the reopening process of BPS. Samantha Laney, a fifth-grade instructor at the Holmes Innovation School in Dorchester, believes that Boston neighborhoods with higher positivity rates are not given enough weight in the district's decision on whether to teach students in person or remotely. 
"It makes me angry, because this 4% positivity rate they kept talking about is not an accurate representation of our city," Laney said. "If you look at rates of specific neighborhoods, we're seeing percentages significantly over 4%. It's the definition of inequitable to make a health and safety call on an average, when the people who are being impacted most are in a vastly different situation." 
The decision to reopen 28 BPS schools comes at a time when the city-wide positivity rate sits at 8%. But some Boston neighborhoods have been reporting significantly higher rates: 12% in East Boston, 10.2% in Hyde Park and 8.1% in Roxbury, all well over the 4% that the BTU and BPS agreed upon as a threshold to pull back from in-person instruction. 
Luke said she believes BPS considered switching to remote learning only after seeing rising rates in affluent areas of the city like Beacon Hill. 
"They weren't thinking about going remote when the rates had already been twice as much as what was agreed upon between the union and the district," Luke said. "But as soon as the rates were going up in affluent areas in the city, then all of a sudden we go remote because it's too dangerous now. It's been too dangerous for weeks."
Despite a general agreement among experts on the negative impacts of remote learning, reopening schools remains a complex task. Proper ventilation is key to combat the spread of the virus in an indoor setting, however the average school building in Boston is 80 years old and many are in desperate need of repair.
Teachers still cite a feeling of unsafety in BPS despite evidence that students are unlikely to widely transmit the virus. After all, students can still catch COVID-19 and spread it to adults. A layered approach to safety can help schools across the country resume in-person learning, but reopening is not a zero-risk game, said Cooper. 
"If you want to send kids back to school, you cannot do it in a way that there will be no outbreaks because that cannot happen in the time of the pandemic," Cooper said. "But you can do it in a way where there will be far fewer outbreaks."
Social distancing, masks, reduced class size, frequent hand washing and proper air ventilation are effective in creating a safer classroom, said Melinda Buntin, chair of the Department of Health Policy at Vanderbilt School of Medicine. Dividing students and teachers into smaller groups is also successful in taking swift action to prevent outbreaks and keep schools open, she added.
In addition to common-sense safety measures, transparency is needed to create trust among the school community, said Dr. Danielle Dooley, a medical director at Children's National Hospital in Washington, D.C. School districts should publicize data regarding building inspections and available PPE "so that no staff member is being asked to go back into a building without knowing what has been done to make that building as safe as possible," she said.
Moving Forward
Luke said she has applied for an accommodation to continue teaching from home even as BPS begins to transition back to in-person learning. Since she began teaching remotely after the district stopped classroom teaching in October, other health concerns have popped up related to her breast cancer treatments, making her even more susceptible to the virus. 
"[BPS] told me everything's on hold and they've been inundated with requests, so I don't know when they're going to look at my accommodation request," she said. "But I definitely cannot go back into the classroom."
Luke is no stranger to teaching during a health crisis. During her five-year battle with breast cancer, she split time between receiving chemotherapy treatments and teaching in her classroom, keeping her distance from students. The airborne transmissibility of the coronavirus makes her significantly more worried.
"People don't understand that this is not the common cold," she said. "It's killing hundreds of thousands."