Boston rally to support Indigenous Peoples' Day & oppose erasure of the Native experience
The movement to replace Columbus Day, the second Monday of October, with Indigenous Peoples' Day began in 1992 in Berkeley, California, and the holiday has since been adopted in at least 14 states. Massachusetts is not one of the states to formally recognize the day in celebration of Indigenous communities. 
But the adoption of the holiday is just one of the demands that hundreds of protesters, Indigenous people and allies alike, rallied together at the Park Street station corner of Boston Common Saturday afternoon wanted to amplify. A range of bright signs denoted the resilience of the Indigenous communities and urged the state to "stop glorifying genocidal colonizers."
The rally moved from Boston Common into the street in a march; Indigenous elders led, followed by Indigenous people and then allies. "Hey hey, ho ho, Christopher Columbus has got to go," the group chanted as they turned down Winter Street.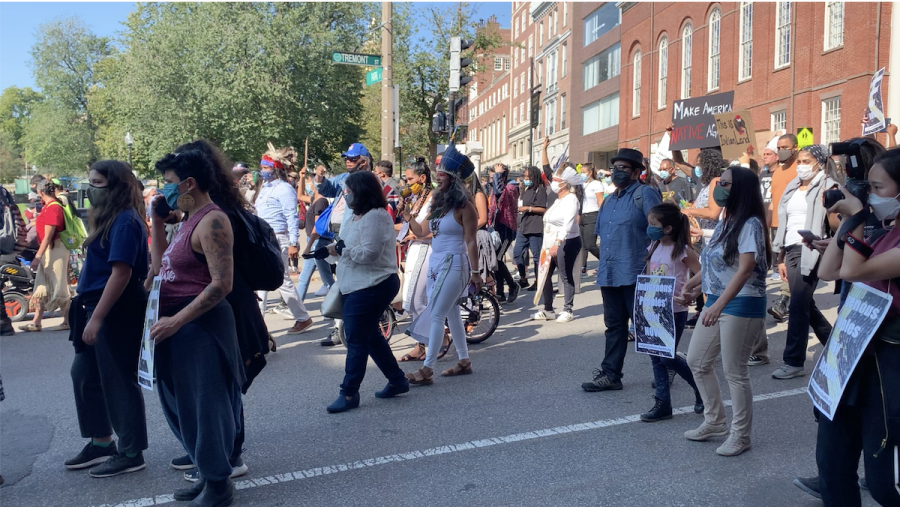 Mahtowin Munro, co-leader of United American Indians of New England (UAINE) and leader of Indigenous Peoples Day MA, emceed the event. She listed the demands of Indigenous communities in Boston and across Massachusetts, which include renaming Christopher Columbus park at Boston's waterfront and Faneuil Hall, removing all public white supremacist monuments, and calling on the City of Boston to listen to and act upon concerns from Indigenous representatives and organizations like the Massachusett Tribe at Ponkapoag and others. 
The MA Indigenous Legislative Agenda currently includes five bills in the 2019-2021 legislative session to support changing the flag and seal of Massachusetts– which feature a white hand holding a sword over the head of a Native American, removing racist mascots from public schools and improving educational opportunities for Native youth among other key concerns.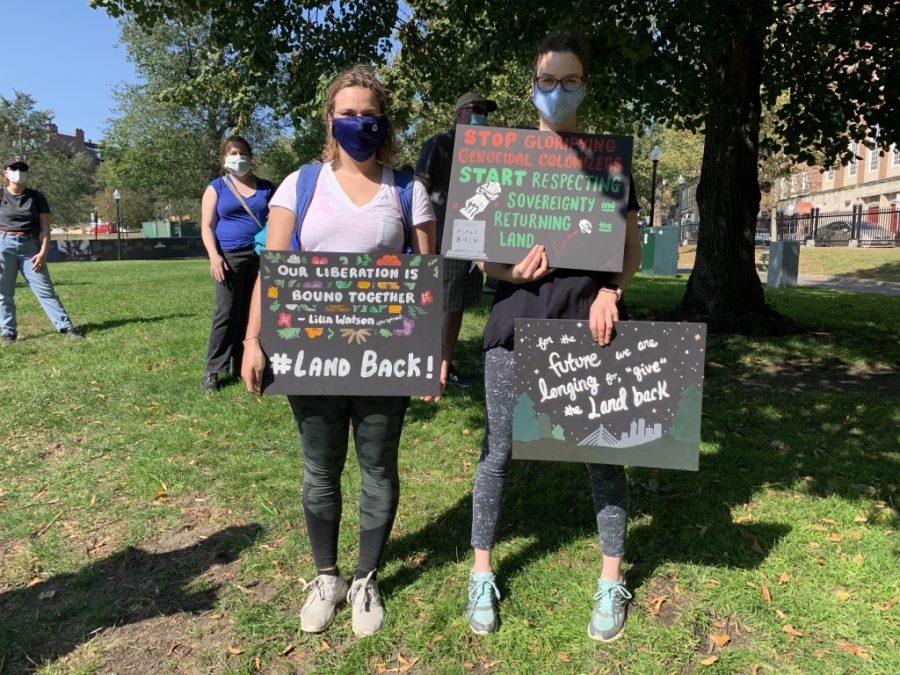 "The erasure that Native peoples experience outside of reservation areas is a different level of erasure than I think other communities see and feel," Raquel Halsey, executive director of the North American Indian Center of Boston (NAICOB), said.
The erasure Halsey referenced includes the absence of data on Indigenous people in COVID-19 statistics. 
"We don't know how many Indigenous people here have had COVID, how many people have died, nothing," Munro said. "So we say, 'Natives count.'"
Protestors also demanded that the city address the public health crisis caused by racism.
"Declaring racism as a public health crisis means nothing without action," said NAICOB vice president Mea Johnson in a press release. "The City of Boston must prioritize racial and income disparities faced by its BIPOC communities."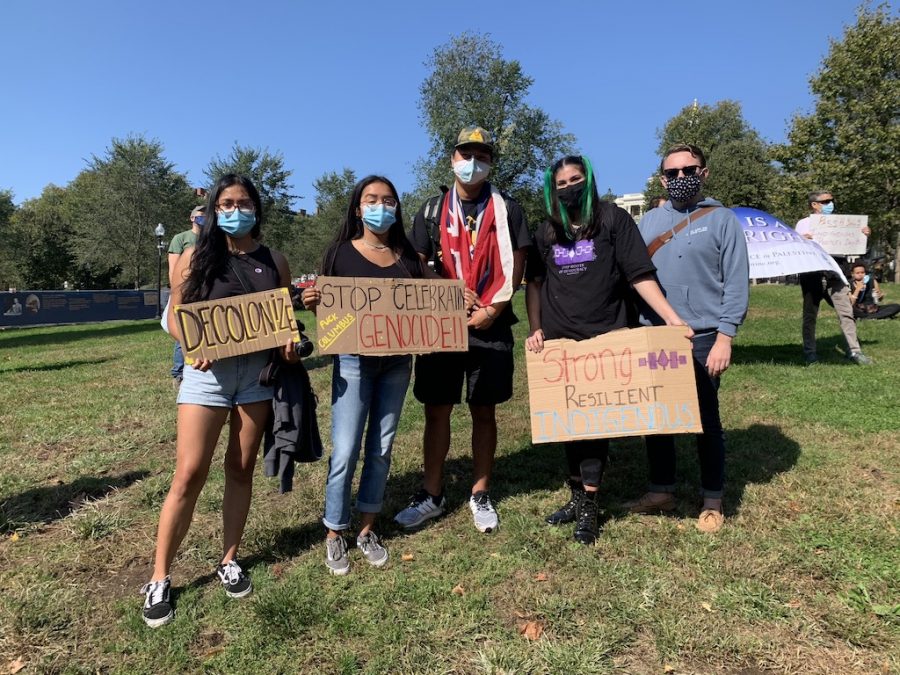 Attendee Hannah Norton showed support with fellow members of an Indigenous students organization at Tufts University. She emphasized the amplified effect that climate change has on Native communities in comparison with other communities as another public health crisis concern.
"We rely a lot more on the earth," Norton said. "Clean water is not common. A lot of different reservations have to boil their water before they drink it."
At the event, Munro thanked "our siblings at Black Lives Matter for helping to open that space for all of us" during a time of increased national attention to injustice and dismantling white supremacy. 
The intersectionality of the event's platform was what Halsey said the leadership of NAICOB and other local Indigenous organizations strive for. "We rely on other communities to step up and show up for us," she said. She also attributed the inclusiveness to the intersecting identities of members within Indigenous communities themselves.