How are students maintaining religious faith during a pandemic?
Coronavirus tests students' faith as worship and religious celebrations, like Ramadan, Easter and Passover, go online.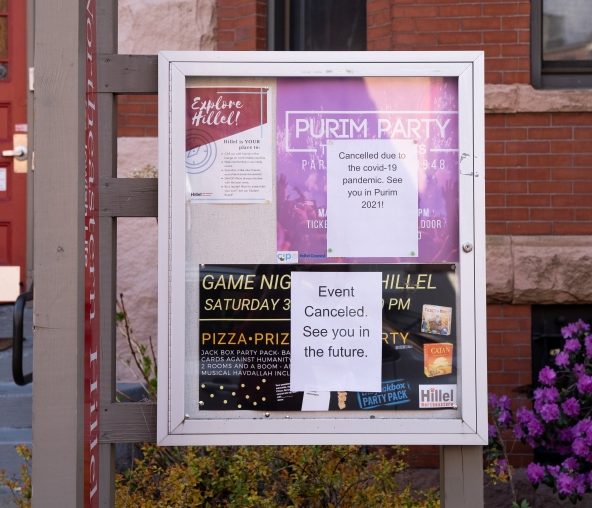 Sabah Gillani expected to observe the holy month of Ramadan with friends at Northeastern University's Islamic Society. But now that COVID-19 has suspended community gatherings, Ramadan will not be what Gillani, or the broader Muslim community, anticipated. 
"Everyone kind of looked forward to this month. It was really tough knowing that we wouldn't be there with each other," said Gillani, a fourth-year psychology student at Northeastern. "I'm still with my family, which is good, but the feeling of being with a larger community, a larger group of people, is just different."  
Gillani and her friends in the Islamic Society are not the only students mourning the loss of their religious community. 
Since religious services and community gatherings are discouraged or prohibited due to COVID-19, Northeastern students who belong to these on-campus organizations are grappling with the challenge of practicing their spirituality without the support of their communities. As religious organizations transition to virtual meetings, students are struggling to sustain their connection to both their peers and their religion, but are hoping that faith will prevail.  
"I believe one of the big questions facing … not just the Christian church, but faith communities around the globe right now, when we can't gather in person, is what does it mean to be church? Or what does it mean to be a faith community?" said the Rev. Megan Holding, an Episcopal priest and spiritual advisor at Northeastern. "It has been an intense month trying to figure that out."
Northeastern's pivot from campus to remote digital learning has required religious groups to quickly reshape the rhythm of community life. Many are taking weekly meetings online. But, while digital platforms provide the opportunity to convene as a community for discussion or religious services, some students believe they are a poor replacement for in-person worship and fellowship. 
"It's been incredibly difficult and incredibly disjointing," said Deena Notowich, on tuning into her synagogue's digital material. "I think something I've always personally felt within my faith is a physical connection to wherever I am … That's a really important factor, and so online video calls don't cut it," said Notowich, a third-year international affairs and anthropology major and member of Northeastern's Jewish Student Union. 
Does worship via Zoom work?
Students miss the ability to congregate in a shared space, to engage in religious practices or abide as a unified group, an experience they believe can't be fully replicated online. "Jews sing a lot, sometimes songs that don't even have words. It's a moment in time like nothing else exists. That feeling is impossible to get over Zoom," expressed Hannah Bernstein, a fourth-year journalism and environmental science major who also belongs to the Jewish Student Union.  
Alexander Levering Kern, the executive director of Northeastern's Center for Spirituality, Dialogue and Service, said the common challenge among the 44 religious groups that he supports on campus is the inability to congregate. "The greatest challenge is the fact of social distancing. There's a deep pain in that because most religious traditions rely on physical contact and physical proximity of one sort or another," Levering Kern said.   
The Sacred Space in Ell Hall on Northeastern's campus would typically host about 100 weekly religious events. Fifteen minutes before leaving the Sacred Space after the university's closure was announced, Levering Kern wrote "Caring for Self and Others in Times of Trouble: Some Spiritual Tools and Tips," a concise list of spiritual advice to help people navigate the confusion and hardship of COVID-19. 
"We're closing our physical doors to the Sacred Space, but we're not closing the doors of our hearts," Levering Kern said of his list. The document has since been used by the American Red Cross and college campuses across the country as a source of guidance and support.  
Religious group discussions held online are particularly frustrating for students who rely on non-verbal communication or subtle spoken affirmations to participate. After returning home to New York from her co-op in London, Alana Kent, a third-year sociology major, joined online weekly meetings with Open Table, a tight-knit Lutheran and Episcopal community at Northeastern. Although Kent typically enjoyed catching up with her peers at Open Table's gatherings when she was on campus, she said she finds it difficult to engage in meaningful discussions now that the meetings are online. 
"Not being able to interpret facial expression as well, or body language, it's more difficult for me to have conversations … I feel like I don't know how to contribute to the conversation if I'm not actively speaking," Kent said. 
Answering the big questions
Remote worship and community gatherings also pose challenges for students who were just starting out on their spiritual journey before the pandemic. Lindsay Hicks, a spiritual advisor with Sojourn Collegiate Ministry, a Christian group on Northeastern's campus, meets with students one-on-one for spiritual guidance or to wrestle with faith-based questions, conversations which can be difficult to have over a phone or video call. 
"It's probably the most confusing part of my job right now, as far as where to go with students that I barely met. I actually walked around my neighborhood this morning and was just praying … for wisdom about that and what my personal next right step would be with those students," Hicks said. 
She understands if students aren't comfortable with diving into religious conversations on video calls. "I think trust is something that is only built with time, really," Hicks said. 
Religious communities on college campuses are spaces for students to seek answers about their purpose, identity and the role of religion in their lives. COVID-19 has limited students' ability to connect in impactful ways to resources that can help them answer those important questions. 
"Your cohort right now is a group that was already, before pandemic, figuring out how to claim and live their faith lives as adults," Holding said.  
While some struggle to find meaning through online conversation, others are encouraged. 
"

It's been nice to talk with people one-on-one, not just about the Jewish things … but to talk about how they're doing with all this."
Despite the occasional awkwardness of online group meetings, first-year chemistry student Alex Renon appreciates the sense of community that has been maintained among his peers at Northeastern's Catholic Center. "Definitely seeing the 40 or so members that always show up … it's good to connect with the community as well and still remember that we are still together," Renon said.  
Equally as optimistic as Renon is Danny Dubin, who oversees religious programming at Hillel, a Jewish organization on campus. Dubin is currently studying to become a rabbi. "It's been really cool to just try to see what it's like to build community while we're on the screens or just not physically together," Dubin said. 
Every Tuesday night, Dubin continues to lead a teaching and learning session with 12 students via video link. Along with group meetings, Dubin meets with students to provide religious support and a listening ear. "It's been nice to talk with people one-on-one, not just about the Jewish things … but to talk about how they're doing with all this. To me, that's primary — to make sure that students feel comforted and they have a sense of community amidst all this," said Dubin. 
It's also been encouraging for Holding, the Episcopal priest, to witness students support each other and be vulnerable about their struggles. "I'm really grateful for the students who are joining these calls, for their willingness to stay committed to community," Holding said. "They're showing up and being physically present to one another and being open about their own feelings about this entire world crisis." 
Accustomed to helping students in crisis, Levering Kern, the director of CSDS, recognizes that religion can be a solace for many. "In times of crisis, people turn to traditions, cultures, practices, sacred texts. They turn to sources of comfort and to things that are enduring when so much seems uncertain. That there is a solidity and a promise in traditions," Levering Kern said. 
While the Muslims are currently observing Ramadan, Christians celebrated Easter earlier this month and the Jewish community celebrated Passover in quarantine. These major religious holidays are typically characterized by rich traditions and joyful gatherings, but were this year adapted due to the limitations of social distancing. Renon's door would have been adorned with crosses made of palms, which are distributed at Mass on Palm Sunday, the first day of Holy Week in the Christian faith. Bernstein's home in Minneapolis would have been filled with 40 family members partaking in a Seder meal. 
Students feel a collective disappointment and grief over losing traditions they deeply cherish, but remain steadfast. Despite the difficulties of COVID-19, Gillani's faith in God sustains her. 
"It kind of gives me something to hold on to. I like to talk to God. I have that to hold on to," she said. "These practices help me to feel some sense of purpose when everything is kind of falling apart."