Boston's grocery workers demand more protection and hazard pay during pandemic
Boston-area grocery store workers lined up six-feet apart, faces masked, along Harrison Avenue outside Whole Foods on Tuesday morning, to protest against in-store working conditions and lack of protection against COVID-19.
Customers and workers' rights activists joined workers to demand that management at Stop & Shop, Whole Foods, Trader Joe's and Shaw's provide more masks and gloves, give workers fully paid family and sick leave, and time-and-a-half "hazard pay" during the pandemic.
"People have really experienced a lot of abuse going on," said Debra Falzoi, 43, a protester and lobbyist for the Dignity at Work Act, who drove in from central Massachusetts to show her support. "We're hearing more and more staff are not getting personal protective equipment … are receiving salary reductions and no paid family or sick leave. They're not really caring about the welfare of their employees."
Despite the megaphone and signs that read "protect the front line, not the bottom line," Falzoi said that demonstrators adhering to social-distancing meant "it did not look like a normal protest."
An unusual protest in unusual times.
On the same day as the South End protest, officials confirmed the death of a Market Basket employee in Salem due to coronavirus. Positive COVID-19 cases have been reported at all four of the stores named in the protest.
"The narrative is that we're all in this together," said Falzoi, who is also the co-founder of End Workplace Abuse. "But it's an interesting message when the employers aren't doing everything they can … there is a sense of greed."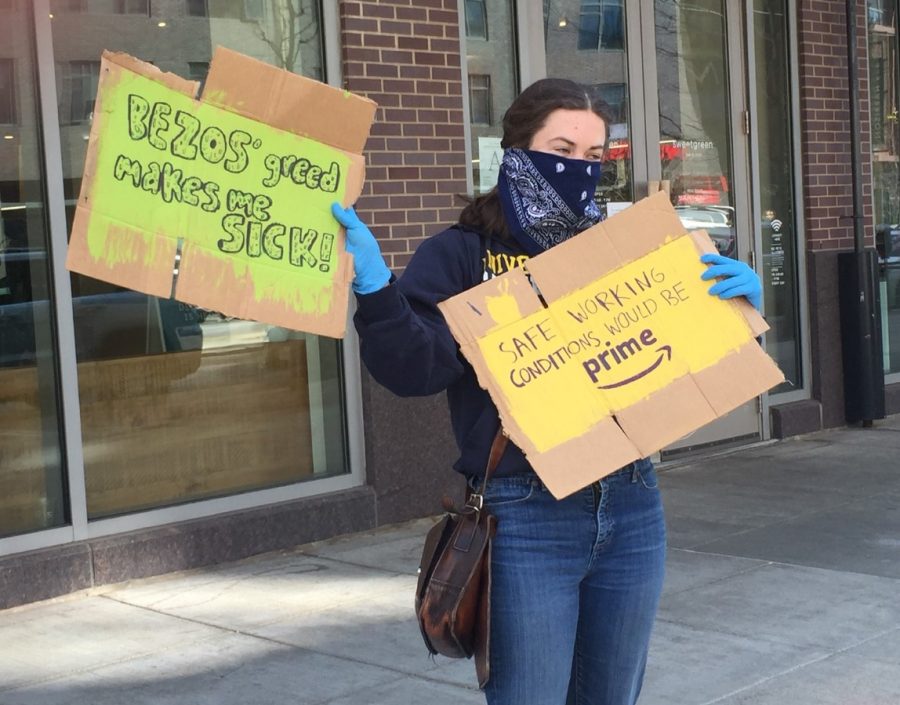 Stop & Shop, Whole Foods, Trader Joe's and Shaw's have been offering associates an additional two weeks paid sick leave, have stepped up in-store deep cleaning routines and are supplying protective equipment to staff. In-line with new guidance issued by Gov. Charlie Baker's office last week, employers are also limiting the number of people allowed into stores, operating at 40% standard occupancy.
"There is no higher priority for us than taking care of our team members," said a Whole Foods spokesperson, who also confirmed each employee is receiving an additional $2 per hour on top of hourly base pay, and receiving "enhanced overtime." Those in quarantine or diagnosed with COVID-19 will receive two weeks of additional paid time off, they told the Scope.
But employees and customers say this isn't enough.
In an anonymous account shared on the Workers Speak Out blog, one Whole Foods employee said Whole Foods's response to COVID-19 is inadequate.
"Amazon has allowed us to take unlimited sick days during March and April. But there's a catch — we would only be paid for 5 of them," wrote the anonymous worker, who also said the additional $2 per hour "hazard pay" offered by the grocery chain is "shameful." For them, this extra cash totals $50 a week. "We need real hazard pay of time and a half for all hours worked, period," the worker wrote.
South Boston resident Deb Robison, 51, said she is transitioning away from shopping at Whole Foods and has begun shopping more frequently at Trader Joe's.
"Whole Foods is a very wealthy organization, Jeff Bezos is one of the wealthiest men in the world," said Robison. "Surely these companies can look after their employees."
Whole Foods is owned by Amazon CEO Bezos, who, as of April 2020, is worth $117.2 billion.
At Trader Joe's, store hours have been revised and, for those displaying symptoms of COVID-19, staff are offered two weeks of extra paid sick leave.
On her most recent visit to Trader Joe's Seaport location, Robison said she observed 6-feet check-out line spacing, hand sanitizer stations and wipes to clean shopping baskets.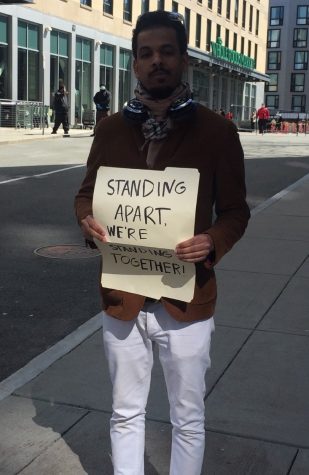 Robison has an auto-immune condition that puts her in the at-risk category for contracting COVID-19. She called the store manager to find out if they were offering special services for people like her who are immunocompromised.
"The manager was super helpful," Robison said, offering to build a basket of groceries ready to collect so she need only come into the store to pay. "I just thought that was super kind, especially as she's probably swamped right now."
But Trader Joe's management is accused of disseminating "sharp anti-union propaganda" during the pandemic, according to a copy of the invitation to protest on April 7, obtained by the Scope.
In an email leaked to the New York Times earlier this month, Trader Joe's store managers have been urged to discourage employees from unionizing by warning employees about the cost of union dues.
Robison was disappointed to hear these accusations. "I thought Trader Joe's was a good company," she said.
Trader Joe's did not respond to multiple requests for comment.
Although the focus of last week's action, it's not just Boston's branches of Stop & Shop, Whole Foods, Trader Joe's and Shaw's facing criticism for their response to COVID-19.
Grocery store workers across the country are scared of retribution from employers if they fully disclose their experiences in the media, but Falzoi helped the Scope connect with Ann Smith, 36, a cashier at a Dollar Tree store in Wyoming. Smith said she was forced by her manager, who she referred to as "Wendy," to choose between self-quarantining after her brother contacted COVID-19 and keeping her job. Despite being disabled at at-risk of contracting the virus, Wendy threatened to fire her if she took time off to self-quarantine, told her not to wear protective equipment and has not imposed limits on store capacity. She said she cannot afford to fall ill as she has no health insurance.
Beyond Massachusetts, legislatures nationwide are taking action to protect grocery store workers. Maryland joined New Jersey yesterday in legally requiring shoppers to wear masks in stores. In Los Angeles essential businesses must provide masks to workers, or reimburse them for purchases. On the west coast, San Francisco lawmakers are considering a proposal that mandates gloves, masks and hand sanitizer be distributed to all essential business workers.
"The thing being exposed is that more people, the people living paycheck to paycheck, need safety nets," said Falzoi.
As grocery shopping remains a risky but essential task, "I hope that these organizations step up and take care of their employees," said Robison
"I'm definitely going to keep watching."
A version of this story was published in The Bay State Banner. 
Do you work in the service industry? Do you know someone who does? Graduate research students from Northeastern University's Media Advocacy program would like to hear how the COVID-19 pandemic has affected people. Take their survey and share your story.