Changemaker: Niccoletta Longo, founder of NamaStay Sober
It's a pun, "like, 'Nah imma stay sober,'" said Nicoletta Longo, founder of recovery and wellness group NamaStay Sober.
But committing to sobriety is more than a play on words. 
"It's a choice," Longo said, one that is made easier by an inclusive and supportive community facing similar struggles.
Longo is no stranger to personal battles. After a bad break-up, the death of her grandmother and the death of a close friend to opioid overdose, Longo decided to launch NamaStay Sober in 2015 to help others heal from trauma.
Since then, she and her team of part-time staff and nine board members, some of whom are in long-term recovery, have created a safe and inspirational space for people looking to stay sober.
In addition to traditional group meetings, physical exercise and wellness are central to NamaStay Sober's healing philosophy. Longo believes community can be built in the gym or studio, and that the intrinsic mindfulness of yoga creates deeper self-awareness and compassion, all necessary tools for recovery.
That is why NamaStay Sober partners with around 20 local businesses to host free monthly fitness events, like yoga at Lululemon and bouldering at Somerville's Brooklyn Boulders. They award scholarships – discounted or free memberships to gyms and fitness studios across Boston – for people in active recovery. 
But the group isn't only for those who want to live life alcohol and drug-free.
Longo, who is also a meditation teacher and real estate agent, believes addiction comes in many forms, including food, sex, love and wealth.
"One of our fundamental values is inclusivity, so there is no prerequisite to come to any of our events ever," she said.
NamaStay Sober's growth — they now have chapters in New York, Chicago and Philadelphia — coincides with the rise of the "sober curious" movement. Spear-headed by British writer Ruby Warrington, who popularized the term in her 2018 book, sober curious means drinking little to nothing at all and questioning the desire to drink. There are countless articles, self-help guides and podcasts about the sober curious lifestyle, and with news that teens are drinking less than in previous generations, attitudes towards alcohol may be changing.
While some support it, others have criticized the sober curious movement for turning recovery into a social media trend, a boastful hashtag, demeaning the hard work of those who choose to abstain and are struggling with life-crippling addiction.
Longo sat down with the Scope recently to talk about her own personal journey, NamaStay Sober's work and the sober curious movement. The interview has been edited for clarity.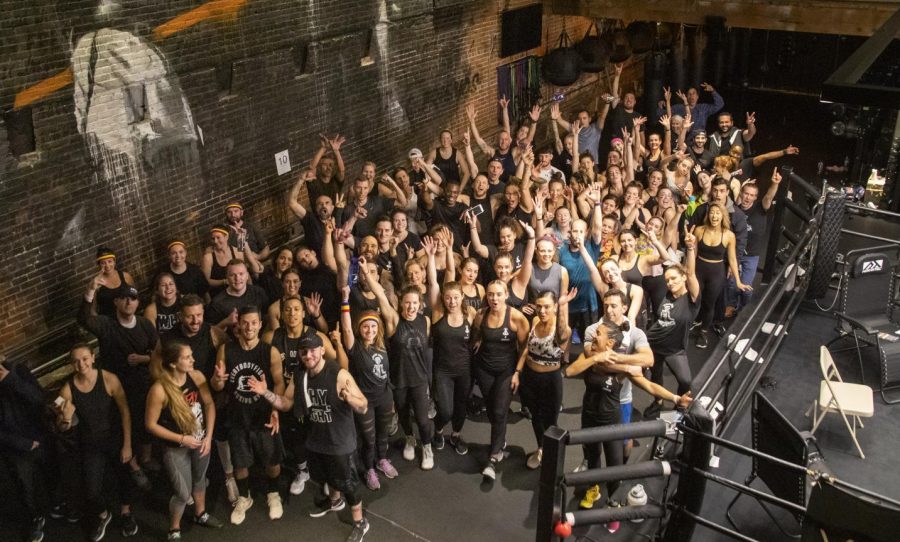 Q: Where did the idea for NamaStay Sober originate?
A: I lost my grandmother, who was like a second mother to me, and then I went through a big break-up and I found myself traveling to Bali as a way to deal with all of It.
I got to Bali and decided I wasn't going to drink, mainly because I wanted to save money … and also because I really wanted to dive into the yoga and community aspect. I was expecting it to be this big thing, you know like here if you do sober January or sober February it's so hard. I barely noticed.
I flew back to Boston on St. Patrick's day … I got to this bar and I was surrounded by friends and family but it was so loud I couldn't talk, people were hammered, the music was too loud and I just remember this feeling of like there's something that's really missing in our culture, like 'I feel so alone right now.' It was kind of like that couple of weeks or month period of readjusting … that kind of sparked it. 
That was in February of 2015, and in November I lost a very close friend of mine to an overdose and that was the pivotal moment of like, 'Ok let's take this idea and run with it.' So we held a fundraiser in memory of Brandon [Shelzi] and we raised enough money to give five scholarships to yoga studios for people who were in early recovery.
Q: What kind of people come to your meetings?
A: Twenty to 60 people that are in recovery [or not]. We've had people that have come that are newly divorced, that identify as recovering from a broken heart. Even people that are like, 'I'm here because I just want to be here and it feels good to be in a connected environment.' There's no prerequisites. The cool thing is just realizing like, 'Oh wow, everybody is struggling.' If we can really just come together it feels so much better to be able to understand that this is a human thing and it's always going to kind of be there … it's enlightening. It's just so beautiful.
Q: How do the yoga studio scholarships work?
A: We offer two types of scholarships. You either get a full scholarship and then you have some sort of work trade either with the studio or with NamaStay Sober … Otherwise we do 50% off the [studio's] normal unlimited monthly rate.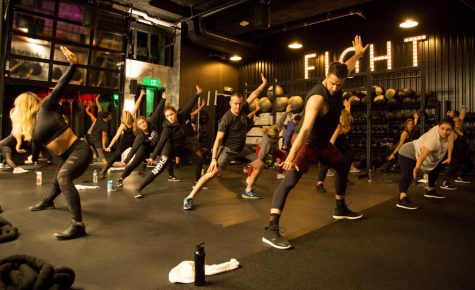 It really creates more accessibility for people, because obviously when you're in any type of recovery especially in early recovery, to be able to drop $175 a month to be able to go to a studio is usually just unattainable.
One of the pre-determiners for being eligible for a scholarship is that you need some sort of outside support system, whether that's a therapist, 12-step [Alcoholic Anonymous' program] … We want to make sure that those things are being addressed, because NamaStay Sober is not about addressing specific things about your type of recovery. 
We require people to use the membership at least three times a week. Really there's a couple of reasons; when they're using the membership that number of times they're going to see the differences in their mind, body, experience; and two, when they're going to the gym that many times they're going to start making friends with community members, which is also a huge part of recovery.
Q: What events do you offer for free?
A: We call those events 'Namaste Flowing.' The first Monday of every month we do an online Namaste Flowing which is like a meditation conversation. The third Saturday of the month we offer free yoga at The Point in East Boston and on the last Friday of the month we go to Brooklyn Boulders in Somerville.
The second Sunday of every month we do an event at Arlington Church on Boylston Street. That is a community conversation with meditation. We usually go around the room and invite people to talk about, we call it 'Cool shit you're manifesting,' or 'Obstacles you're running into.' 
Q: Do you see any change in the drinking culture here in Boston?
A: People are starting to become more aware of it but there's still so much pressure around drinking, it's really unbelievable. Until you get outside of Boston or the U.S. you might not even notice it. There's definitely more openness here, even just by going out to dinner and seeing that there are mocktail lists. 
It's really nobody's business. There's no reason why it should be appropriate to … be aggressive in asking people why they're not drinking or if they want a drink. It's peoples' choices. Until that pressure goes away, we still have a lot of work to do. 
Q: What do you think about the sober curious movement?
A: My thought is that it doesn't hurt to be sober curious. I think a lot of people are worried about identifying themselves as whatever, [having an] eating disorder, [being an] alcoholic. As a result of that fear they wait until things get so bad. If we can offer up spaces that allow for people to be curious or to be interested in seeing what other options there are, I don't see the wrong in that. 
Something my meditation teacher always says is, 'Why wait when you're on the highway with four wheels falling off?' If you're check engine light comes on and you're drinking, whether it's an excessive amount or even if it's just a little bit, and you're starting to notice that you're feeling depressed the next day, offering a space for those people to come and hear from people that waited so long that things fell apart, I think that's inspirational and it's important to have space for people like that. 
Q: For people who can't attend NamaStay meetings or do the classes, what can they do from home to help their lifestyles?
A: It's all about redesigning your life choices. When you choose to not … obsess about money, or you choose to turn off your cell phone at 7 o'clock at night, what that does is it creates space for you to do something new. What you put into that space, whether it's meditation, whether it's poetry … what can you put in that space mindfully? You don't need a group to be able to do that. Groups help because they create more accountability and it creates more camaraderie, but you definitely don't need to be in the physical space to do it.
To take steps towards giving up, start just by waiting two minutes. Whether it's coffee, or alcohol, or food, I think that in those pauses, to be able to just sit with something and just notice … and then if you choose to do it it's your choice, Even if you wait for 30 seconds and close your eyes and just be with that uncomfortable feeling, its amazing how that 30 seconds can turn into a minute and then five minutes, and then 10 minutes, and then 12 hours, and one day. Really that's what it's about.