High cost of medical marijuana can make opioids the more affordable option
By Nia Beckett and Ali Dusinberre
Rachel Butze and her 15-year-old son are both medical cannabis patients who say they have found a world of difference in treating their bipolar disorder through the drug — but they struggle to afford it. 
Medical cannabis has been legal in Massachusetts since 2012, but it isn't cheap. Even the costs associated with obtaining a card to purchase from a dispensary can leave patients like Butze and her son at a disadvantage. Because cannabis is federally classified as a Schedule I drug, it is excluded from health insurance coverage, meaning patients must either pay out of pocket or turn to the illicit market, where the drug can be purchased for about half of what it costs in retail stores.
"Money is very tight and I can't afford the dispensary prices," said Butze, who lives in Chelmsford with her three sons. "It's very sad when you have to choose between medicine and food, and there's a lot of people that have to do that."
Although further research is still needed, existing evidence suggests that cannabis is a viable alternative to opioids, and many patients agree. But as the current system stands, opioids remain far more accessible than cannabis, and Massachusetts patients must navigate an entirely separate, more expensive system to obtain the latter. Patients covered under MassHealth pay a maximum of $3.65 in copayments for each prescription and refill of generic, over-the-counter drugs. By contrast, the average cost of high-quality medical cannabis in Massachusetts is around $340 for an ounce and $50 for an eighth, prices which are slightly above the national average.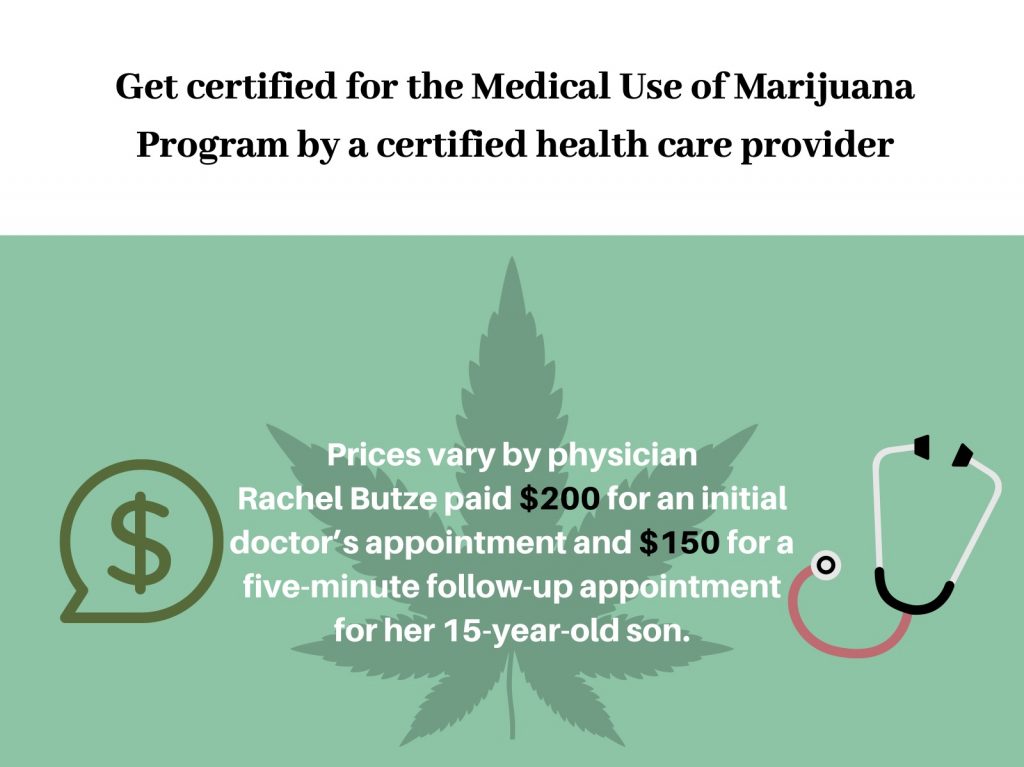 To acquire a medical cannabis card, one must first pay around $200 to get certified for the Medical Use of Marijuana Program by a qualified physician. The potential patient will then receive a PIN number from the Cannabis Control Commission to register in their online system. Once registration is processed, the Commission will send a medical cannabis card to the patient. Check-ups with the physician are required at least once a year.
Butze has had a particularly difficult time navigating the system for her son. There are only two pediatricians in the state who can write him a recommendation, and the process carries additional costs. His initial doctor appointment was $200, and a follow-up appointment that lasted only five minutes was $150. There were further miscellaneous costs as well, such as getting his passport photos and additional checkups. It then took months before his card was actually processed. During that time, Butze still had to pay for her son to continue seeing his doctor.
"If I wanted to get him on pharmaceutical drugs, I could literally just get him on that same day," Butze said. 
Now, Butze pays hundreds of dollars every year to continue scheduling appointments with her and her son's cannabis doctors and to pay for CBD medicine on a monthly basis. These costs combined with gas prices add up to a total that far surpasses what Butze would be paying if the medication was covered under her insurance. And because of the high prices at dispensaries, Butze tries to avoid them entirely, frequently relying on friends who grow the drug to gift it to her. 
One person trying to solve this problem is state Rep. David LeBoeuf, a Democrat who represents the 17th Worcester District. LeBoeuf proposed a bill in June that explores options for creating an insurance program for medical cannabis. 
The bill's inspiration came during LeBoeuf's campaign, when he met a family with a young child using cannabis to treat seizures and heard about the high costs.
"The most vulnerable patients don't have access to a medication that could be harm reduction for opioid use, that could deal with physical and mental conditions," LeBoeuf said. 
LeBoeuf thought it didn't make sense that these patients had to navigate a separate system for a type of medication that is not physically addictive and hasn't been linked to any overdose deaths, when he's seen firsthand the detrimental effects of opioid addiction in his community.
Grant Smith is another medical cannabis patient who relies heavily on the medication to treat his severe trigeminal neuralgia, a nerve disorder that causes chronic facial pain, which he's had for the past five years following complications from a surgery. Currently, Smith is an advocate for equity in the cannabis industry and for disabled patients and recreational users.
Smith was initially prescribed eight different narcotics to treat his disability. With cannabis, he was able to reduce that number to just one.
"I wasn't a zombie when I was on eight of those medications, but my life revolved around them," Smith said. "Cannabis has really liberated me."
But the drug doesn't come cheap. While Smith paid only $3.65 for a month's worth of his pharmaceutical medication with insurance, his monthly cannabis prescription costs him $220 — and that includes the help he receives from a caregiver, a person designated to grow and deliver cannabis to a patient. Smith said he switched to caregiver services after only one visit to a dispensary, where he found the prices to be unsustainable. 
"They charged me, for one ounce, 50% of my monthly Social Security disability stipend," Smith said. "There was no way I could afford that."
Using a caregiver, however, hasn't always been easy. In 2016, Smith's first caregiver was featured in a Boston Globe article and within three weeks the caregiver was shut down by police based on charges of possession, distribution and manufacturing, forcing Smith to go a month without access to affordable cannabis. The pain was so unbearable that he eventually asked a friend to purchase cannabis for him out of pocket until he found a new caregiver.
The restrictive laws surrounding caregivers in the state, Smith said, stem from what he describes as profit-focused regulations written by the Department of Public Health in 2012. At that time, the grassroots activist community that Smith is now a part of had not yet bloomed.
The regulations were "far more centered on establishing and protecting a market monopoly for those small groups of companies," Smith said. "They viewed the main caregiver model as a threat to their profits."
In nearby states, the landscape is very different. Many patients go to Maine to seek cheaper and higher-quality alternatives to Massachusetts product. Here, caregivers are allowed to serve up to five patients at a time and be fully vertically integrated, meaning they can grow, manufacture and retail cannabis to their patients. By contrast, Massachusetts caregivers can serve only one patient at a time, and medical cannabis retail operations are only run by registered marijuana dispensaries who must pay $31,500 in application fees and have $500,000 available for initial capital. 
"There's thousands of legally registered caregivers in Maine, and in Massachusetts, there's less than 100 medical dispensaries," said Mike Crawford, a Massachusetts medical cannabis patient and activist.
It's for these reasons that medical cannabis in Massachusetts is more expensive, Crawford said. He often travels to Maine for his purchases, where he said there is "craft cannabis" that is better quality than Massachusetts's "big commercial grow for big money."
"It's still not competitive because not enough shops are open, and the shops are big shops, and they had to pay a lot of money to open," Crawford said. 
The Cannabis Control Commission, which declined to make any of its employees available for an on-the-record interview, approved a number of new regulations in September including a reduction of the dispensary application fee to $3,500 in order to "bring parity to the medical- and adult-use application processes," according to Maryalice Gill Curley, press secretary for the commission. Additionally, the Commission is considering making further changes next year and has begun discussion around topics including caregivers, patient registration and pediatric registration requirements. These changes would come after the Commission already eliminated the $50 annual patient registration fee Nov. 1 based on feedback from patients who described that cost as a burden. 
Overall, patients are grateful for the ability to choose cannabis over pharmaceutical medication.
"The benefits certainly outweigh the burden," Butze said, adding that the fact that she and her son can refrain from pharmaceuticals makes her "feel better and safer." 
But she remains frustrated with the current state of accessibility.
"There are so many people that are low income and really sick that could benefit from this," Butze said. "It really shouldn't be that much if it's supposed to be a medicine."