Mission Hill co-op making DIY more affordable for over 40 years
Tucked away on Terrace Street in Mission Hill, Boston Building Resources has been helping residents renovate their homes for over 40 years, providing discounted materials and trusted advice.  
Part consumer co-op and part nonprofit, BBR provides people of all incomes and from many neighborhoods with the materials and knowledge they need to make their homes "a space where relationships can thrive," said Deb Beatty Mel, the assistant director of BBR's Reuse Center. Even more important than providing materials is their mission to educate and encourage their customers as they navigate challenging home improvement projects. 
"I have been coming to BBR since the early '80s when I moved into my house which was a gut rehab," explained Professor Emeritus of Simmons University Reginald Jackson, a regular presence around BBR. "Much of the repair and building projects I have done since… have been with the help of [BBR] with consultations, advice and of course purchase of materials and equipment," Jackson said. 
Mel characterized BBR's Reuse Center as a "cross between your favorite thrift shop and home improvement center." Customers are drawn to the Reuse Center because materials are marked down on average 25% of fair market value, and they receive donations from people across the city, everything from refrigerators, to doors, to nails. 
Each day, the center sends out a truck to two to four households to pick up donations, explained Lindsay Tourijigian, a longtime staff member and manager of the Reuse Center building. "People can give when they clean out an estate and you get boxes and boxes… It can be quite a large volume of material that comes in," said Tourijigian. 
Many donations come from local contractors, with whom BBR has established relationships. Contractors ensure that as they renovate homes, functional items headed for the dumpster are instead donated to BBR. 
Managing the Reuse Center is challenging because of the vast number of donations they receive. BBR struggles to efficiently process, price and place the items in the storefront because the community is so generous. 
Tourijigian said the biggest challenge she faces is "trying to keep the building under control." Ensuring stock is organized and safely stored is a daily struggle. Being more selective with the donations they accept has helped to create a more efficient storefront that sells products quickly, but expanding their facility is an essential long-term solution they hope to implement.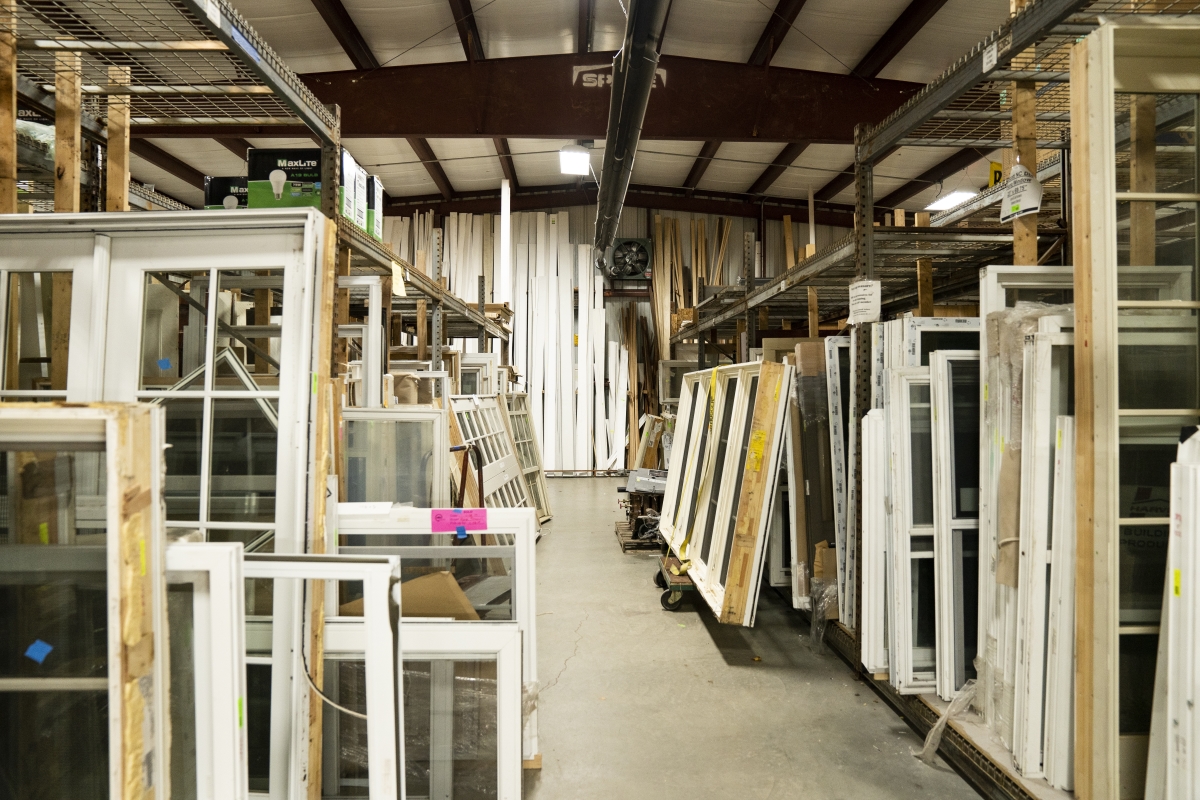 Preventing unnecessary harm to the environment is another of the center's goals. Mel described how the concept of "embodied energy" motivates them to salvage as many items as possible. Pointing to a wooden kitchen cabinet in the Reuse Center, Mel explained that the cabinet's embodied energy is the sum total energy used to create the product, from cutting trees to installing the cabinets. When the cabinets are thrown into a landfill, "all that energy that went into the wood gets wasted," Mel said. 
Consciousness for the environment is instilled in BBR's employees and volunteers. As a worker received donations from a car at BBR, he shouted "Thanks for not throwing it away!" 
BBR's founder John Rowse started the organization in 1978 because he was saw a lot of building materials being wasted and thought there could be a better way to reuse them, explained Mel. 
BBR continues to emulate Rowse's environmental and educational vision. "His ethos [is] in our DNA. Treat everyone equally. There is no shame in asking a dumb question," Mel said. Providing informative programs and workshops for people to feel comfortable and knowledgeable about construction is important to BBR, considering building is a new hobby for many of their customers.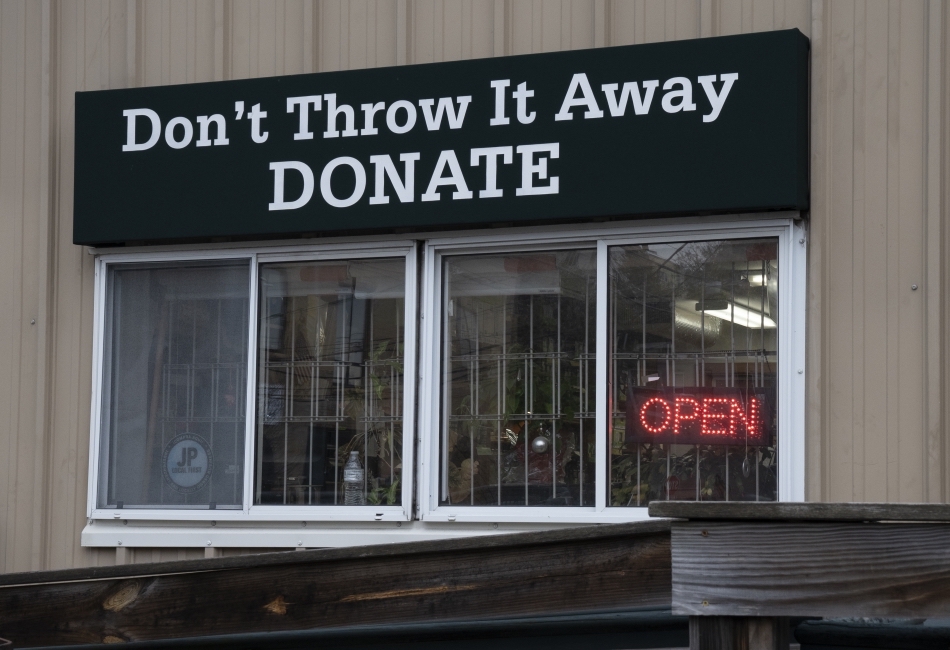 A co-op member since the '90s and staff member since 2005, Mel continues to contribute her time and knowledge to BBR because she said, "It's a place where you can get honest, unbiased information. Especially in a world of building materials, you can face a lot of discrimination or not be taken seriously. I [don't] have the worry that my concerns will be minimized." Mel explained how women in construction may be perceived as less knowledgeable or competent than men, causing them to be afraid to ask questions or voice their opinions. But at BBR, Mel feels comfortable and encouraged to speak up.
Staff members are also motivated by customers' creativity in the projects they pursue. Customers often return to BBR to show the staff photos of their finished projects or renovations. "It's always gratifying when you see a finished project," Mel said. 
She recalled two particular projects that impressed her. A customer bought materials to build a treehouse, while another customer rewired a lamppost, he obtained at BBR to illuminate and decorate his backyard. Mel said that creating "an environment where you can relax and have time with family and friends" is at the heart of the staff's work at BBR. 
Similar to Mel, Tourijigian values when customers show her photos of finished projects. "When a person comes back with pictures, it means they're happy with us [and] happy with the product. Those are the good moments that I take away from being here."  
Stories like these motivate Mel, Tourijigian and the other staff members to persist in their mission to keep BBR thriving. 
But the center's staff worry about their future as Terrace Street evolves from an industrial area to a residential neighborhood and property prices soar. 
"Terrace Street is rapidly changing with multiple housing developments planned," said Mel. She worries that this means the center will be unable to expand in order to continue serving its diverse and loyal customers.
With the area's future unpredictable and finances limited, BBR is doing all they can to secure continued success. Northeastern University industrial engineering students have been working closely with BBR to improve the Reuse Center's operations. The students are helping create efficient workspaces to offer potential solutions to the bottlenecks in BBR's processing. 
Maura Rapposelli, a student volunteer, said "it has been the most rewarding thing to know that someone is excited about the work that you're doing and your ideas. [It] makes me feel motivated as an engineer." 
BBR has also turned to multiple grants and individual supporters. "Income from sales covers about 80% of our operating costs. The rest comes from grants, contributions and fees for memberships and donation pick-ups," Mel said. 
Remaining true to Rowse's vision may be the best way for BBR to move forward despite setbacks. Jackson said that Rowse's "genius created the center which many in the community could not do without because of its integrity, bargain pricing, quality materials, educational classes and referrals. I… am grateful for their existence."