Changemaker: Marina Rodríguez, English program director at Nueva Vida Christian Church
Marina Rodríguez started teaching English "by accident" eight years ago, after stepping in for a colleague to teach a class of immigrant employees at Boston clothing manufacturer Sterlingwear.
During that three hour class Rodríguez discovered she loved being in the classroom. She felt she was doing "more than just teaching." She was helping people. 
Today, as East Boston's Nueva Vida Christian Church English program director, the 53-year old Columbian said she doesn't see herself doing anything else besides supporting newcomers to pursue a dignified life in the U.S.  
"I feel joy when teaching English because I'm helping people," said Rodríguez. "[In the church], we prepare students for their daily life in America."
In 2012, Rodríguez co-created the church's New Life English Program, a five-level English course designed exclusively for Boston's Hispanic community. Her Colombian business partner Patricia Duque, hand-wrote the program's original textbooks, which the pair are now trying to publish and make nationally available.
The Scope sat down with Rodríguez to talk about her experience as an English teacher addressing language barriers in the East Boston community. The following interview has been translated from Spanish and condensed for clarity. 
Q: How did you start teaching in East Boston's Nueva Vida Christian Church?
A: While working for La Alianza Hispana I got an award from the City of Boston. I appeared in the paper and Vilma Gálvez, who deals with immigration issues in the church, saw my picture and contacted me. I used to work with Vilma doing immigration clinics before. She called and asked me what I was doing because the church wanted to start an English program and she offered to lead it… We arranged a meeting with the pastor—a pastor from Guatemala in the time—and presented [the program]. After that, he asked, "when would you like to start?"
Q: Why did you decide the New Life English Program was only going to be exclusively for the Hispanic community?
When Patricia and I started working together, she gave a literacy class for a group of Latino students that didn't even know how to properly speak or write in Spanish. She started teaching Spanish and English at the same time, and it worked out. 
Q: What challenges did you face when you started and how did you overcome them? 
The first [challenge] was creating a good curriculum. We based what we did on Alianza Hispana's work with Sterling Wear. Over there, we explained seam basics, fashion language, all that vocabulary. It was pretty directed to employees' needs. Now, we were dealing with a broader community, so we needed to start from scratch. We didn't know how many levels were needed, how many students were enough to have in the class. 
The next challenge was letting people know about the program … Luckily, I already knew how to do outreach, how to deal with media, how to talk to the community, so I applied all that I know to this new project. It's a very small program. We don't have any kind of advertising. We don't have a social media presence. We use the same flyer we used when we started eight years ago. Our [former] students are the ones that always send us people. 
Q: Did you ever worry about how the community would receive you?
No, because I've always worked with the Latino community and got along very well with them. When I worked in Chelsea, I was recognized for my work. I was considered a leader … I used to fight for them all the time since I arrived in the U.S. I oriented people, defended them. 
Q: How do you motivate students to keep going to class? 
All students need is care, love and understanding. Many immigrants arrive [in America] and they just feel very sad and lonely. Many of them are professionals that just couldn't find anything for their career back home … If you show them how to improve step-by-step in this country, [students] stick with you. 
Q: What do you do when a student stops attending?
It's very sad, and it happens especially when students get their work schedule changed. When they can't come on a weekday night, I tell them to come on Saturday or I arrange a personalized class at my house. The important part is that they don't miss learning any content. 
Q: What gives you the most satisfaction when teaching English?
My students. One of them is from Colombia … He's 22 and very energetic. He can never be quiet but he is very smart. One day, I took him [out of class] and told him to start taking a personalized class just with me. In just one year, he finished all the levels. Now, he bartends in two great spots in Boston and can hold a conversation with anyone. I have another Colombian student that is now a medical assistant. That's the greatest satisfaction, seeing our students being supervisors, chefs, waiters or applying to college.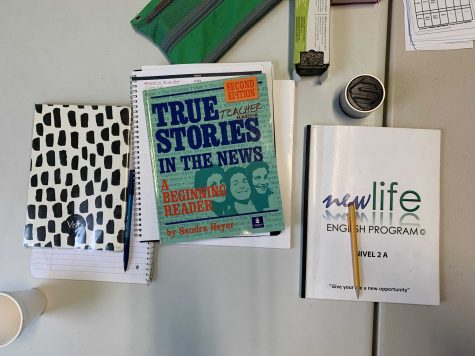 Q: Any future goals with the program?
My current goal is to [market] the books out there on the [U.S.] bookshelves. We are already working on the copyrights; some lawyers are helping us out. We want to make them available to the world, including Latin America.
A lot of people have asked why we don't have our own school, but [Patricia and I] don't want to. We don't want to be that big. I don't want to go back to huge budgets. We are happy like this … I was born to live, not for working. 
Q: I noticed the course's textbook reads "Give your life a new opportunity" on the cover. What does it mean for you?
We have shown that after being in the program, our students found a huge amount of opportunities for their life in America. It's an emotional support [program] … If you need to talk with somebody, you can talk with the pastor. Do you need help with health insurance? Or immigration issues? The church can help too. 
Q: Do you think the language barrier has improved in the last few years?
I think the complete opposite. Something that doesn't help East Boston [residents] is that wherever you go, people talk to you in Spanish. It's very important to talk with native citizens, go to the same shops and work with them. If you don't do it the process is very slow. That's why one of my assignments is sending students to Boston. 
Q: Where would you like to see East Boston in the next five years?
People in our Latino community should think like [others] that come to the U.S. with the idea of studying, become professionals and then get a job. We have a lot of people that come with the idea of having two or three jobs, working 80 hours a week and earning money. They don't think about studying first. We need to change that mindset, re-think the "American dream," educate the immigrant. I dream about that.