City Councilor at-large candidate Erin Murphy has repeatedly told voters the opioid epidemic impacts her personally, without publicly disclosing any details.
That is, until a campaign event earlier this month.
At the Right to the City forum on Oct. 9, the audience gathered at the Islamic Society of Boston Cultural Center fell silent as Murphy explained how her eldest son struggled with addiction for years, overdosing several times.
She recalled the bewildering, middle-of-the-night phone call she received five years ago, informing her that her son was being evacuated from a rehabilitation service center on Long Island.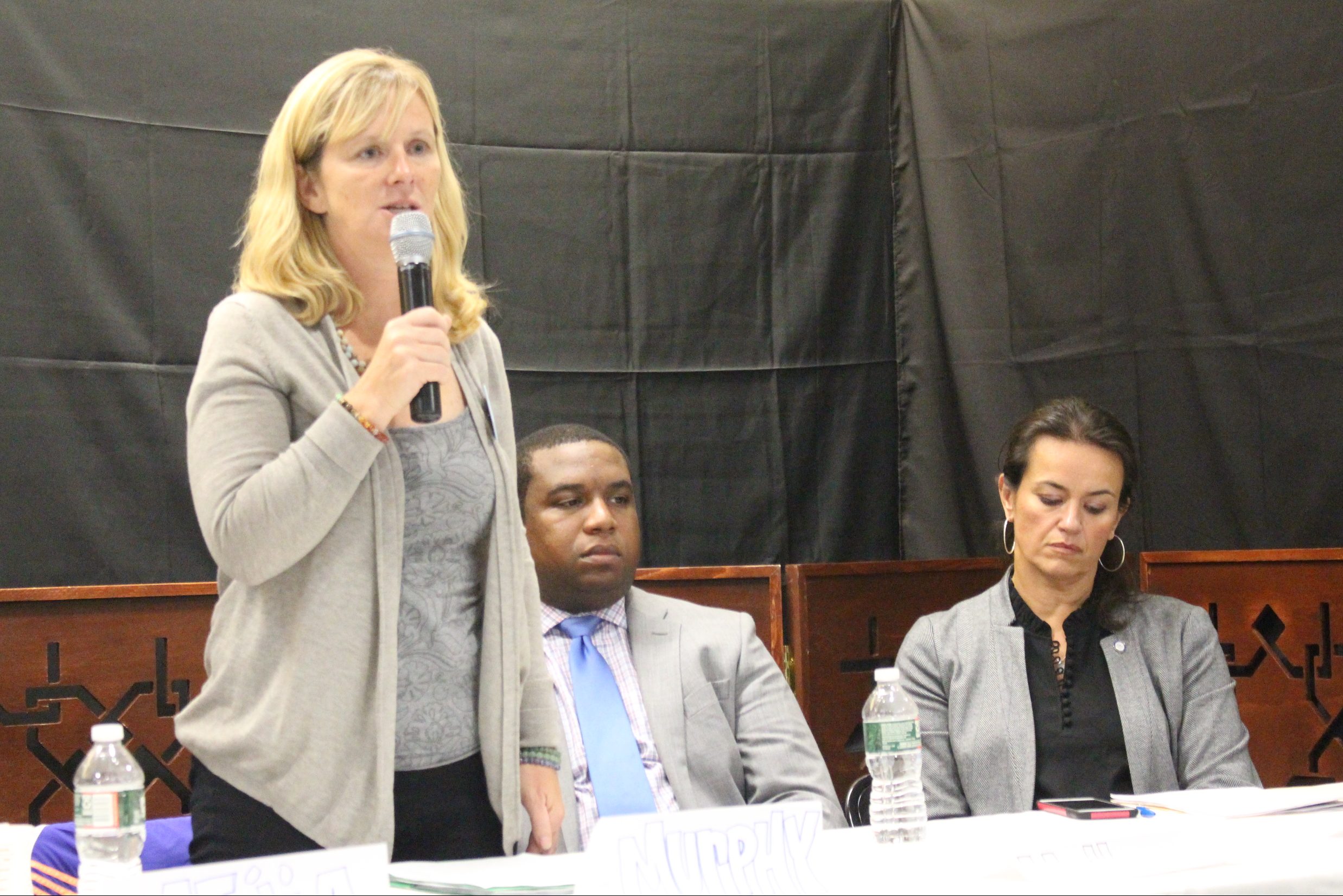 The island, just off Boston's south shore had been a refuge for the homeless since 1928 and a place that had provided care for those, like Murphy's son, who were recovering from substance abuse. It closed on Oct. 8, 2014, the same night Murphy received that distressing call and her son and several hundred others were evacuated.
"His recovery was interrupted, like many other people on the island that night," said Murphy. Her son went to Gavin House, a recovery home for men in South Boston, for treatment and is doing better today, she said.
Murphy was a part of Gavin House's running team for her fourth Boston Marathon last year. For her first three Boston Marathons she wore a different shirt to each dedicated to recovery. Her first shirt read "Heroin Sucks," the second, "Heroin Still Sucks," and her third race jersey proclaimed "Heroin Really Sucks." Murphy has been honored by Gavin House staff as an advocate for treatment and for her work to break the stigma associated with addiction. 
Since the Long Island Bridge closed five years ago, many vulnerable people have resorted to congregating along Methadone Mile, an area in the South End which includes stretches of Massachusetts Avenue, Melnea Cass Boulevard and Southampton Street. It's lined with shelters, addiction recovery centers and methadone clinics. Mayor Martin Walsh, who originally made the decision to close the bridge due to safety concerns, has pushed to reopen recovery facilities on the island after restructuring the bridge. Quincy city officials and residents have pushed back, citing concerns about traffic and congestion in both Boston and Quincy.
In August, the Boston Police Department launched "Operation Clean Sweep" with a series of arrests in the area of Massachusetts Avenue, Melnea Cass Boulevard and Southampton Street.
Thirty-four people were arrested in the first two days of the BPD's operation. Offenses ranged from drug possession to outstanding warrants. Once people had been arrested, or cleared from the area, their discarded personal items were confiscated or destroyed by the Boston Public Works Department, including wheelchairs and personal possessions. 
"They're human. We need to help them," Murphy said at the forum. "We can talk about [reopening] Long Island, but it's many years away and it's not going to solve all of the problems."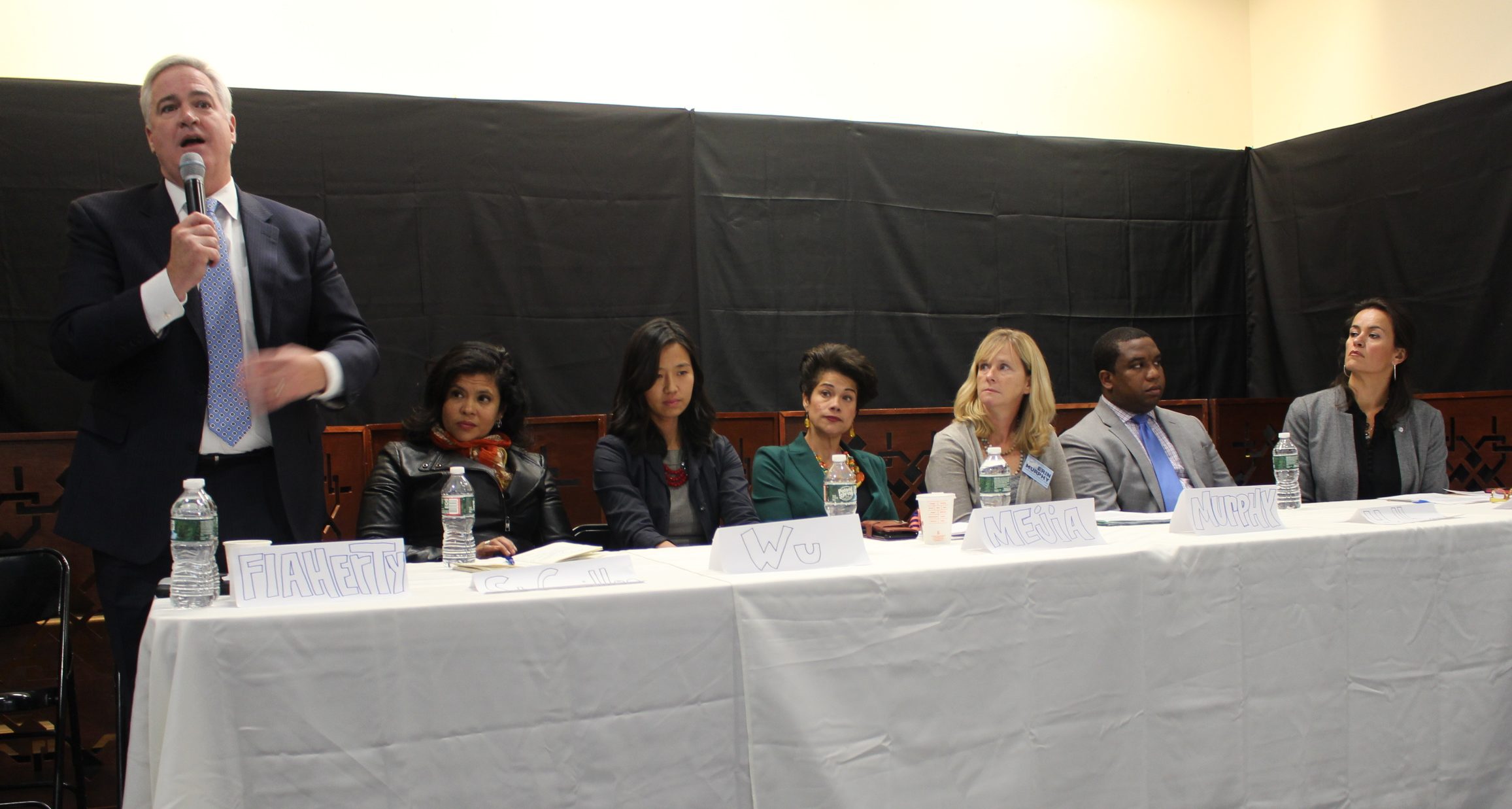 Some of Murphy's challengers in the at-large City Council race agree that "Operation Clean Sweep" was a mistake, calling it destabilizing and cruel. Other political hopefuls have said that addiction should be "decriminalized," calling for safe injection sites. 
Candidate Alejandra St. Guillen has called for holistic services that would include not just a detox bed, but also assistance reuniting people with their families and providing a pathway to employment. She supports safe injection sites.
Candidate David Halbert spoke of his fear that his daughters might discover a used needle and injure themselves when playing in neighborhood parks.
"No parent in the city of Boston should have to live with that fear," he said, explaining that implementing safe injection sites will help with the removal of such large quantities of needles from public areas. 
Murphy has said she is against safe injection sites because she believes they delay recovery.
Sharing her own personal experiences, candidate Julia Mejia told the crowd gathered at the center that her daughter recently witnessed a person overdosing in her campaign office. She also said one of her cousins had overdosed in the past. Mejia  slammed "Operation Clean Sweep" and reflected on how the crack cocaine epidemic was handled in the 1980s and 1990s, when there were less recovery services and more police action.
Crack cocaine flooded Boston during the mid-1980s. In 1990 there were 152 related homicides and many of the city's most vulnerable residents were arrested. 
"When our people were dealing with drug abuse, they got locked up," said Mejia, referencing this earlier period in the city's history. "We need to make sure that our people aren't left behind in this go-around too."