Beautifying Boston: New mural art brings sense of community to Boston neighborhoods
"I think the murals help signal and mark [that] there's something beautiful going on here that extends beyond the mural."
For the past three years, Boston has proven its commitment to supporting and embracing public art as a tool for community engagement. Dotted around neighborhoods from Roxbury to Dorchester are murals designed and implemented by local artists of various backgrounds with an intention to bring artistic meaning and belonging to every corner.
In the third year of the Transformative Public Art Program, the city of Boston has allocated $1 million for new murals in several neighborhoods. The Mayor's Office of Arts and Culture collaborated with eight different community organizations, including Boston Housing Authority, Boston Arts Commission and the Public Facilities Department. In May 2021, the Mayor's Office put out a "Call to Artists," ultimately selecting 11 artists based on their professional experience, neighborhood connections and mural proposals.
"The value of this program is the engagement that it sparks… It brought our residents together in a conversation about their community with the artist, " said Kate Bennett, administrator of the Boston Housing Authority. "There's just kind of a connection that wasn't there before."
Out of the 11 murals, six are realized, two are in progress and three are still unannounced. The murals are located in structures that run the gamut, from a street side to an apartment complex to a public park. The artists kept their respective locations in consideration when brainstorming their visions.
Here is a list of the murals thus far:
Doujans D'al Hirhoal by Cyrille Conan at the Patricia White Apartments in Brighton

You Are Loved mural series by Alex Cook inside the Engagement Center in Newmarket Square

Together by Mz. Icar on the exterior of the Engagement Center in Newmarket Square

 Rita's Spotlight by Rixy at 506 Cambridge St. in Allston

Souledad by Victor "Marka27" Quiñonez at Washington Manor in the South End

Youth Lead the Change: Rise Up From Your Roots by Mel Mandel at Franklin Field in Dorchester.

The Joy of Growing by Mattaya Fitts at the Peabody/Englewood Apartments in Dorchester (in progress)

Afro-Latin Music and Dance by Roberto Chao at Mozart Park in Jamaica Plain (in progress)
Alex Cook's mural project at The Engagement Center, located in the Newmarket Square neighborhood, supports individuals navigating homelessness and substance abuse. Originally from California, Cook has been a public artist for almost 25 years.
In 2014, he began his flagship "YOU ARE LOVED" Mural Project, which has a simple yet impactful message, and he has done more than 80 murals with this message. For this project at The Engagement Center, Cook actually created a set of four murals in its interior: "You Are Loved" in the main room of The Engagement Center, the "Tree of Life" at the entrance hall, the "Tree with Network of Stars" in the special programs room and "Thank You Heroes" in the staff break room.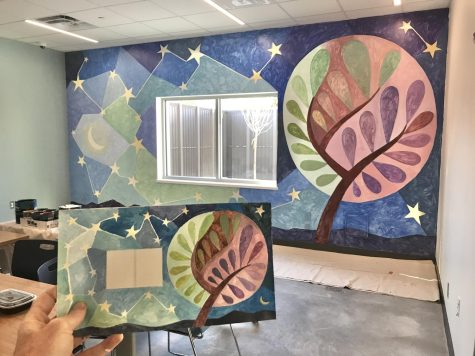 "There are some pretty difficult things happening in those locations," said Cook. "Some of the hardest things that people are dealing with are happening right there. Then you bring this really positive — sort of unconditionally positive — confident, colorful message, and it just reads differently. It's very important to me to take color and vibrancy and life and love and all of these things that make life good, and take them to places where those things are maybe less commonly found or just not present. They can be a million times more precious in a way because they're so unlike the other textures in the space."
Cyrille Conan, another artist, created "Doujans D'al Hirhoa," for the Patricia White Apartments community that offers affordable living arrangements to elderly and disabled people in Brighton. When he met with residents, Conan discovered the mural's location had once been covered in hateful graffiti. He wanted his mural to act as a Band-Aid to this hate and to show elders that many young people have respect and gratitude for the older generations.
Conan is the child of French immigrants. He chose to title his piece in Breton, the language his family speaks. "Doujans D'al Hirhoa," translates to "respecting longevity," an homage to the community at the Patricia White Apartments. His art is minimal, geometrical and abstract, a reflection of his Breton roots and New York City upbringing. The repeating circles in his mural are meant to represent the phases and movement of life.
"Art is a sign of life and positivity in a neighborhood. No matter who you are, you can enjoy it as something beautiful" said Conan. "I am really grateful to have been given the opportunity to do a project like this for a community that really appreciates it."
Anonymous artist collective Mz. Icar, or racism backwards, brought their mural, "Together" also to the Engagement Center in Newmarket Square. Mz. Icar, based in New York City, mostly consists of Black women who collaborate across public and private art. The collective stays anonymous to keep distance between themselves and their artwork, allowing them to be bold and vulnerable in what they create. 
Mz. Icar tells joyous stories around the Black experience, a mantra that guided their work on the "Together" mural. The Engagement Center is a safe-place for people suffering from addiction and substance abuse. The word "together" stretches across the mural and around the wall of The Engagement Center, a word and idea that kept resurfacing in their conversations with community members. 
The artists in Mz. Icar believe in the power of public art work and were grateful for the city's investment in it. "It'll stop you in your tracks. It changes people's relationship to the environment in a beautiful way," said a member of the collective. 'There's so many times that what we see visually is targeting us to buy something, to engage with something or to align with a view. One of the beauties of public artwork is that it's just art, it's just there for enjoyment." 
The collaboration between artists who care deeply about the public message of their work and city organizations dedicated to fostering community in Boston neighborhoods brought vibrancy and light to areas of the city that can be overlooked.
"The murals signal there's something special going on here," said Bennett. "Those of us that work in public housing know that these are living, breathing, thriving communities. But not everybody sees them that way. I think the murals help signal and mark [that] there's something beautiful going on here that extends beyond the mural."