'Vacation camps' provide safe and fun — sometimes free — place for kids whose parents work during school breaks
"As a working parent who does not have those same vacations, that was a huge help"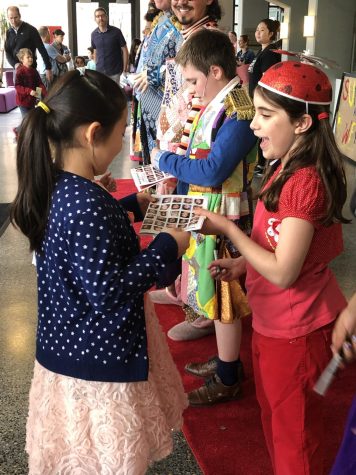 K-12 students typically have several breaks throughout their school year, from celebrating the winter holidays to summer vacation to the annual week off in February.  And as students dream of their next break, parents stress about working full-time and having their children home once again. 
Their solution: school vacation programs.
The Wheelock Family Theatre, the New Art Center and the East End House are three Boston programs that strive to alleviate caregivers' stress by providing children with exciting experiences outside of the classroom. While all three of these programs function year-round, they get exceptionally busy during school breaks and summer vacations.
"I'm a single mom and I work full time, and I work at Simmons. I definitely like the vacation camps. There is February and April vacation, and as a working parent who does not have those same vacations, that was a huge help," said Sherrie Ettinger, whose 12-year-old daughter, Maia, has participated in the Wheelock Family Theatre for over five years. "Not only was it helpful in terms of childcare but my kids were doing something they loved that week, so it was like a win-win for both of us in that way."
At the Wheelock Family Theatre, located at Boston University, students can enroll in a theater program during school vacations, and the organization aims to teach confidence and vulnerability through acting, improving communication skills and discovering talents in singing and dancing. This year from February through March, Wheelock hosted a production of "Make Way for Ducklings" — a production celebrating Boston and family, in which Maia participated. 
Not only does watching Maia perform bring her joy, Ettinger believes her daughter's dedication to acting has improved her academic experiences and self-confidence. Ettinger knows that Wheelock's impact on her family will last even once the final curtain closes, and she specifically credits Wheelock's amazing mentors.
"Every adult we have interacted with at Wheelock has been outstanding, and I feel really fortunate that my daughter has been able to be in their presence," Ettinger said. "Especially as a single parent, having other adults in her life has been very important."
Having role models for youth is also an important part of what makes East End House special. Since 1875, the East End House has been a community center that works to inspire achievement and strengthen communities by helping these youth succeed and become thriving adults through its programming. 
For many participants, East End House has become a second home. 
"So many children have been here since they were 15 months old," said Jessica Camenzuli, the School Age Program director. "We have certain kiddos who are 11, so they look at us like 'We've been here for a whole decade of our lives.'"
Not only does the East End House have summer vacation programs, but also School Age and Middle School programs that have after-school care. The smaller programs allow children to create meaningful relationships with classmates and staff members, while relieving parents' stress about transportation since Cambridge Public School students can take the bus to the East End House.
"Classrooms may be transient and things like that change every year," Camenzuli said, "but for a lot of them, East End House has been there since they were too small to talk."
On top of mentoring youth and teaching students new skills in a fun way, creating inclusive environments is another big goal for these programs, both being financially accessible and in catering to all students' needs. 
"One of our mottos at the theater is we have never turned away a student or patron because of their inability to pay," said Jenna Corcoran, a marketing specialist at Wheelock. The theater offers need-based financial aid for which anyone can apply.
Similarly, the New Art Center, a nonprofit in Newton open to all community members to create, view and discuss art, provides tuition assistance for their classes and programs. Last year, the New Art Center gave out $30,000 in scholarships, and hopes to continue to increase this number in the future. 
Other places, like the East End House, go out of their way to prioritize serving lower-income children.
Beyond the costs, these programs are also often designed to meet childrens' needs of all kinds, in order to foster inclusivity.
Madeleine Delpha, the director of education at the New Art Center and who has a son with special needs, takes pride in creating a welcoming place for members of the community to join as their authentic selves. 
"We really believe that the New Art Center is for everyone, and a lot of times the kids that struggle with behavior or learning needs are the kids that can benefit from visual arts the most," Delpha said. "That's the aspect of our camps that I'm most proud of."
After having her son kicked out of various camps, Delpha now works to ensure the New Art Center is properly equipped to take care of children of all backgrounds. The center provides staff with an inclusive teacher training that allows the programs to accommodate all kids. 
What parents want from these programs is to ensure their children are welcomed and protected, Delpha said, so they can find the relief they need. 
"They know that their kids are not only safe but really cared about in a holistic way," she said. "We really care about each kid as a person, as an individual, and I think that's why they come back."