The world of pageantry is changing: Here's what those competing say
"We're based off of preparing the world…for great young women – and preparing great young women for the world"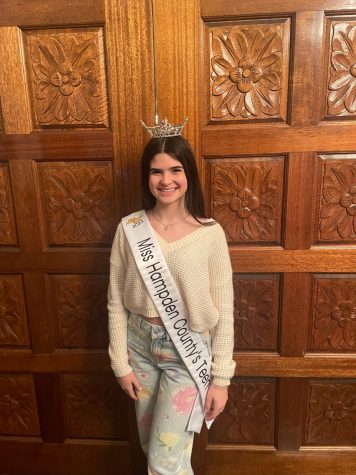 The first thing that 2022's Miss Western Massachusetts' Outstanding Teen wants to make clear is that Miss America and its nationwide competitions are not based on physical beauty.
"We're based off of scholarship, and we're based off of preparing the world for young women – for great young women – and preparing great young women for the world," said 15-year-old Outstanding Teen Laila Hosnander. "The Miss America Organization is not a pageant. It is a scholarship-based competition."
There's a misconception that all of these events take place in fancy hotel ballrooms and convention centers, but Hosnander was telling her story in the aisle of a dimly lit middle school auditorium in Fall River, Massachusetts. Here, she and her best friend Lainy Bergeron were watching the next Miss Fall River to be crowned at the Miss Fall River Scholarship Competition at Morton Middle School.
In today's America, where audiences demand diversity in all levels of society, especially the media, the charm of beauty pageants' homogenous celebration of slender, beautiful women has worn thin. Even pre-pandemic, audiences and potential competitors alike seemed to lose interest in pageantry. In 1970, approximately 70,000 women competed in local, state and national Miss America pageants. By 2017, that number dropped dramatically, to less than 4,000. And, viewership in the two biggest pageants in the U.S., Miss America and Miss USA, has been steadily declining.
Part of the reason is that the cost of competing has only gone up. Even at the local levels, young girls employ coaches to train them in interview and runway walking skills. And, while some girls can cut costs if they have a family member who happens to be a seamstress like Berry did, "it definitely helps to have money," she said.
"There were more people last year than this year," said Filomena Nicolau of this year's Miss Fall River competition. Nicolau's granddaughter competed in Miss Fall River for the second time this year, and last time, the auditorium was nearly packed. This year, only a quarter of the seats were filled. "Not everybody can pay what it takes to come to these programs."
Furthermore, pageants have long been notorious for the unrealistic standards they demand. This year, after two pageant winners died by suicide, pageantry has been under a microscope for the mental pressure they may place their young contestants under. Being a teenager is hard enough – adolescents aren't usually known for being confident in themselves.
These competitions have sought to adapt to the times by taking a more holistic approach to viewing candidates. It's a requirement for candidates to represent a social cause of choice, and today's participants often emphasize their dedication to volunteering in the community.
Even still, the subjectivity of the competition has especially taken a mental toll for some participants, as the crown is decided by a panel of judges unknown to the girls competing. At Miss Fall River, for example, the judges included former pageant winners, but also a war veteran and a teacher, both of whom appeared to have no experience in pageants themselves. 
For Mya Leonardo, the newly crowned Miss Southeastern Massachusetts, her repetitive attempts to win in the past greatly affected her self-esteem.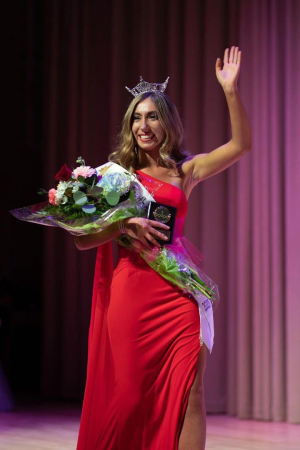 "I've been to the state pageant a total of four times now, three as a teen and one of them as a Miss [young adult], and I haven't won," she said. "So that's been a lot mentally because you're trying to prepare as much as possible."
Thus, critics have questioned if there truly is a place for pageants in a progressive, feminist society. But, for some who compete in these pageants, they can foster great confidence in young women.
"She's used this as her empowerment," Bergeron said about Hosnander, "and she just takes it and she goes all the way."
***
Historically, beauty pageants were marketing ploys.
In 1920, the owner of the Monticello Hotel in Atlantic City found his business had a problem – tourists were not staying past Labor Day weekend. His solution was to host  a parade of over 300 young, attractive women vying for the title of "Miss America." Then, on Sept. 8, 1921, the beauty pageant was born.
But, in 2018, the Miss America Organization, reeling from scandal, announced it was "no longer a pageant." This new era, said the organization, would become widely known as "Miss America 2.0." But what did that really mean?
For the first time in the pageant's history, the entire leadership team of the Miss America Organization was led by women, with television anchor Gretchen Carlson, 1989's Miss America, named chair of the board of trustees. Over the next few years, she would become the de facto face of the organization. The swift change in leadership came after an investigation by HuffPost found three years' worth of emails containing derogatory comments about the sex lives, weights and intelligence of past Miss Americas. Several members of top leadership were implicated, including the former CEO Sam Haskell.
Miss America 2.0 was seen as an attempt to rid itself of its past transgressions and modernize the way people thought of the organization. The events once referred to as "pageants" would now be called "competitions," with "contestants" now being called "candidates."
"We are no longer a pageant. Miss America will represent a new generation of female leaders focused on scholarship, social impact, talent and empowerment," Carlson said in a statement. "We're experiencing a cultural revolution in our country with women finding the courage to stand up and have their voices heard on many issues. Miss America is proud to evolve as an organization and join this empowerment movement."
Perhaps most notable of all was the elimination of the swimsuit competition, a round of competition that had become a magnet for controversy because of the pressure it put on its young competitors to uphold unrealistic and difficult-to-achieve beauty standards.
Now, according to the Miss America Organization, physical appearance is no longer used to judge candidates, and instead, each Miss America candidate must go through four stages of competition: a 90-second talent portion, an evening wear showcase, an interview with the judges about their social cause of choice and a show of physical fitness.
Although the existence of a physical fitness and evening wear showcase may sound backwards after the organization's claim that candidates are no longer judged on appearance, some believe the goal of these events is to foster courage and belief in one's self.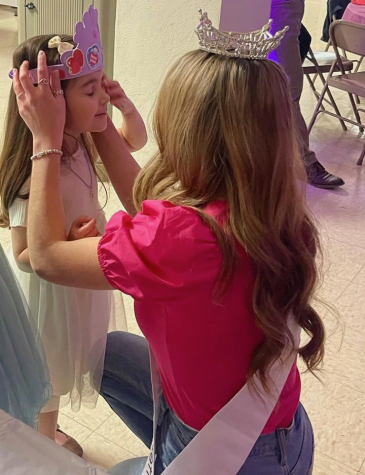 "What the judges look for is if you're confident in yourself," Leonardo said. "That's what matters. They want you to love who you are and they want to see that."
But, Amara Berry, 2015's Miss Rhode Island World, isn't buying it. In fact, the only reason Berry even entered the competition was because her modeling agency floated the idea to her and a few other girls.
"Pageantry is weird because it is a looks competition and you do have to look a certain way, but you're not supposed to talk about it," she said. "For example, if you look at the winners of Miss America, I think more than 70% of them are blonde.  They say it's a scholarship competition, and they're evaluating poise and all these things, yet how come most of them are blonde? What are the chances?"
Berry's qualms don't only lie with the claim that Miss America doesn't judge candidates based on appearance. She believes their attempts at rebranding as an organization focused on empowerment may have been too heavy-handed and even damaging.
"I don't actually think that eliminating the swimsuit competition was a great idea because it kind of implied that wearing a swimsuit meant that they were being objectified," she said.
This contrast in perceptions goes beyond New England. Julia Van Steenberghe, who wore the crown as Miss Maine USA, completed her master's thesis on beauty pageant contestants' views on feminist ideals as it related to pageantry. In the paper, Van Steenberghe interviewed state title-holders of the Miss USA organization about their personal relationship with pageantry as self-described feminists. When she asked about how the swimsuit competition made them feel (Miss USA continues to include a swimsuit competition in their pageants), their responses were complicated.
"Some of them said they had never felt better about themselves physically, while others had never felt worse about themselves physically," she said. 
But, when she asked them about Miss America's decision to eliminate the swimsuit competition, multiple participants took issue with the rhetoric surrounding why the swimsuit competition was nixed — specifically, when a Miss America donor said that "an educated woman does not parade around in a swimsuit."
"They all didn't care what Miss America did or didn't do," Van Steenberghe said. "But, they didn't want to be told what they could or couldn't do. And they inherently thought that that was actually anti-feminist."
Despite these historic issues of pageantry, some contestants like Bergeron still see this as a fun opportunity to be empowered. She looks forward to competing in next year's Miss Western Massachusetts. After watching Hosnander compete and win the title last year, she was inspired to give competing a shot herself.
"I'm very excited to get into this because I've seen Laila go through everything," she said. "There's not much holding me back."