Bad Blood and Big Banks: Climate Activists Protest Chase Bank's Continued Funding of Fossil Fuel with an "Animal Die-In"
"If you bank at Chase, then you are contributing to hurricanes in Florida, floods in Alabama, and wildfires in California."
Activists from Climate Courage staged a demonstration this weekend at the Chase branch in Downtown Crossing, Boston. Protestors dressed as penguins, tigers, and other endangered species as a response to JP Morgan Chase's continued funding of fossil fuel despite the infrastructure warning about the Sixth Mass Extinction with an "animal die-in". 
Climate Courage, the nonviolent direct action wing of the climate justice organization 350 Mass, held the protest as part of a national week of action organized by Stop the Money Pipeline, targeting banks, insurance companies, and financial institutions that continue to use customers' money to fund fossil fuel projects.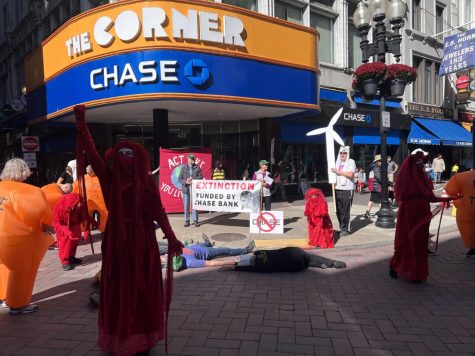 Starting at 1 PM, "animals" begged passerbys to not go extinct and to boycott Chase. "Methane bubbles" surrounded these animals, who dropped to the ground and mimicked gasping for air. Slogans and leaflets that explained the role of the bank in the climate crisis and how people can help put pressure on Chase to stop funding fossil fuels. 
A recent report titled Banking on Climate Chaos, released by the Rainforest Action Network, Sierra Club, and others shows that JP Morgon Chase remains the number one worst bank for funding fossil fuels. They have invested $382 billion in the fossil fuel industry since the Paris Agreement in 2016.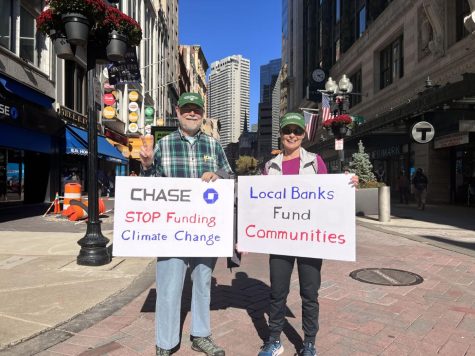 Robert Bonney, an environmental activist and author said, "Chase Bank is the number one funder of fossil fuel expansion and the ongoing sale of fossil fuels to make money. They're continuing to make money while knowing that they are destroying our habitat," He continued, "We now have the technology and resources to power our world without burning fossil fuels. We want Chase to build the momentum for investments to be in clean energy because they have the money." 
Bonney went as far as to suggest people cut up their Chase cards and go to a different bank. While this demonstration may seem extreme to many, it's an important reminder of Chase's burgeoning impact on the climate crisis, according to the attendees.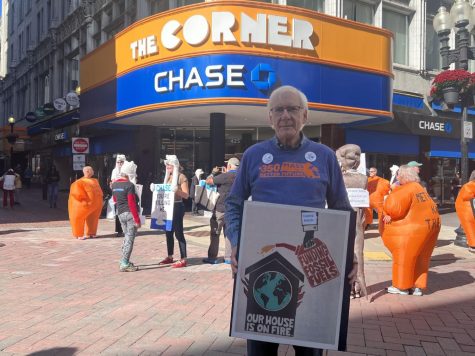 Iain Goddard, chair of the Green Sanctuary Committee, said the demonstration was interesting and informative, and he hopes other people found it to be that way.
"If you bank at Chase or have a Chase credit card, then you are contributing to hurricanes in Florida, floods in Alabama, and wildfires in California," he said, "so stop banking with Chase."
"I think today's protest will embarrass the chase management a little bit here," Bonney said, "and maybe put a little bit more pressure on them to  desist from funding fossil fuel projects."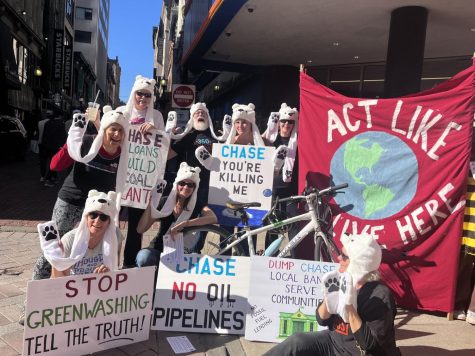 Brianna Curran, the vice president of U.S. regional communications for JP Morgan Chase, said, "We are working with our clients to help promote energy affordability and security, as well as reduce emissions and scale investments in clean technologies."