Massachusetts is losing a quiet battle against food insecurity. Experts offer solutions during Hunger Action Month
"Massachusetts has some of the highest cost of groceries than any other state. The cost of living is also very high here."
One out of three college students has experienced food insecurity. In Massachusetts, 37% of public university students are food insecure. With "Hunger Action Month" coming to a close, many wonder why Massachusetts' enduring hunger problem is so hard to solve.
"Massachusetts has some of the highest cost of groceries than any other state. The cost of living is very high here," said Kate Adams, public policy manager at The Greater Boston Food Bank. "Students are already on tight budgets as it is, and the combination of external factors, including inflation coming out of the pandemic, is really hitting hard."
At 52%, 47%, 46%, and 53%, Black, Latinx, and LGBTQ+ students and student-parents are disproportionately affected because of historical and contemporary discrimination.
Food insecurity projections from Feeding America said that the state of Massachusetts saw a 59% increase in food insecurity due to the pandemic, the greatest in the country.
Eastern Massachusetts, the service area of the Greater Boston Food Bank, saw an even more significant rise in food insecurity at a 66% increase.
While public and private response and investments in the federal and charitable food systems have helped cushion this devastating blow of the pandemic, many are still struggling to secure sufficient, healthy food. Donation-based campus food pantries are often the answer to many of these problems, but they are a temporary solution at best.
Feeding America, the nation's largest domestic hunger-relief organization, found that partnerships with on-campus and off-campus groups, businesses, and organizations foster a "more systemic and comprehensible approach to food insecurity."
That is a big objective for the Massachusetts Hunger-Free Campus Coalition, which was formed in 2019 to address food insecurity among high-need populations enrolled in Massachusetts public colleges and universities. It is co-led by the Greater Boston Food Bank.
"One of the big goals for us is how we can create a system that is connected and in communication with one another," said Catherine Lynn, vice president of communications and public affairs at the Greater Boston Food Bank. "If the resources themselves are highly matrixed and connected, then the people accessing those services will have an easier time."
The Hunger-Free Campus Coalition is currently advocating for the passage of bill S.2811/H.4697, which would establish the Massachusetts Hunger-Free Campus Initiative. Sponsored by Sen. Harriete Chandler, Sen. Joan Lovely, Rep. Mindy Domb, and Rep. Joan Meschino, the bill provides guidelines on how to help public colleges and universities expand anti-hunger initiatives on their campuses.
According to the Greater Boston Food Bank, the legislation originally included public and private universities. They had to cut it to only include public universities in order for it to receive bipartisan support.
"The legislation itself is trying to get at tackling limited resources at some of these public institutions, specifically that predominantly support a higher population of need," said Lynn. "But there has been a lot of recognition that hunger exists everywhere, especially at private institutions."
In the future, the Coalition is looking to secure more funding for all college camStatpuses, including private institutions, in the state budget.
Private businesses have also sought action to combat hunger. For example, in a press release on Sep. 8, Citizens Financial Group, Inc. announced their contribution of $200,000 to support the Greater Boston Food Bank. This is just a piece of Citizens' total donation of more than $1 million to Feeding America.
The funding is primarily categorized as equitable access grants, designed to increase access to nutritious food among households with individuals who are Black, Indigenous, and People of Color and to combat high food insecurity rates across the country.
This is the fifth consecutive year Citizens has joined forces with Feeding America. Through the Citizens Helping Citizens Fight Hunger initiative in 2021, the bank helped provide 16.3 million meals via its partnership with Feeding America and other local hunger relief organizations. In addition, volunteers contributed nearly 90,000 hours to help combat hunger in communities across the bank's enterprise.
Throughout the month of September, Citizens also hosted a virtual food drive supporting Feeding America. Every dollar donated will provide ten meals in communities served by the bank. Citizens will match each dollar donated up to $20,000.
The Greater Boston Food Bank will use the grant for its transportation fleet, covering the lease of two co-branded, refrigerated trucks for a period of 12 months.
"Our trucks are so important to making sure our communities, all the way down to the tip of Cape Cod up to the northern border, are serviced," said Adams. "We're bringing tens of thousands of pounds all over the state every day."
The primary location in Boston acts as a distribution hub, servicing 600 partner agencies and food pantries throughout Eastern Massachusetts. The trucks bring food to six "satellite warehouses" across the region daily.
Transportation also helps bridge the cap to bring in mobile markets on college campuses, where clients can efficiently 'shop' and choose from a selection of fresh foods. "Our transportation team is a huge piece of our operations and how we're able to get food out to people locally and increase access to our partners," said Lynn.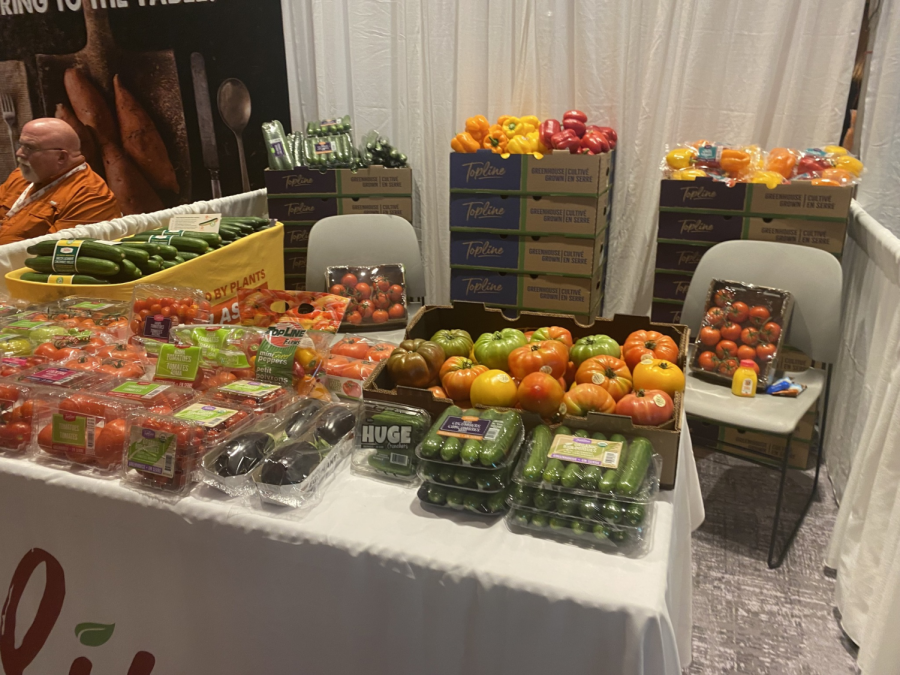 Food insecurity came to the forefront of national news on Wednesday when the Biden-Harris Administration hosted the White House Conference on Hunger, Nutrition, and Health. The Greater Boston Food Bank held an in-person panel on Thursday to discuss the conference and how to carry forward the national strategy in Massachusetts.
With a national strategy and numerous private and public organizations involved, there is a fight to end food insecurity across the country and in Eastern Massachusetts. The question is, how long will it take to end the hunger problem, especially for college students, who need help now more than ever?
"Students having their basic needs met is crucial to their success," said Adams. "If you were a student on the brink, unable to pay rent every month and cover your healthcare costs and adequately access food, it's a major barrier to a successful graduation."
Donations to the Greater Boston Food Bank can be made here.