Music education nonprofit continues serving East Boston youth after more than 30 years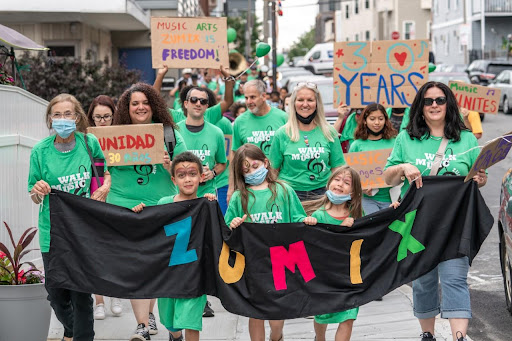 ZUMIX is a nonprofit organization that offers music education to children and adults in East Boston.
The nonprofit was founded in 1991 by Madeleine Steczynski, the organization's current executive director, and Bob Grove, who had a mission to empower youth through music. They started orgnization as a summer songwriting program with $200 and 24 students in their living room. 
ZUMIX was born as a result of the youth violence in East Boston during the '90s. Steczynski and Grove wanted to make a lasting impact in their community by connecting young people to the arts. More than 30 years later, the organization is still introducing children in Boston to new styles of music, opportunities for personal expression and future career paths. 
ZUMIX "is about helping young people realize their full potential as leaders, musicians and human beings. We make sure our student's voices are a part of what we do here. In the classes we teach and the projects they do," said Katie Gibson, development and communications manager for the nonprofit. According to Gibson, by offering free group programs and discounted private lessons, the nonprofit played a crucial role in providing musical education to the East Boston community. 
When Steczynski and Grove set out to create a program to support youth in their neighborhood, they surveyed to see which skills people wanted to learn, and music was chosen as the top category. 
"Madeleine decided she wanted to provide an opportunity for young people to do something constructive in the neighborhood," said Gibson. Along with the rest of the city, East Boston faced a set of challenges in the '90s. 
"There was a really big push in the '90s to provide things for teenagers," said Corey Depina, program director at ZUMIX. "It was the height of the crack era. And there were social and economic disparities in terms of equity and access. There wasn't a lot of opportunities for teenagers to not get blamed for what was going on.". 
A few years after ZUMIX began, its student population increased and outgrew Steczynski and Grove's living room. The organization moved around to various locations before there was a fundraising campaign to buy the Engine Company 40 Firehouse in East Boston from the city, which is the current location of the nonprofit. The programs offered began to grow as well.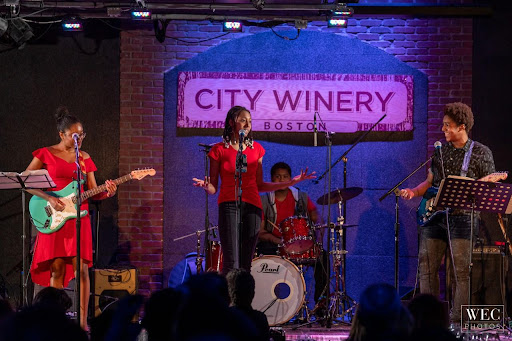 The organization now offers classes in songwriting, radio production, live sound engineering and musical theater. There's also a program for adults called Pay it Forward, but its focus is on programs for children ages 7 to 18. Its location in the firehouse includes music studios, a live sound room and a recording studio. 
The organization's mission is not only to inspire youth through music but also to teach them profitable skills. The programs offered, including training in live sound engineering, give students a foundation of skills they can use to get gigs around the city to make money. 
"Our plan is to empower young people to build successful lives for themselves, and we do that through creative media, technology and music," said Gibson.
ZUMIX has strived for the last 30 years to create a space where East Boston's youth can feel welcomed. "Having art and music as a tool to bring people together all under the umbrella of education has been really cool," said DePina. Additionally, "East Boston was a lucky space to have an arts organization to give this community that was considered like the armpit (of Boston) a beautiful soundtrack."
According to Gibson, growing up in East Boston can have its challenges. "East Boston is right by the airport. It is historically a working-class and immigrant neighborhood. Some of our students are new to this country and are learning how to adjust to a new city and new country," said Gibson. "East Boston has always been an immigrant community. A lot of our families struggle to put food on the table. And a lot of those factors contributed to the gang violence back in the day." 
Through sharing the joy of music, ZUMIX aims to create an environment where students can learn and feel proud of themselves despite their challenges. DePina, once a student before working for the organization, said Zumix "became a space where I was supported, welcomed and they helped me throughout my whole adolescence." 
Though the organization recruits students through the city's public schools, the program's presence is so strong in the community that many students join through word of mouth. 
"ZUMIX is 30 years old, and we have a lot of people who know about us in the neighborhood, through siblings or cousins. We are fairly well known. Many of our students come to us because they know people who took lessons here or they've been to a concert," said Gibson. 
ZUMIX gets funded by individual donors, private foundations (its biggest source of funding), state and local grants and corporate sponsorships. The organization also puts on its own fundraising events every year, including the Walk for Music, an occasion when ZUMIX staff and members walk through the neighborhood with a live band. The organization also hosts a fundraising gala every fall.
Additionally, in 2021 the organization received a grant of $1 million from billionaire philanthropist MacKenzie Scott. In an article for WBUR, Steczynski said that ZUMIX plans to use the funds to promote its long-term stability. 
"[ZUMIX] has evolved, with everyone's input, into something so much bigger than me,' Steczynskitold WBUR. "With all my heart, I want it to live on well beyond me. And this, I think, is the first really significant thing that gives me real confidence that it will."
Employees at the nonprofit say they are working to make ZUMIX a place where people can better their lives and community through the shared love of music. 
"Nonprofit work is about fulfilling a vision around core values," said DePina. "ZUMIX believes in our mission that young people have access to arts and are treated as professionals and can see themselves as professionals doing something that they love."