Harvard's delayed response to sexual harassment allegations against professor leaves students disappointed, not surprised
When three Harvard University graduate students sued the University, alleging sexual harassment and misconduct by an anthropology professor, their message was loud and clear — elite institutions are not immune from intense scrutiny. 
Harvard students were disappointed but not surprised to learn that their university neglected these complaints for almost a decade.
"Harvard's going to continue what it's been doing for as long as it's been an institution and protect its assets," said Harvard sophomore Meadow Hall. "These are not the first students coming forward, and it's infuriating to anybody who will sit down and listen and keep track of the story."
In early February, Lilia Kilburn, Margaret Czerwienski and Amulya Mandava filed a lawsuit against Harvard in Boston's federal court, accusing the University of ignoring sexual harassment allegations against anthropology professor John Comaroff. The three women alleged that, for years, Comaroff repeatedly made inappropriate comments and unwanted advances, all while threatening their academic careers.  
In a Title IX investigation, Harvard found that Comaroff engaged in verbal misconduct that violated the University's policies on sexual and gender-based harassment and professional conduct, but he wasn't found responsible for unwanted sexual contact. 
Comaroff was placed on administrative leave for the spring semester and barred from teaching required courses for the next academic year. He has denied all accusations.
In a move that shocked students, 38 faculty members signed an open letter defending Comaroff and questioning the allegations against him. A day after the lawsuit was officially filed, almost all of the professors signed another letter retracting their original statements. 
"I was surprised by the letter," said Jillian Wachira, a senior at Harvard. "Cases like this are usually fairly quiet, as in not in the public eye."
Sexual harassment is not uncommon in academia; an Academic Sexual Misconduct Database has tracked 1,163 publicly documented cases in U.S. universities since the 1980s. At Harvard, only 13 cases have been publicly reported. 
Students say this number feels low.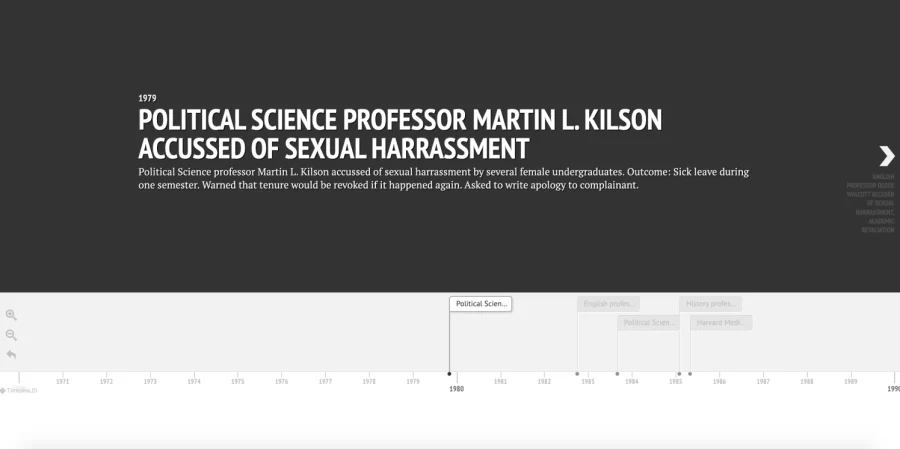 "Pretty much everyone I know has had bad experiences with this, especially women. It feels like a very common situation, and then it ends up dying down after a while," Wachira said.
In response to the allegations, 15 professors from Harvard's anthropology department are now urging Comaroff to resign. According to the database, only five Harvard faculty members have resigned because of sexual misconduct incidents, while others were reprimanded, suspended, or paid monetary settlements. 
Some students fear for their safety on campus, blaming Harvard for creating a problematic reporting and response process regarding sexual misconduct. Callum Diak, a freshman at Harvard, said he feels uncomfortable knowing that educators are tolerating Comaroff's behavior, "especially at a place where students are supposed to be in a safe environment where they can learn and grow as people," he said.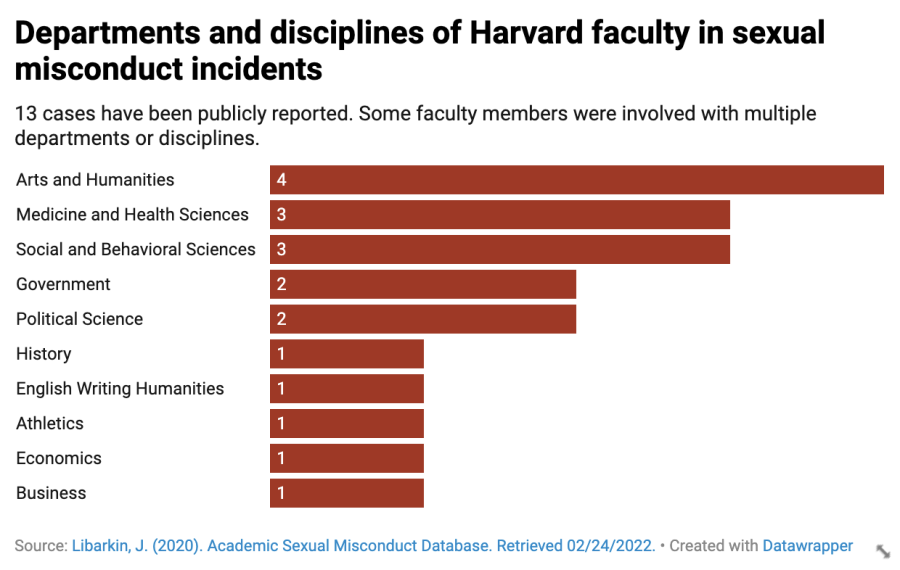 Although some students were willing to discuss Harvard's handling of the recent allegations, others were fearful of their names being associated with an anecdote or a professor who signed the open letter. 
One graduate student, who asked not to be named because several of her professors signed the open letter, said that she doesn't trust Harvard and would never "come forward with an accusation through the process of the University."
Soren Nyhus, a senior at Harvard, said he worries about the culture that might exist with some faculty members. Nyhus wants the University to hold those accused of sexual misconduct accountable. By reconstructing the process with the right consequences, he said, "nobody will be able to get away with anything because they're a prominent professor who has contributed to their field."
An earlier version of this was published on WordPress.