Michelle Wu elected as Boston's first woman and person of color as mayor
Wu's opponent, Annissa Essaibi George conceded roughly two and a half hours after polls closed at 8 p.m.
Michelle Wu became the first woman and first person of color to be elected mayor in Boston on Tuesday after opponent Annissa Essaibi George conceded early Tuesday night. Wu's term will follow acting Mayor Kim Janey, who became the first woman and Black mayor in Boston when former Mayor Marty Walsh stepped down to become President Joe Biden's U.S. Secretary of Labor in March. Wu will be sworn in on Nov. 16.
Wu announced her run for mayor in September 2020 and has campaigned for over a year until she became a finalist for the municipal election on Nov. 2. Her campaign policies include investing in affordable housing, investing in education equity, closing the racial wealth gap, repairing the city's transportation system and infrastructure, reforming development planning processes to prioritize stability and communities, supporting small businesses, making health resources accessible to the public, ending gun violence and domestic violence, protecting labor rights, implementing a city-wide Green New Deal, and supporting the arts and cultural sector.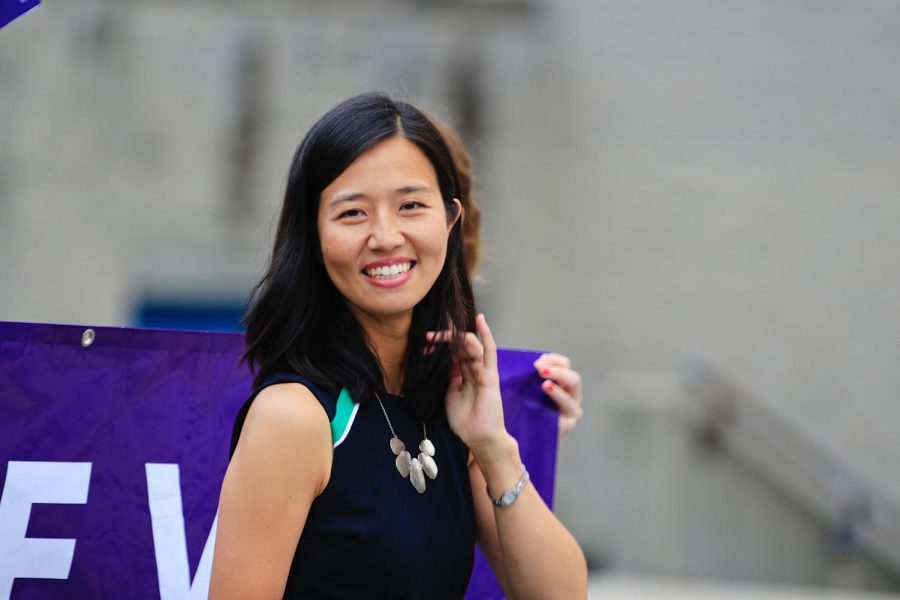 Wu became the first Asian American woman to serve on Boston City Council when she was elected councilor at-large in 2013. As a councilor, Wu was a member of the committees of Arts, Culture, and Special Events, Civil Rights, Post Audit and Oversight, Rules and Administration, Small Business and Workforce Development, the Community Preservation Act, Government Operations  and Strong Women, Families, and Communities. She also serves as Chair of the Committee of Planning, Development, and Transportation, the Vice Chair of the Committee of Environmenment, Resiliency, and Parks and the Vice Chair of the Committee of Census and Redistricting. 
She was the lead sponsor of the Paid Parental Leave ordinance and Gender Identity Non-Discrimination ordinance to prohibit discrimation based on gender identity for municipal employees. She co-sponsored an ordinance with Councilor Ricardo Arroyo that the Council unanimously passed to prohibit information-sharing between law enforcement and the Boston Public School system and the acquisition and use of surveillance technology without the Council's permission. Wu also proposed a Green New Deal for the city in 2020 and fare-free public transportation in 2019.
Wu became the first woman of color to be elected President of the City Council in 2016. She previously worked for Mayor Thomas Menino for 10 years, during which the administration passed 14 new pieces of legislation. While working with Menino, Wu created an online tool kit for restaurant and small business owners and a city approval process for food truck operations in Boston. 
She graduated from Harvard College and Harvard Law School, and she later worked for her former law professor, Elizabeth Warren, in Warren's U.S. Senate campaign in 2012. Warren endorsed Wu's campaign in January. They share similar progressive views on policy areas such as housing justice, transportation and the climate crisis and they have previously campaigned for each other.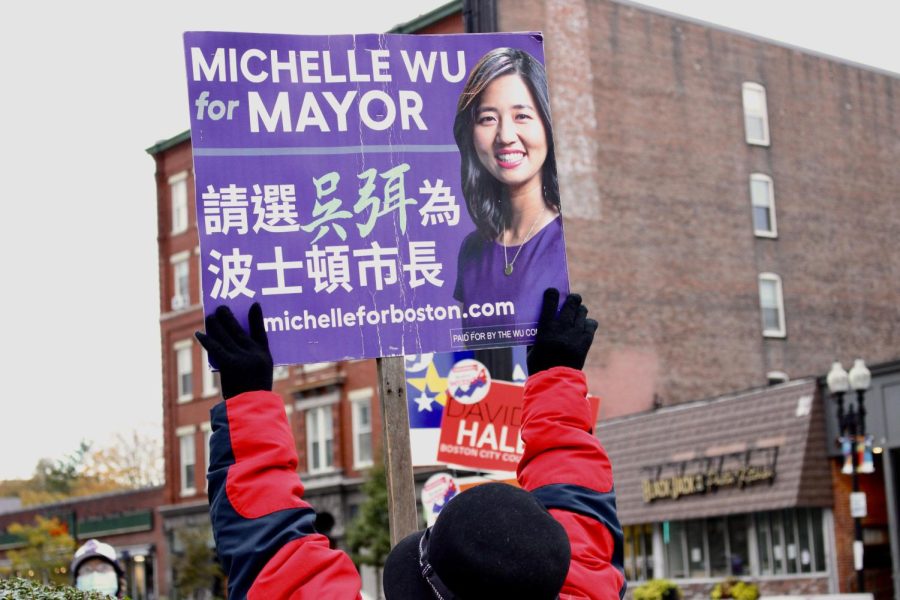 Wu plans to make the MBTA system more accessible to low-income residents by removing the subway line fares, which is based on the trial period of the free route for the 28 bus from Mattapan to Roxbury that was implemented by Janey in August. In a debate with her opponent Annissa Essaibi George, Wu said that Boston residents are already "paying the price" for a transportation system that does not work. She also recalled meeting a student from Mattapan who said that the free-fare 28 bus changed his life. 
Wu also said her administration would direct $200 million in American Rescue Plan Act funds toward affordable housing and homeownership opportunities for Black people in the city. In August, Wu was the only candidate to support rent stabilization as a solution to the city's rising housing costs. If her administration introduces a rent stabilization legislature, she will need to convince Gov. Charlie Baker that it will be sustainable and affordable for Boston residents and landlords.
In the last debate with Essaibi George, Wu said she wanted to start a ferry shuttle service to Long Island to address the public health crises of homelessness and substance abuse surrounding the Massachusetts Avenue and Melnea Cass Boulevard area. The Long Island Bridge was demolished in 2015 and all people who used the recovery services or were staying at the homeless shelter on Long Island were displaced. The shuttle service would be an alternative solution to rebuilding the Long Island Bridge.
Wu plans to make preschool and child care for children under the age of 5 more accessible to Boston residents. During her campaign, Wu proposed to offer rent-free spaces in municipal and public buildings, financial help with rent or start-up costs for in-home childcare providers and a new education track at Madison Park Technical Vocational High School that would allow the students to help local families.
In an interview with Jamaica Plain News, Wu said that she wants to reform the Boston Police Department (BPD) to increase transparency and accountability and that she is in favor of abolishing the Boston Planning & Development Agency. She plans to decrease overtime pay for BPD officers and eliminate the minimum requirement of four hours of overtime that officers get for any court visit of any length.
Wu's transition team began meeting with Janey's chief of staff Chris Osgood to discuss the transfer of power, policy areas, logistics and security details. Mariel Novas, a community organizer who has a doctorate in education leadership, leads Wu's transition team. Wu did not hire an outside consultant for her transition team.
Wu's parents, Han and Yu-Min Wu, immigrated from Taiwan to the U.S. in the 1980s, and she grew up in Chicago. Her parents separated when she was in high school and eventually divorced. When Wu was 23, she became the primary caregiver for her mother and two younger sisters. She later found psychiatric treatment for her mother after Yu-Min was diagnosed with schizophrenia. In May 2020, Wu wrote an op-ed piece published by The Boston Globe in which she advocated for mental health awareness and ending the stigma of mental illness. 
Wu and her husband Conor Pewarski have two sons, Blaise and Cass. Pewarski is a commercial real estate banker at East Boston Savings Bank. Wu's family currently shares a two-family house in Roslindale with her mother.