Darrell Jones, Wrongfully Imprisoned for 32 Years, Uses His Freedom to Fight for Others
At 2:37 a.m. on April 19, Darrell "Diamond" Jones stood alone in front of Cup Foods in Minneapolis — the site of George Floyd's death almost a year prior. Then he  filmed himself and livestreamed it on Facebook.
"It was necessary for us to represent Boston and where we're at," Jones, a Mass. resident who was wrongfully convicted of a Brockton murder and served 32 years in prison said to his Facebook audience. "When I see that sign 'innocent,' I'm reflective on the fact that I, myself, did 32 years in prison for a homicide I didn't commit… I know what innocence feels like. It was a different kind of death, but it was all equal to us being of the same culture and the same injustice system." 
Jones was found not guilty in a murder retrial in 2019. An exoneree and prominent Bostonian anti-prison advocate, Jones traveled to join the protests in Minneapolis seeking justice for Floyd and his loved ones. He knelt to speak with Floyd's daughter Gianna and preached to the same audience Floyd's family and legal team spoke to.
"We won't take that no more. We're the people power. Not In My Name, will [the criminal justice system] do this [type of injustice]," Jones said to close. 
The "Not In My Name" line at the end of Jones' speech referred to his personal philosophy, which emphasizes that many convictions can be wrongful. Jones said he wants citizens to be aware of this and become more engaged and skeptical of convictions that the defendants claim to be wrongful, like in his case. As the District Attorney tries criminal cases in the name of the Commonwealth, citizens of Massachusetts, he said, are included in this name and therefore must  stand up and refuse these wrongful convictions happening under their names.
Jones' freedom is filled with constant advocacy for those still imprisoned. His work takes many forms: speaking at Black Lives Matter protests, addressing high schools and colleges, and working in Mayor Marty Walsh's office as a special advisor and consultant for public safety. He also works individually with those still in prison, advocating for better conditions and justice for those he believes to be innocent. Once they're freed, he is there to help them through re-entry.
"I don't see them without seeing myself," Jones said, describing the reason why he is so vocal. "My whole life is in there…  Reaching back to them is not like reaching back to prisoners. It's the other side of my family. I don't intend to leave them behind, struggling through the same thing that I struggled through."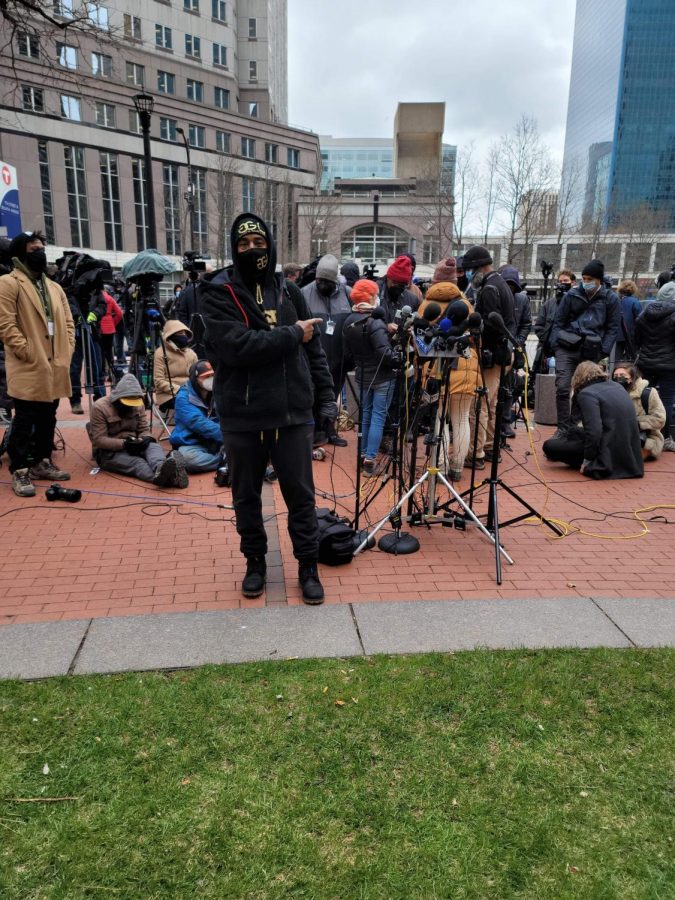 Wrongful Conviction
In 1985, Jones was accused of murdering alleged Cuban cocaine dealer Guillermo Rodriguez in Brockton. He said he swore his innocence from the moment he was charged, even when offered a plea bargain. Jones said he refused to allow his dignity to be stolen.
He was 18 years old when the murder occurred. There was no physical evidence linking him to the crime, he didn't know the victim and no motive was given. At 19, he was sentenced to life without parole. His next 32 years were spent incarcerated at Souza-Baranowski Correctional Center, a maximum security prison in Lancaster.
Jones spent his time in prison steadfastly defending his innocence. He studied law, lived by the books, protected documentation and endured alleged harassment from guards — all while losing the most formative years of his adult life. 
Jones said his efforts for exoneration were largely ignored. Only his father's continuous work in support of his innocence connected him to the resources that helped clear his name.
"There was no societal help other than my lawyers and my dad, who actually opened the door," Jones said. "I grew in the last 15 years to help myself."
Exoneration & Retribution
Jenifer McKim, a professor of investigative journalism at Boston University, received a message from Jones' family in 2014, three years before his exoneration. The message requested help amplifying Jones' story. Backed by her class of student journalists and in partnership with Bruce Gellerman from WBUR, McKim investigated and amplified Jones' efforts from outside the prison.
"It was all very serendipitous, frankly. I wasn't looking to do a wrongful conviction case," McKim said. "I had just left The [Boston] Globe, I was at [The New England Center for Investigative Reporting] and we had had a history of doing some interesting work."
The investigation turned into a 5-part series on WBUR amplifying misconduct in the Jones case. They worked together with Lisa Kavanaugh, an attorney from the Innocence Project, to investigate the story. Jones instructed his legal team to release all information to the investigative journalists — he knew he had nothing to hide.
In 2017, Jones was released on $5,000 bail and received a retrial, at which he was acquitted. Superior Court Judge Thomas F. McGuire Jr. ruled that Jones did not receive a fair trial because detectives tampered with the video recording, his lawyer was ineffective and jurors made comments that he must be guilty because he is Black.
"I don't think there's anything as humanly poignant as writing a story about a person that contributed to his own exoneration and actually being there to watch him walk out of the courtroom that he had been convicted of murder in 32 years before then," McKim said.
Two years later, prosecutors pursued another murder charge against Jones. Once again, he was found innocent.
"There was never a question in my mind about Darrell's innocence," Jones' defense attorney Paul Rudof told WBUR in 2019. "There's always a question about what a jury is going to do, but his innocence was so obvious to me, and I thought it should have been obvious to them, and eventually they came back and said the right words."
After his exoneration, Jones' legal battles were far from over. He sought real justice for himself and others. By meeting with lawyers, legislators and community organizers, Jones joined the fight that freed him — this time, as an activist.
Jones filed a lawsuit in the U.S. District Court in Boston. This time, the City of Brockton and the Brockton Police Department were on trial. Neither responded to requests for comment.
The lawsuit states that, "In serving 32 years in prison, Jones was wrongfully deprived of virtually his entire adult life up until the time of his release. Jones must now attempt to make a life for himself outside of prison without the benefit of the decades of life experiences which ordinarily equip adults for that task. The effect of more than three decades of wrongful incarceration on Jones' life has been profound, including physical and psychological harm, as well as lost economic opportunities."
Jones' suit did not seek monetary damages, but rather, "redress against these defendants for their role in depriving him of the rights, privileges and immunities secured by the Constitution and the laws of the United States," it states.
Robert J. Norris, Ph.D. in Criminal Justice and Innocence Researcher, emphasized that wrongful imprisonment cannot be made up for. You cannot give that time back. However, there are three ways exonerees can seek redress: lawsuits, private legislation and state laws which provide compensation.
"Even beyond compensation and re-entry, most exonerees I've met, as much as anything, want an apology," Norris said. "They want somebody to acknowledge that a mistake was made and acknowledge the harm that was done."
Joining the Fight for Justice
When asked what he's up to now, Jones responded, "Up to? Every day is a new 'up to.' All of them are new days for me. Every day is a 'up' day." 
When Jones was first incarcerated, Facebook did not yet exist. Now, he uses it as a megaphone to amplify his experience and advocate for others' freedom.
"I did a lot of [Facebook] Lives. I would do late night Lives…. I just speak on all kinds of things. I realized it was an outlet that everyone don't seem to use that way. With the situation in society out here now, it was a platform to tell my truth."
Jones posts regular content for over 2000 Facebook friends, including formerly incarcerated people, community activists and Jones' personal support system. He comments on timely events, tells his own stories and gives a platform to those he believes to be innocent.
"I think sometimes we lose the reality that these are human beings. People that a majority, believe it or not, made choices that they didn't even know they were making. Those were the only options they had," Jones said as his reason for speaking up on Facebook. "It's reaching back to what I know. It's not repetitive to me because it's almost 35 years' worth of talking."