Kim Janey makes history after being sworn in as Boston's 55th mayor
Former City Council President Kim Janey was sworn in as Boston's 55th mayor on March 24 at Boston City Hall, becoming the city's first person of color and the first woman to hold the office in Boston's history.
Succeeding former Mayor Marty Walsh after his appointment and confirmation by the US Senate into his new role as Labor Secretary on Monday, March 22, Janey transitioned into mayor from her position as city council president following a career focusing on education advocacy through her roles as community organizer for Parents United for Child Care and the Massachusetts Advocates for Children non-profit.
Janey, a sixth-generation daughter of Roxbury who was subjected to the racism caused by the city's historic bussing crisis, has long been an education advocate. She said she intends to provide a level of focus on reopening schools fully and making up for the opportunity gaps worsened by the COVID-19 pandemic. She also spoke of an immediate focus on reopening the city while simultaneously addressing its historic inequities.
"Let's be clear, the problems laid bare by the pandemic were here well before COVID-19. The issues of affordable housing, fair wages, public transportation and climate change are not new," said Janey. "What's different is that these issues now impact even more of us, but I believe as our pastor has said, these obstacles create an opportunity – an opportunity to come together, to heal and build a better and more equitable city. I am humbled and passionate about the possibilities for Boston, the city that I love."
The historic ceremony began with a prayer led by Janey's pastor, the Rev. Willie Bodrick II of the 12th baptist church in Roxbury before Congresswoman Ayanna Pressley spoke to introduce both Janey and Chief Justice of the Massachusetts Supreme Judicial Court, Kimberly S. Bud.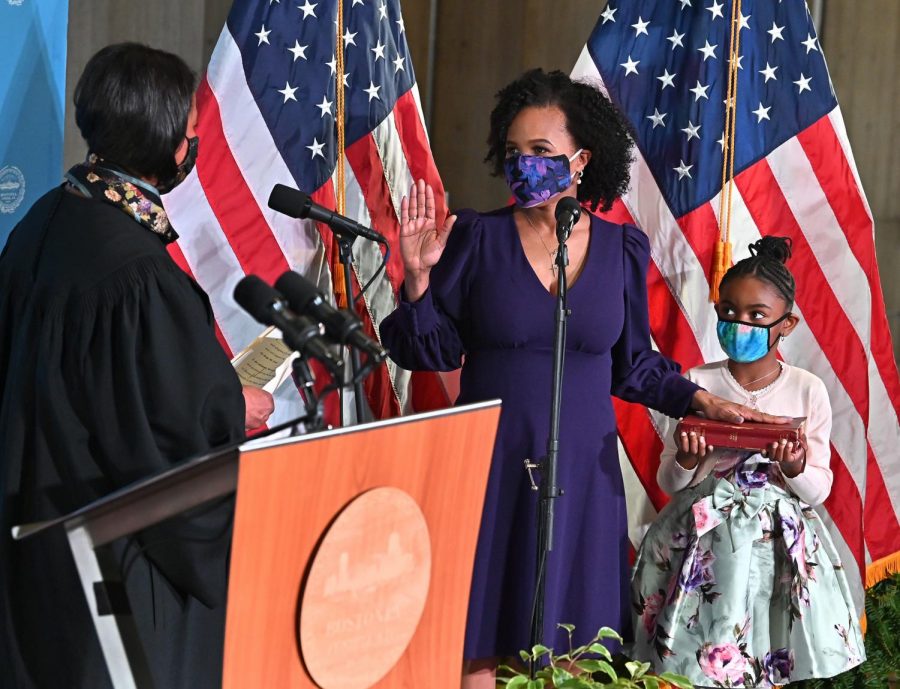 Pressley became the first woman of color to serve on Boston's city council after being sworn in in 2010 and Bud became the first Black woman to lead the Massachusetts Supreme Judicial Court in its 328 year history.
"We are not makers of history, we are made by history. The historic ascension of Kim Janey, which we celebrate today, is not an individual achievement. It is the culmination of the ancestors' prayers, their hopes, dreams, struggles and achievements … I want to take a moment to uplift just some of those who have put their name forward in the past to serve the city they love as mayor: Mel King, Bruce Bolling, Charles Yancey, Charlotte Golar Richie and Tito Jackson," said Pressley. "This is a proud day for the city of Boston and all Bostonians, but I know this has a special meaning to those who dare to dream a different future for our city across the generations. Today that seemingly improbable dream is a reality."
Justice Bud administered the oath of office to now-Mayor Janey as the former city council president placed her hand on the Bible held by her six-year-old granddaughter on her side in a historic moment for the city and the state.
Janey's address touched on the city's many pressing issues, she also thanked those who had done the work to make this moment possible throughout Boston's history.
"Both Chief Justice Bud and Congresswoman Pressley are part of a long line of Black women in our city who have broken down barriers. Women called to lead, whether activism like Melnea Cass, journalism like Sarah-Ann Shaw and Liz Walker, or public service, like Doris Bunte, Jean McGuire and our district attorney, Rachael Rollins. I stand on their shoulders," said Janey, before thanking Chief Justice Bud for her own ground-breaking career and the honor of being sworn in by her as well as citing Pressley's shattering of glass ceilings as the first Black woman elected to Boston city council and the first Black woman to represent Massachusetts in Congress.
After congratulating Marty Walsh on his path to labor secretary, Janey said her experiences may differ from the 54 mayors proceeding her as the first woman and first Black mayor of Boston. She said she feels her term is representative of increased opportunity and possibility for the city and its residents through a perspective unique to the Mayor's office.
"To the people of Boston, I say you have a stake in our city's future. You are the essential part of this recovery. Let's not be afraid to tackle the longer-term challenges that we face, together. From racial justice, to environmental justice, from affordable housing to our transit system, from our public schools to public safety. We cannot go back, our only option is to go better," said Janey. "Today is a new day for the city of Boston, and as mayor I promise to bring my life experiences and my passion for making this city better for everyone, every single day. I promise to bring urgency to this job and strive to make positive change happen in every neighborhood in our city. In my administration there will always be a place for those left out of power."