This Innovation Center in Roxbury wants to help everyone start and grow a business
In lower-income communities in Boston that have been historically left out of development efforts, residents may have less access to resources to start a business. Roxbury Innovation Center hopes to change this.
"Oftentimes when you're starting to build a business, you see the whole mountain," which can be intimidating, said Tara Atwood, senior director of entrepreneur programs and marketing at Roxbury Innovation Center, or RIC. "You just have to look at the first 100 steps. Then, once you get there, another 100 steps." 
Located in the heart of Nubian Square, the Center opened in 2015 as a nonprofit organization, functioning as a free event space for entrepreneurs and offering programs to guide the process of launching a business. Even operating virtually during the COVID-19 pandemic, RIC guides entrepreneurs step-by-step through the process of establishing and launching their business. 
RIC has several programs, depending on where the entrepreneur is with their plan, and there are no eligibility requirements to join. The center, which employs three staff members, assesses an entrepreneur's progress – which could be none – then advises on which program is a good fit. "You don't have to have done X, Y and Z for us to talk to you," said Daniel Vidaña, who served as the director of RIC prior to becoming president of Innovation Studio. 
Innovation Studio oversees RIC and a collection of similar nonprofits across New England, including a location in the Seaport and Cambridge. 
Recently, with service industry jobs diminishing during the COVID-19 pandemic, Vidaña said, interest in RIC programs has increased. "A lot of people thought, 'I should look at this opportunity that I've been thinking about and start this business.' But the question is: How do you do it? Where do you go?" RIC answered the call by offering all of its programs and services in a virtual format.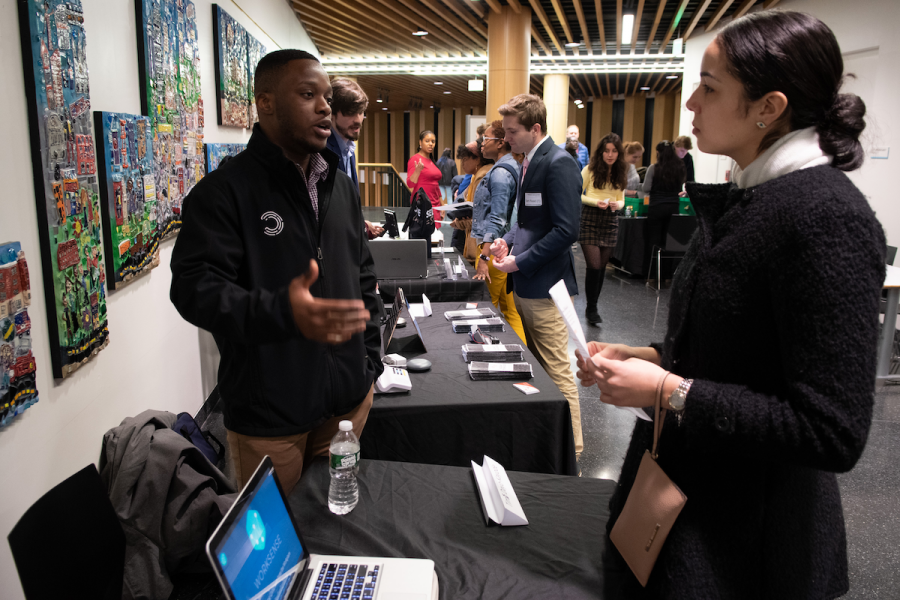 Each of the programs offered are intended to democratize innovation by providing the expertise and resources necessary to start a business. "We're trying to understand where you're at today and determine what the next steps are," Vidaña said.
To do so, the Center has created three programs, Atwood said. First, for those starting at ground zero, there is Pathway, a program of seven, mostly independent steps, such as creating a business plan. Next, successful candidates can apply to the Launch, a pre-accelerator, which prepares entrepreneurs to apply for more selective accelerator programs outside of RIC that support entrepreneurship and offer intensive small business training, but have significantly higher entry standards, such as MassChallenge or EForAll. 
Finally, RIC regularly holds a pitch night, where entrepreneurs can pitch their business plan to sponsors and investors for a cash prize. To date, RIC has held over 800 events and over 5,000 programming sessions on topics ranging from financial literacy to marketing and pitching best practices. At the most recent pitch night, RIC said it gave away $7,500 in prize money to four winners.
Over the last year and a half, RIC graduates have filled about a quarter of the MassChallenge accelerator cohort, Vidaña estimated. For Dianne Austin, CEO and co-founder of Coils to Locs, both RIC and the pitch night played a key role in the launch of her business. After attending RIC's financial workshop, Austin decided to enter the pitch night competition in late 2019. She won first place with her idea to create medical wigs for Black female chemotherapy patients. 
A few days after the win, Vidaña connected Austin with a writer from Forbes magazine — who has now become a business advisor for the business — to help Coils to Locs gain more traction. "From the connection with the writer, we were connected to a PR firm that took our business on pro bono. … We've been featured in the online publications of Elle, InStyle, Everyday Health and in the Boston Globe," Austin said in an email. 
"My early connection with the RIC team which coincided with our business launch, I believe, helped us to gain invaluable exposure and traction more quickly," Austin said. Coils to Locs wigs are currently sold in seven cancer centers in four states, a number that is continually increasing.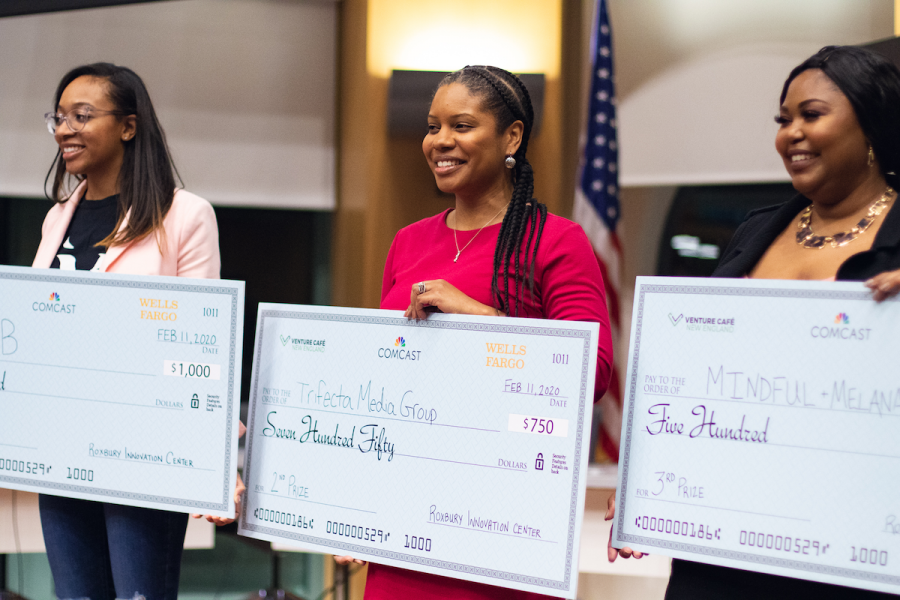 While RIC may have their business plan down to a science now, it was not always this easy. "When we were afforded the opportunity to open up in Roxbury, we took the similar ideas of Cambridge and District Hall in the Seaport and tried to replicate them in Roxbury," Vidaña said. "But there is no comparison in terms of the way they're set up. Even though Roxbury and District Hall, the locations are only three miles apart, you might as well be in different worlds." District Hall, located in the Seaport, where the median household income is twice the median income of Boston, focuses heavily on networking events. 
This did not translate well in the neighborhood of Roxbury, where the median household income is $25,937 – nearly half of Boston's median income. Additionally, Roxbury is particularly vulnerable to gentrification, as 81% of its residents are renters rather than homeowners. Vidaña sees the problems clearly and sees a reflection of his hometown of Stockton, California in Roxbury. "When I put myself in Roxbury, it's just like, 'Wow, I've seen this before, growing up,' … High unemployment rate, high poverty rate, lack of various resources," Vidaña said. 
As Boston has developed over the years, Vidaña said Roxbury has been left out and has actually had services taken away rather than added. "There is no less ambition in Roxbury … in fact, they're probably more ambitious in my opinion, because they want to see that community rise up and be self sustainable, but the barriers that get put up make it really difficult to progress," he said. 
Under the federal Opportunity Zone Program, which provides investment incentives to low-income communities like Roxbury, RIC qualifies for federal grant money. Vidaña said this grant money, awarded on a two-year basis, is very helpful for the time being but does not provide long-term security. 
In order to fully fund all of the services RIC provides, Vidaña said he is always working to form partnerships with banks and foundations in the community that will sponsor the programs. "We are looking at various revenue streams to diversify because we know that we can't count on any one particular stream altogether," Vidaña said. 
With Vidaña's added perspective, RIC devoted its efforts to identifying and bridging the gaps in the community and began to think differently about their approach to Roxbury. Most importantly, RIC recognized the power of letting the people of Roxbury know that RIC was there to make an impact, Vidaña said. 
This power has been shown through pitch nights, which not only gives entrepreneurs the chance to pitch their ideas and win money but also to encourage their peers to do the same. "When you see somebody that looks like yourself, or somebody in the community you grew up with, going up there and doing a really good job of pitching their idea – whether they win the money or not – the point is it sends a message to the community that, 'Hey, why can't I do that?'" Vidaña said. 
But sometimes the biggest obstacle in launching a business is believing that you can, Atwood said. "When people realize, 'Oh my gosh! I can also have success and have a business, it's not only people like Bill Gates or Elon Musk or Mark Zuckerberg that can be successful.' … That is the first thing, believing in yourself," Atwood said. "It often takes someone else to believe in you before you can believe in yourself, to be honest." 
According to RIC's website, in the six years since opening, Roxbury Innovation Center has served more than 265,000 attendees through programs and events. 70% of the entrepreneurs are Black, Indigenous and people of color, or BIPOC, and 60% are women. 
"Being an entrepreneur is in your DNA, you're always looking at something with a different lense" Atwood said. "But they don't have the connections, they don't have the resources, they don't have the business acumen or a foundation to build on. We really help them bridge the gap."