Podcast: Scoops from the Scope — Episode 1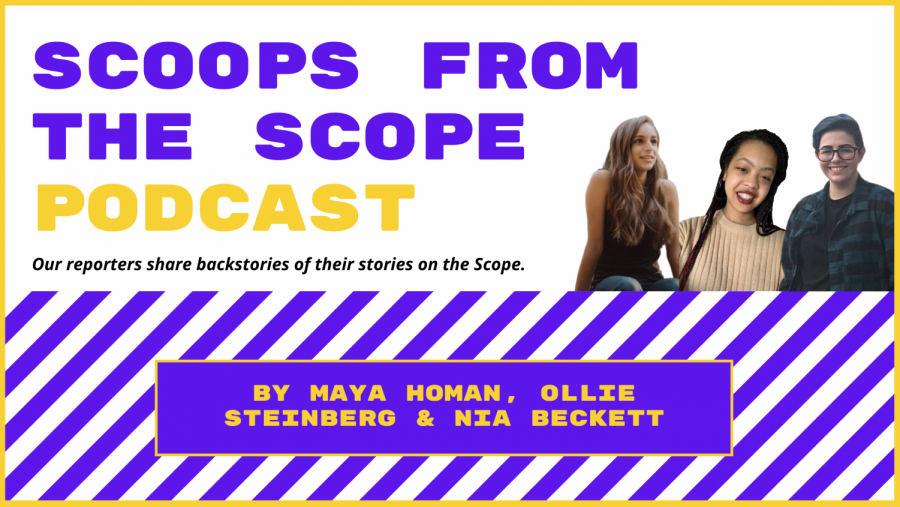 Hello readers! Here at the Scope, we try to bring you stories from local neighborhoods and figures that are not often featured in other major news outlets, people who, in their own ways, are making positive impact to communities, improving lives, or simply making us smile a little more. As our reporters dig into stories we thought you may find informative, useful and intriguing, they themselves have little backstories of those stories they want to tell. Hence, we created this podcast as a space for our reporters to talk to you, our readers, about how we write the stories on the Scope, from start to finish and how that impact our lives and knowledge of the world around us. 
On the inaugural episode of The Scope's new podcast, "Scoops from the Scope," host Ollie Steinberg invites two Scope reporters onto the show to discuss behind-the-scenes aspects of some of their recent articles.
Steinberg talks to reporter Maya Homan about her recent Changemaker piece featuring About Fresh, an organization that aims to reduce food insecurity by bringing affordable, fresh food to Boston residents. In the second half, Steinberg chats with City Watch reporter Nia Beckett about her coverage of the Protect Black Women and Indigenous People's Day rallies in Boston. To wrap up the episode, Ollie, Maya and Nia chat about the hobbies they picked up during quarantine.
---
Podcast Transcript:
Ollie Steinberg: Welcome to "Scoops From The Scope," where we bring you behind-the-story details from our recent published work. My name is Ollie Steinberg, and today I'll be interviewing two of our staff reporters about stories they broke in September and October. First up is Maya Homan, one of The Scope's general assignment reporters. She interviewed About Fresh, a Boston-based nonprofit looking to bring fresh produce to local residents at an affordable price. Welcome, Maya.
Maya Homan: Hi Ollie. Just tell you a little bit about myself, I'm a third-year journalism student with a public health minor.
Ollie Steinberg: Tell me a little bit about The Scope's Changemaker series.
Maya Homan: It's a series of profiles that we do on Boston residents who are making a change within the city or their communities. 
Ollie Steinberg: And how has COVID changed the way that you cover changemaker stories?
Maya Homan: It hasn't changed it a ton. The only difference is that, whereas before I might meet someone for coffee or go visit their office in person, now I do all my interviews remotely, either over the phone or over Zoom.
Ollie Steinberg: And how has your background affected your coverage of this story in particular?
Maya Homan: So I have spent a lot of time as a journalist covering issues of food insecurity at Northeastern and around Boston. And I am also a public health minor, so I've spent a lot of time learning about the social determinants of health and the ways that structural inequality contributes to health problems. So, one thing that stood out for me as I was covering this story is that About Fresh doesn't just try and provide healthy food to local communities, but they actually work with community health organizations to make sure that people who need fresh food can get it, and that struck me as pretty unusual.
Ollie Steinberg: This changemaker piece also directly relates the need for affordable, fresh food to the medical system. Do you think that food should be considered a part of affordable health care? 
Maya Homan: Yeah, absolutely. I think our diet has such an enormous impact on how we feel and how our bodies function, so it doesn't honestly make sense to me that it's been traditionally so separate.
Ollie Steinberg: Thanks Maya.
Maya Homan: Thank you.
Ollie Steinberg: Nina Beckett, another general assignment reporter at The Scope has recently covered social justice events and rallies happening in Boston. Today, she'll join us to share what that was like for her. Welcome Nia, why don't you start off by telling us about yourself?
Nia Beckett: Hey Ollie, so I'm a third-year journalism major with a global fashion studies minor.
Ollie Steinberg: So you've covered multiple rallies in the past few weeks, both the Protect Black Women and Indigenous Peoples' Day rallies. Tell me a little bit about the experience of covering those events.
Nia Beckett: So it's definitely been an emotional experience, specifically with the Protect Black Women rally, as I'm a Black woman myself, so hearing all of the speakers sharing their stories about feeling left behind by the system during their times of need, in terms of mental health support or financial support was extremely disheartening and just really struck me. In terms of the Indigenous Peoples' Day rally, I learned so much about their platform through attending that. I was not as versed in the issues that specifically face the Indigenous community, and the intersectionality of their platform definitely stood out to me. They had interpreters from a Black Lives Matter organization in Boston that were doing the ASL translations, and then they also thanked their brothers and sisters of Black Lives Matter during the event. And in general, just relating parts of their experience to the broader experience of many minority groups in America in terms of socio economic barriers and just consideration from the government for their communities.
Ollie Steinberg: And how is it different covering rallies in the time of COVID?
Nia Beckett: Well, I've never covered one outside of COVID, but I would say it wasn't very different. Most people were wearing masks unless they were at the mic, and research shows that protests and rallies haven't caused spikes in COVID cases just because everyone has been super respectful of that. And you know, there was something social distancing, just like in terms of having everyone within a certain space to hear and whatnot. May not have been perfect, but I think it was pretty good. And then the masks are also useful for hiding identities in photos and such, so I feel like people may have been slightly more inclined to let me take pictures of them with their signs or whatever based on that.
Ollie Steinberg: And do you know if any of the protesters' demands have been met since these stories broke?
Nia Beckett: Well I would say no, as for the most part, these are systemic demands like, 'stop police brutality against Black women' or 'the alarming sexual assault rates against Black women.' In terms of the Indigenous platform, the Massachusetts Indigenous Legislative Agenda is prepping to take their five proposed bills back to the legislature in January, and you can access those specific bills through one of the links in my article.
Ollie Steinberg: We want to finish each episode with a question of the week. What hobbies have kept you guys busy in lockdown? Personally I have taken up embroidery. What about you, Maya?
Maya Homan: I have started knitting, so over the summer I knit three scarves, and I'm working on a hat. What about you, Nia?
Nia Beckett: I've definitely put a lot more effort into my YouTube channel, Nia Shalise, lately and have just been kind of branding that more specifically with sustainable fashion and conscious consumption.
Ollie Steinberg: Thanks so much to everyone for tuning in. You can find the articles we discussed in the podcast description. Special thanks to Scope reporters Nia Beckett and Maya Homan for appearing on today's show. This episode was produced and scripted by Nia Beckett, Maya Homan and Ollie Steinberg. This show is edited by Maya Homan. Our music is from freemusicarchive.org. This episode and all our articles can be found on our website, thescopeboston.org. Thanks for listening and have a great day.