Changemaker: Teacher designs traveling library to lend books to students during COVID-19
"E-books are definitely exciting and engaging and it's a great option," Julia Goodman said. "But when you're seven and you're still learning about print and text and books, you need to have the real thing." 
Second-grade teacher Julia Goodman has a carefully-curated library in her classroom at Dudley Street Neighborhood Charter School where her students start the day by browsing through the classroom's collection, keeping as many as 10 books at a time in personal book boxes on their desk. So when COVID-19 hit and classes went online, Goodman had to find a way to recreate the experience of browsing a classroom library without the classroom.
"Such a huge part of school every day is kids getting to interact with books of their choice," Goodman said. "That's so important for kids to develop as readers, is to be able to browse and suggest books to each other and talk about books and learn how to handle books and pick books."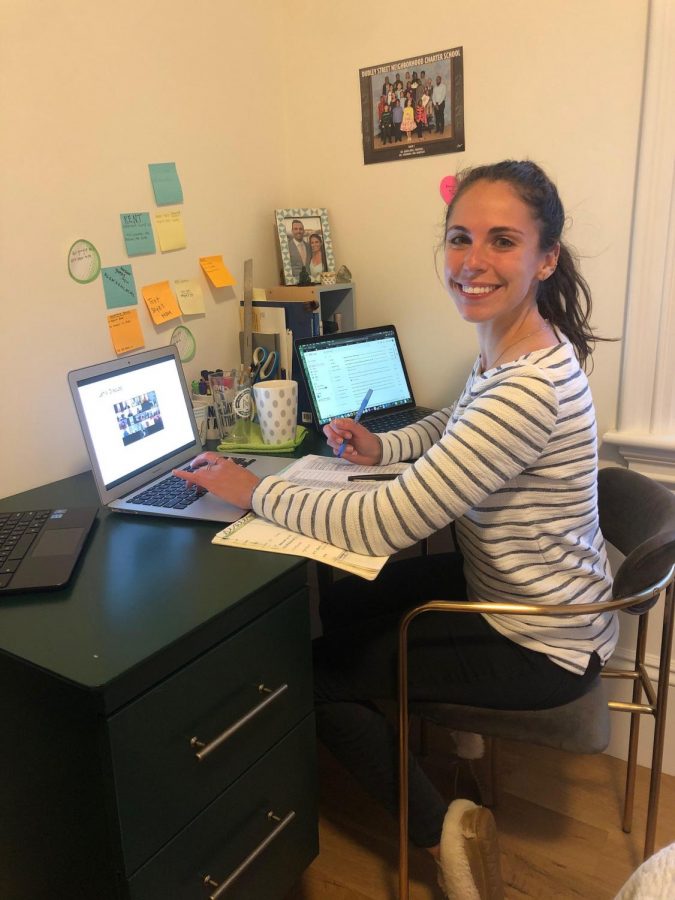 The idea Goodman came up with, inspired by a book she read, was to launch a "traveling library" from her own car.  "There was a book that I read with my second graders a few years ago called "Waiting for the Biblioburro," which is about a librarian in rural Colombia, and he would bring books to kids on donkeys through mountains and valleys of rural Colombia," Goodman said. "Kids would wait and wait and be so excited for this traveling library. So I think we were sort of like, "oh, it could be like that, that would be great!" And it would be a way that kids could have a touch point and see teachers, just to know that we live outside of a computer screen." 
Goodman converted her car trunk into a small library and plans to drive around to meet up with her students and let them pick out books to read and share with their families.
"E-books are definitely exciting and engaging and it's a great option," she said. "But when you're seven and you're still learning about print and text and books, you need to have the real thing." 
To generate funding for the traveling library, Goodman and her team set up a project on DonorsChoose, a website for teachers to fundraise for classroom supplies. Within five hours, the project reached its funding goal of $3,683 with nearly 60 donors. Once the books are delivered, Goodman will be able to start delivering them to her students, most of whom live in Roxbury and Dorchester. 
"I've gone to do some socially-distant home visits, you know, I sit outside in a lawn chair with kids and have them count some things for me and spell some words and chat," she said. "So kids are excited about that. I think it's exciting to see kids, far away in masks, but in person."
In addition to getting to visit her students, the traveling library allows Goodman to form a better connection with their families.
"The goal is creating and fostering joy and excitement around reading, especially in a time where kids are staring at screens for hours a day," she said. "And then also just to try and maintain some sort of connection with kids and families. We have a connection online, but just to sort of add another touch point and another way to build relationships with families as well."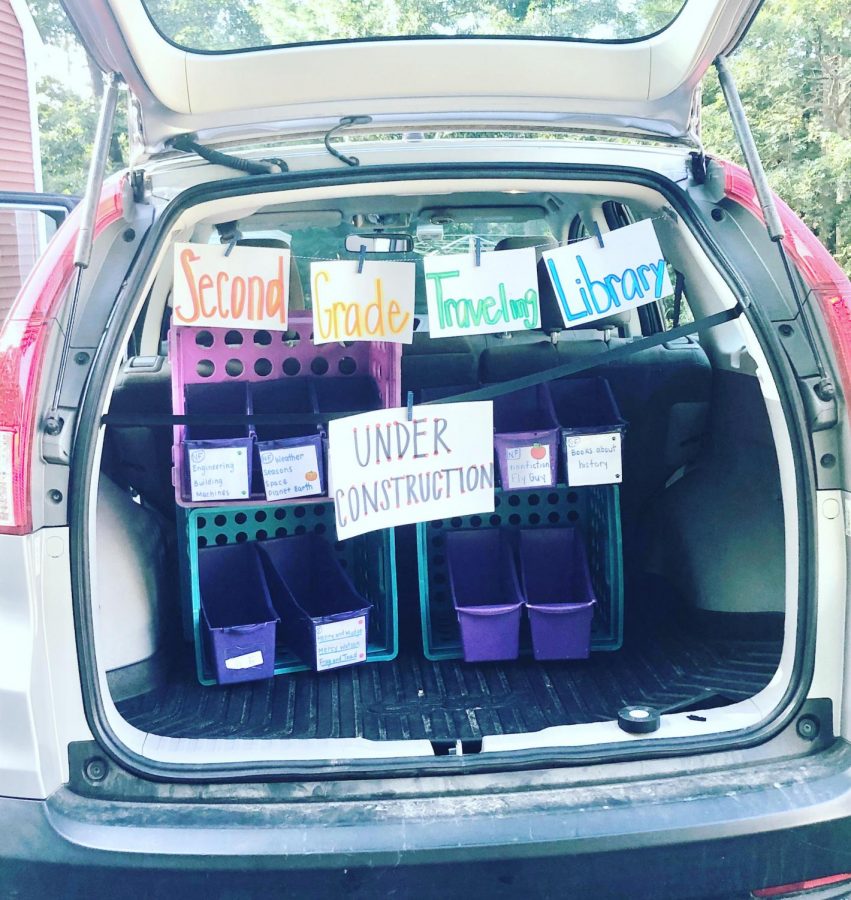 For the types of books available in the traveling library, Goodman said she aims to collect books in a variety of reading levels and a mix of fiction and nonfiction which kids can read independently or with an adult.
 But she also puts an emphasis on getting books whose characters are from diverse backgrounds as well.
"One thing that happens when you ask people to donate books is that I get books from people in their 60s or 70s that were like the books that their kids read, which are predominantly white characters," Goodman said. "So that's been one thing too, there has been a push to really have as many texts as possible with diverse characters, where your kids can see themselves in the characters that they're reading about."
While her traveling library is fully-funded, Goodman urges people to donate to other public school teachers if they can. 
"There are so many teachers who are doing things like this, whether it be like a traveling library or just getting money to get kids desks for home or headphones for online learning," she said. "There's so many teachers who are trying to fundraise to find ways to support their kids and families. So I would recommend anyone going on to DonorsChoose and just finding a project that speaks to you and donating. It makes a huge difference for teachers."