Women-led forum amplifies voices of female leadership following RBG's passing
Amid a triple pandemic – COVID-19 public health emergency, an economic crisis and police brutality deeply rooted in racism – and hours after the passing of feminist icon and Supreme Court Justice Ruth Bader Ginsburg, the second session of Standing in Our Power: Women of Color Leading Change commenced Saturday afternoon virtually on Zoom with a dynamic panel of elected women of color leaders.
The Massachusetts Women of Color Coalition, or MAWOCC, and the UMass Boston Center for Women in Politics and Public Policy partnered for the three part forum, the final session of which will take place this Saturday, September 26. Civic engagement, communities of color and women-supportive organizations including the Boston Alumnae Chapter of Delta Sigma Theta Sorority and MassVOTE are among the event's strategic partners.
There is an "even more overwhelming sense of urgency" to claim [our] power, said MAWOCC president Celia Blue in her opening remarks, referencing Ruth Bader Ginsburg's recent passing.
In a historical slide deck, Barbara Berenson, author of Massachusetts in the Woman Suffrage Movement: Revolutionary Reformers, described the state at the center of the movement for women's right to vote dating back to the 1800s. She highlighted Black civil rights leader and suffragist Josephine St. Pierre Ruffin's own bolstering role, including starting the American Woman Suffrage Association, the Women's Era Club and the first national Black women-focused newspaper The Women's Era. In some cases, even though women of color made huge strides for a movement, their accomplishments are often less revisited because they often weren't presented in the foreground of the movement.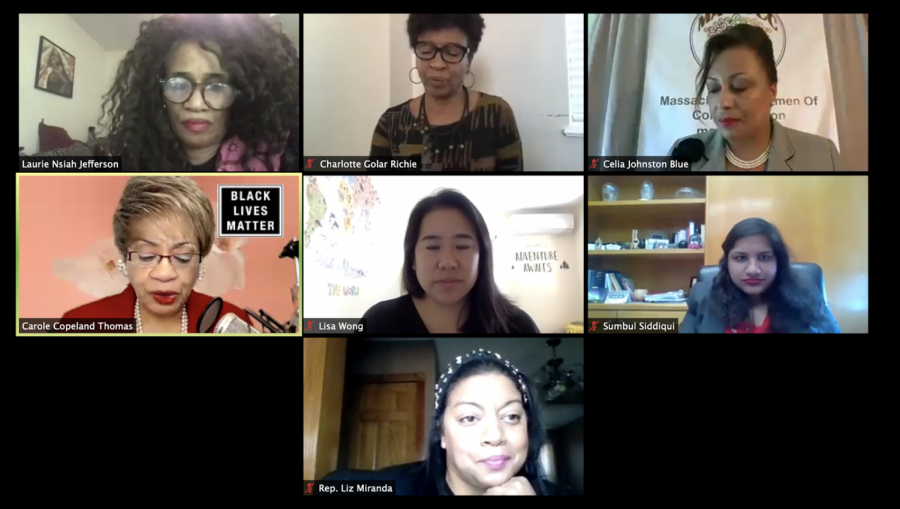 Speaker and writer Carole Copeland Thomas, who emceed the panel, asked participants what standing in their power meant to them. Panelists included YouthBuild USA senior vice president Charlotte Golar Richie, MA State Representative Liz Miranda, Winchester town manager Lisa Wong and Sumbul Siddiqui, Mayor of Cambridge.
Miranda emphasized the importance of representation in government when she recounted an instance in which a woman of color, excited to see someone who looked like herself in power, hugged Miranda during her first week in office.
In a later discussion comparing community activists to paid lobbyists, Miranda said she's spent a lot of time sharing hearings with her community and teaching them how to advocate for themselves. It is critical "being able to deconstruct lobbying duties and make them transferable to community folks so they are able to engage at the city and state level strategically," she said.
Similarly, Richie said beyond registering to vote, it's important to be knowledgeable of what the government can do for its people  and that government is a social construct. Elected officials must be held accountable.
When asked to give advice following the obstacles she has faced as a woman of color, Wong found it helpful to "Define yourself before others define you." As a former mayor, she learned how to tell others who she was and what she believed in, working with a coach to bridge the gap between herself and constituents as someone of demographics they may not have previously voted for.
Inspired by how far women have come, the panel stood strong in their beliefs that they will prevail once again, continuing to urge women of color to run for offices and stand in their power.
We need to "change the dynamics when we're at the table," Blue said.