Changemaker: David Corbie, Greenovate Boston manager and climate action advocate
Growing up, Boston native David Corbie was bombarded with apocalyptic messages about the future of the planet at school and in the media. They stuck with him and today, Corbie, 26, is the outreach manager for Greenovate Boston, an initiative from the mayor's office tasked with developing an inclusive and impactful climate action plan that will help Boston become carbon neutral by 2050.
With college experience in environmental advocacy and racial justice, Corbie is starting difficult climate change conversations with Boston residents who may have more immediate concerns than the environment, including low-income people of color. 
After nearly one and a half years in his position, he has overseen three iterations of the leaders program, which strives to educate communities on initiatives such as zero waste, sustainability, renewable energy and other topic-areas chosen by people in their own communities.
He continues to help local community leaders identify how climate change intersects with the different aspects of their identities, by holding conversations on the varying impact climate change will have on vulnerable communities across Boston.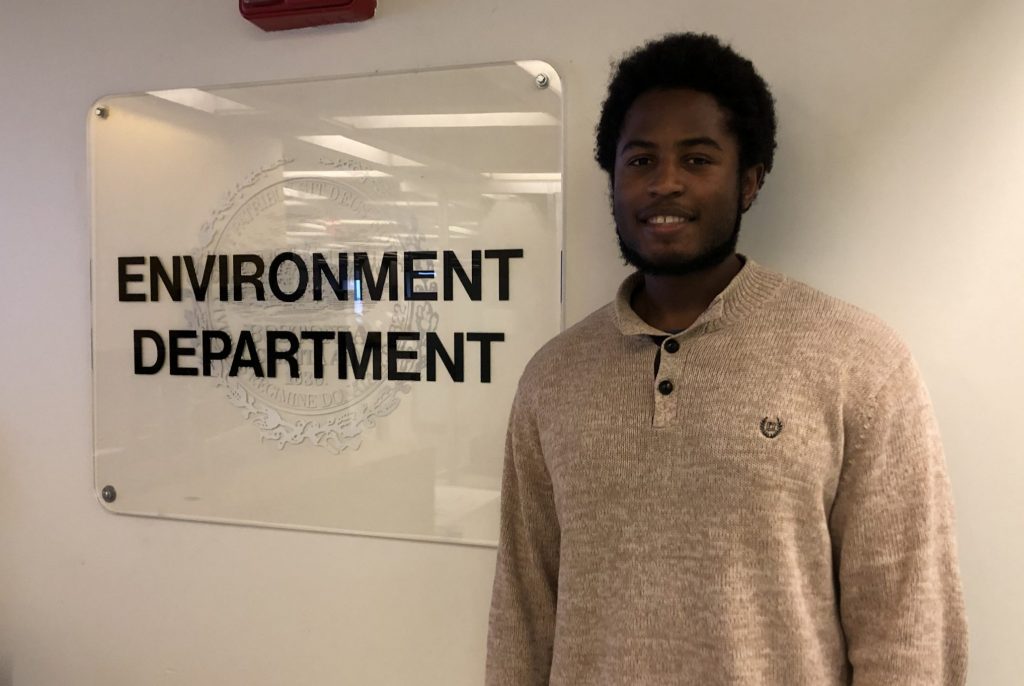 David Corbie sat down with the Scope in late October to discuss his work and goals. The following conversation has been edited for length and clarity. 
Q: What motivates your work in environmental justice?
A: Seeing the relationship between the community and city government definitely has really instilled in me not only to strive to do great things, but then also to make sure that the work I'm doing is having a positive impact on the populations that I want to make sure are getting a better quality of life. And of course, climate change is one of the greatest threats to humankind.
I feel like if we can address the ways in which we interact with each other and interact with the environment, it really creates an opportunity for us to advance as humans and advance in our society and how we really interact with all facets of nature and life. 
Q: What is you main goal at this moment?
A: My main current goal or current project I'm working on is this thing called the equity dialogues, in which we're identifying the most vulnerable populations within Boston, like the youth, people of color, women, people experiencing homelessness, people with disabilities. So we have specific presentations for each of those populations to be able to host conversations around climate and those populations.
Q: What challenges do you face in reaching these goals?
A: Right now we're trying to focus on specific populations, and when we're talking about equity, we're talking about giving people who historically have been out of the conversation, or haven't been able to access resources, the ability to stand on the same footing as everybody else. So that requires more engagement and more intentionality with the conversations.
We're not saying necessarily that climate change needs to be your greatest concern or your only concern, because a lot of people are unfortunately getting displaced or are victims of gentrification. What we're really saying is that they're all interconnected and when we're having these conversations, we're not leaving those other concerns out of the conversation. 
Q: How are you and Greenovate Boston overcoming these challenges?
A: A lot of it is being earnest, really just continuing along and not letting low numbers or lack of response really determine the ultimate vision. We're talking about inequity, we're talking about people's lives and we're talking about how we start preparing for peoples' survival in the face of climate change.  
Q: What do you wish people knew about your work?
A: I want to impart upon people that [government] is so malleable. I think that with government there's a sense of rigidity where it exists and it's kind of like always going to be there. It may seem you have to come and you may access resources, but you're kind of just at the whim of whatever structure is there.  
For Greenovate, it operates in this innovative space where people can come with their own ideas and people can talk about the things that they want to talk about. [From there] we'll be able to support them in finding those connector pieces even if it's not necessarily clear what they are at the moment.
Q: How do you see change happening?
A: At the city level, I see a lot of positive change. I think the fact that we're going to have a conversation around racial equity in climate, like that for me is like huge, as a person that grew up in Boston and has seen how racial equity has played out historically. It's just so amazing to see the conversation is going to be had and that so many people are excited about it and feel like it's necessary. [We're] trying to normalize a conversation, and I think a lot of people feel that. When it becomes normalized and it becomes something where we're saying there's a need to start planning and rectify the past in order to get to the ultimate future that we want, that's when it becomes really exciting.
Q: What change are you hopeful for in the future?
I'm hopeful to see greater leadership from the youth.  I'm hoping that the disparities that exist not only within Boston, in the country, in the world, really do close. Also [hopeful] that [for] those who live in more equitable societies, [their] relationship with nature and climate become better in the sense of the technology we use and how we engage with trash and composting and recycling.
I'm hoping that conversations around climate change become more normalized. What do we ultimately want to see as the future that we want to impart to the next generation, or that we want to bequeath to all of these populations that I'm talking about.

The Scope's reporter Eileen O'Grady recently attended a Greenovate Boston community meeting in Dorchester. See how residents responded and what climate change concerns they shared.
https://thescopeboston.org/news/city-team-including-communities-of-color-in-climate-change-conversations/