At-large candidates call for separate planning department, question exam school admissions
Following a week of victory parties and media coverage, seven of the eight finalists for at-large City Council seats congregated for a candidate forum in Dorchester on Tuesday night, after clinching their spots in a race that could bring Boston's most historically diverse legislative body.
Last week's preliminary municipal election pulled four challengers onto the November ballot: Alejandra St. Guillen, David Halbert, Julia Mejia and Erin Murphy. All four of the city's incumbent at-large councilors will remain on the final ballot — Michelle Wu, Michael Flaherty, Annissa Essaibi-George and Althea Garrison. 
Incumbent Garrison was the only candidate not present at the forum, moderated by State Rep. Dan Hunt and POLITICO Massachusetts Playbook's Stephanie Murray and attended by almost 100 who gathered inside Florian Hall. 
Incumbents Wu and Flaherty used the event to repeat their calls for a stand-alone planning department to help prevent overdevelopment in neighborhoods such as Dorchester.
"We need to have planning before developers are involved," said Wu, who in 2013 became the first Asian-American woman to serve on the Council. "Not just talking about the impact of construction but bringing all of the issues involved, and how will this affect housing prices, parking or climate."
Wu said Boston has not participated in citywide planning since 1965.
"We are seeing change everywhere and growth everywhere," she said. "But instead of that growth — the new buildings, the cranes, the houses being torn down and two buildings put in their place — making our problems better, they're actually making it worse."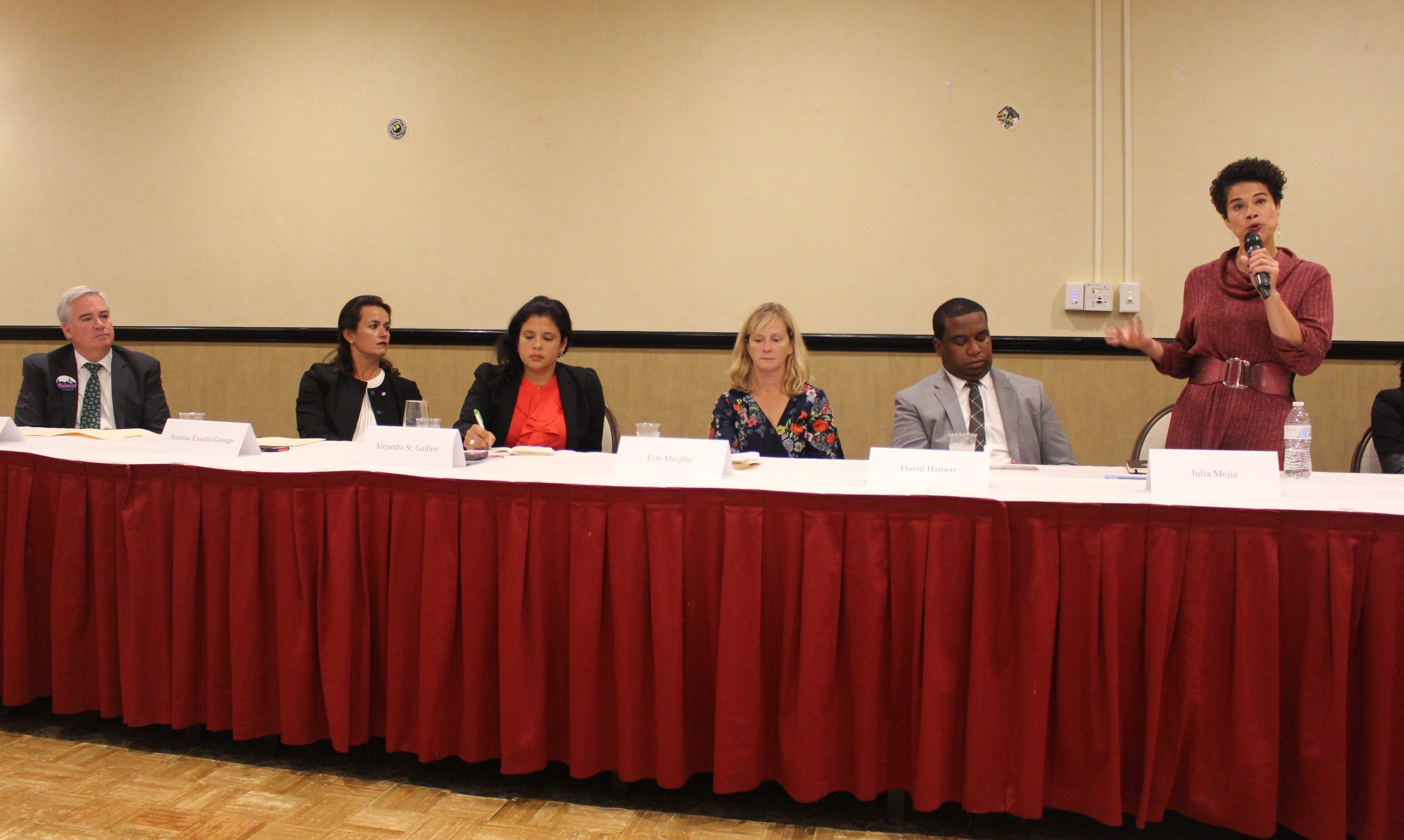 Flaherty, of South Boston, who said he comes from a neighborhood that feels as though it has been overdeveloped, said he will continue to encourage economic development and investment, but that prices are "out of whack."
"In my neighborhood, an issue arose of single and two-families being knocked down to put in six and eight-family homes," said Flaherty. He calls for "real" urban planners to be put in a separate planning department without politics being involved.
With higher congestion levels, challengers St. Guillen, of West Roxbury, and Dorchester native Murphy both said they support implementing traffic-calming measures as long as it's a community process.
St. Guillen said Boston's transportation and traffic issues are directly tied to the city's lack of a separate planning department. She said it's not feasible to go without a car in many neighborhoods and said she would look at the ways that people are getting around the city, but also encourage more cyclists and pedestrians with the Vision Zero and Slow Streets programs.
"The T is a mess," said St. Guillen. "We have New York City prices but not New York City mobility."
The exam school debate
The city's exam schools — Boston Latin Academy, Boston Latin School and the John D. O'Bryant School of Mathematics and Science — are said to be perceived by residents as the "end-all and be-all" for many families, according to Mejia, who was born in the Dominican Republic and moved to Dorchester at age 5.
"We put too much emphasis on getting into [exam schools] and we're not focusing on what we need to do to ensure that all schools are performing to their highest ability," said Mejia, who added that not every student has access to test prep. "We need to start pouring money into services that ensure that all kids have access."
Essaibi-George, a first-generation American from Dorchester who formerly worked as a teacher at East Boston High School for 13 years, said the curriculum in BPS does not match the Independent School Entrance Exam (ISEE) required during the application process for the exam schools. Essaibi-George said she questions whether the ISEE is the best test that students should be taking, and if it should weigh so heavily in the admissions department, in light of what she calls an "issue of access."
"I am a proponent for part exam and part GPA," said Essaibi-George.
Murphy, a public school teacher for more than 22 years, said the city "wastes a lot of money" that could be going back into "fixing" all public schools.
"Charter schools are thriving because public schools are failing us, and we need to address that," said Murphy.
Flaherty said he would close the achievement gap by developing a "Year 13" program, which he described as being similar to a postgraduate program that helps student athletes to reach their Division 1 dreams, but instead would have a focus on academic achievement. He said in a post-forum interview that the program would be voluntary and for serious students to provide intense college prep curriculum, SAT prep, help boost GPAs and give opportunities for English language learners.
"There's no reason we shouldn't be boasting about every single school," said Flaherty. He said the Year 13 program could potentially place two teachers in a classroom and partner with Boston-area universities and colleges. Otherwise, he's "wide open" to see how the city would want to make the program work.
Where candidates split
While the contenders that were present at the forum were in agreement on pulling more resources into public schools and that overdevelopment has reached many neighborhoods in the city, they were split on which top priorities should be invested in and which items should be removed from the city's budget.
Halbert said he does not look to eliminate from the budget but to reform it. He said a "good place" to start would be trimming the nearly $70 million of overtime paid to the Boston Police Department in a single year, while Mejia said she would take police officers out of public schools altogether and add more guidance counselors.
Flaherty and St. Guillen both said they look to eliminate the use of contracted services, from outside legal expenses to tree-pruning around the city.
Wu, who has been fighting throughout this year for free T rides to keep commuters off the roads, calling it an issue of equity and opportunity, said she would eliminate the payment the city of Boston gives to the MBTA as one of its highest revenues.
A look toward Election Day
As candidate forums heat up, the next five weeks will matter for challengers, who will need to continue canvassing and getting out the vote.
St. Guillen, who is one of the challengers looking to become Boston's first Latina city councilor, said she is excited to continue to run a positive campaign on issues with a message of equality. She said she looks to push her message further on social media and expand her area for door-knocking.
"Every time I knock on a door, it's an educational experience for me," said St. Guillen.
Mejia, another who could be the first Latina councilor if elected, finished fifth, right behind St. Guillen, in the preliminary election last week. She said she's focused on her long-term strategy of engagement with communities of color.
The final vote will take place on Nov. 5.
This article was published in The Bay State Banner.