Hong Kong protest at Boston City Hall Plaza organized by Emerson student
Almost 200 people gathered in Boston on Sunday, Sept. 22 to rally in support of Hong Kong's protests, which have entered their seventeenth week.
In an event formally called "The 105 Days of Resistance: Democracy for HK March," which took place at Boston City Hall Plaza, people gathered to urge the U.S. government to pass the Hong Kong Human Rights and Democracy Act of 2019.
The act, proposed to Congress in House bill H.R.3289 four days after the protests officially began in Hong Kong on June 9, would aide the citizens of Hong Kong in their quest for a democratic political system outside of Chinese rule, and protect them from Chinese retaliation. The bill was introduced by U.S. Rep. Christopher Smith (R-NJ) and has been co-sponsored by 39 representatives, including Massachusetts Reps. Jim McGovern and Ayanna Pressley.
The march, which organizers deemed "the largest rally in Boston" in support of Hong Kong, began at City Hall and included speeches, music and exhibitions, followed by a march around the city.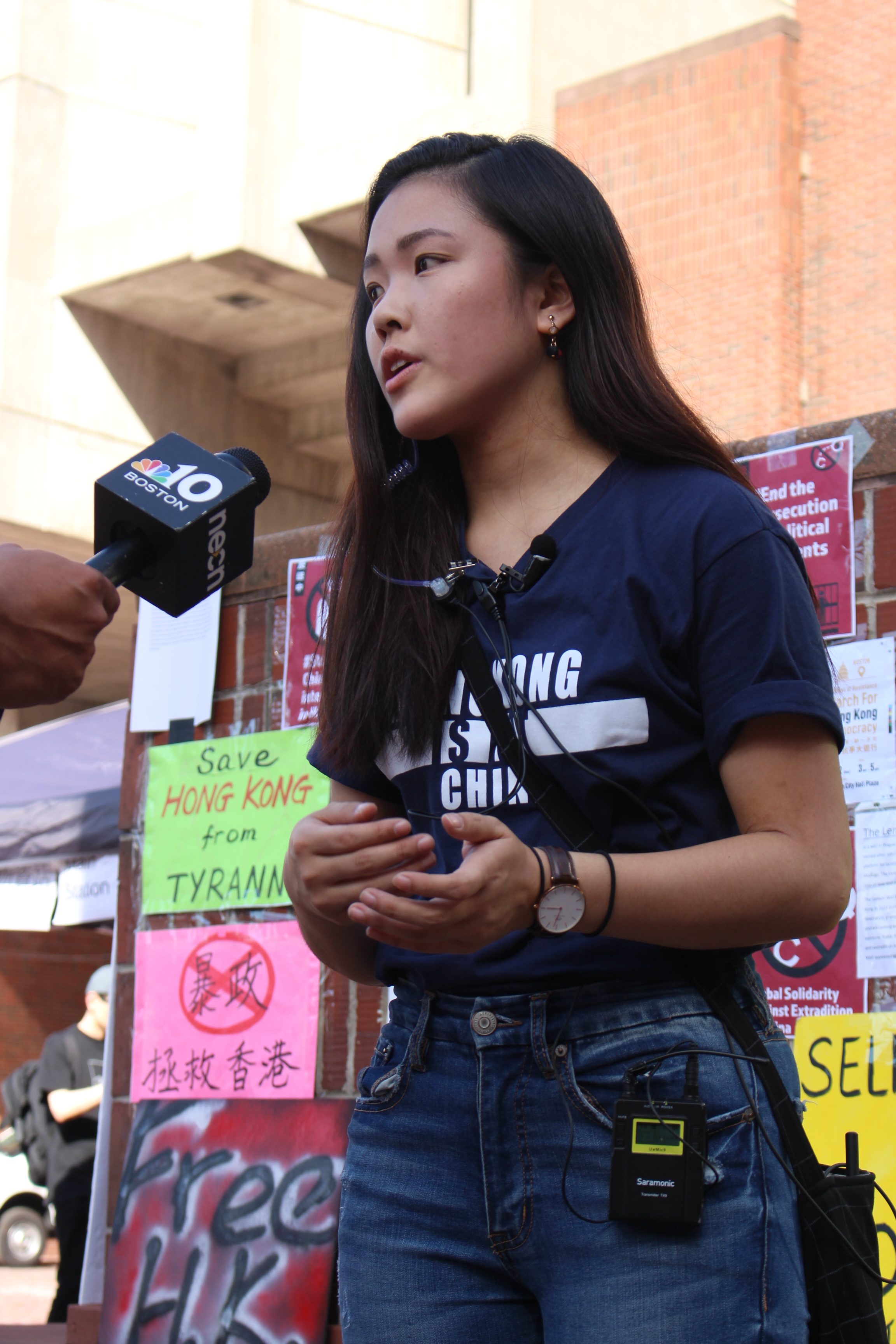 Event organizer, Frances Hui, 19, read an opening statement by Rep. James P. McGovern (D-Worcester), who was not present at the event. In his statement, McGovern ensured the crowd that the Hong Kong Human Rights bill would be passed.
Eric Tsai, a Taiwanese-American, spoke of his solidarity with the people of Hong Kong and also expressed joy at not being "greeted by red shirts" at the rally. In August, a smaller demonstration in Boston was met with angry counter-protesters.
Anthony Wong, a PhD student at Boston University, shared his unpleasant experience of being caught up in police clashes in Hong Kong during a trip in August. 
"[The] Hong Kong government has declared war on its own citizens," Wong said.
Tension between Hong Kong and China erupted this summer, when protesters took to the streets after the chief executive of Hong Kong, Carrie Lam, introduced a, now withdrawn, extradition bill that would end Hong Kong's special status within China.
Formerly a colony of the British Empire, Hong Kong was handed back to China in 1997 under an agreement that Hong Kong become part of China, but considered its own entity with a government and currency separate from China. 
It has been reported that Hong Kong police went undercover and pretended to be protesters, but instead beat the protestors with their weapons.
Claire Teylouni, a regional director of the office of Sen. Ed Markey spoke on behalf of the senator and read a letter written by him. In the letter, Markey expressed disdain toward Hong Kong police's continued violence toward protestors. Additionally, Markey said the government is suppressing its citizens and he supports the passing of the bill to "protect Hong Kong's autonomy."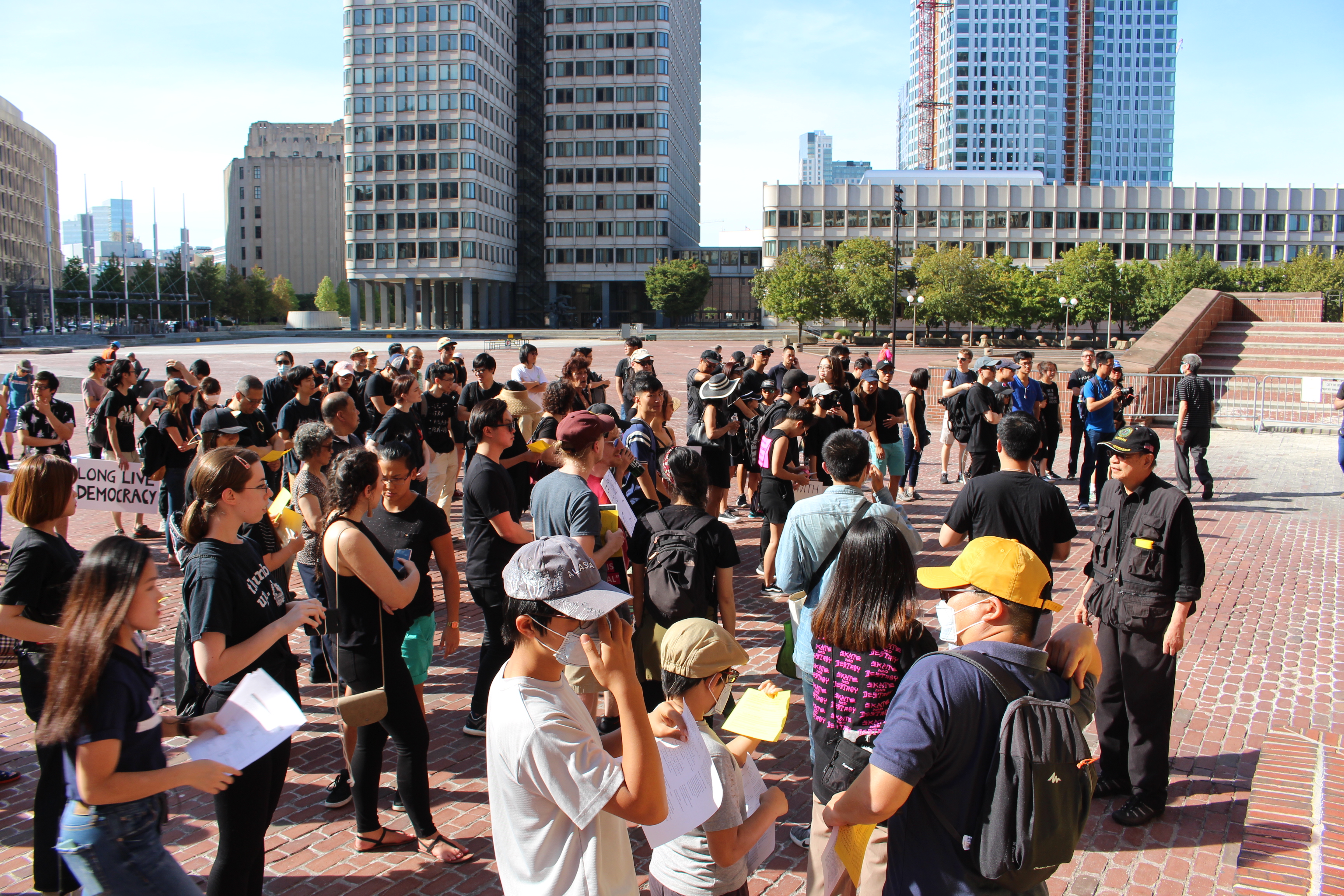 The March for Awareness in Boston
The protesters marched down Tremont Street, along Boylston Street, through Downtown Crossing and concluded back at City Hall.
During the march, many participants wore all black t-shirts that proclaimed their identity as a Hongkonger, and face masks to conceal their actual identity to prevent anti-protestors heckling them.
As the crowd progressed along the route, they chanted "five demands, not one less," "free Hong Kong, save Hong Kong," "no China extradition" as inquisitive spectators on the sidewalks stopped to watch.
Hui, a senior at Emerson College, has become a known figure both domestically and internationally during the Hong Kong protests. In April, before the Hong Kong protests officially started, Hui penned an op-ed for her school newspaper, expressing her identity as a person from Hong Kong and not from China.
Hui's opening line reads, "I am from a city owned by a country that I don't belong to." 
After the op-ed was published, it gained a lot of attention from people online. The college senior said she received backlash from Chinese citizens from mainland China. She said she was also threatened by Chinese students on her college campus.
Hui said she had hoped to become an investigative journalist, but her aspirations have changed. When her article went viral, it brought a lot of attention to her school's newspaper, The Berkeley Beacon, where she was previously the Living Arts section editor. Hui felt that her new-found prominence prohibited her from ethically holding her position as a neutral news editor.
"I turned from a journalist to a columnist and now I'm like a social activist," she said.
Before the march started, Hui told a Scope reporter she was surprised she had received so much attention for the article. 
"Initially, I didn't think of Hong that much when thinking about my future," Hui said. "But [Hong Kong] is my home and I'm going to step up and do something."
Hui also admitted that she doesn't know many people from Hong Kong that live in the Boston area — up until this school year, she was the only student from Hong Kong that she knew on her campus. So Hui, who had political activist experience in Hong Kong, stepped up to the challenge of organizing the rally herself, with the help of 20 volunteers. 
"Things are getting worse and worse, and now we are at the bottom line [where] we really can't back out anymore," she said. "If I didn't [put together the rally], I don't know who else would."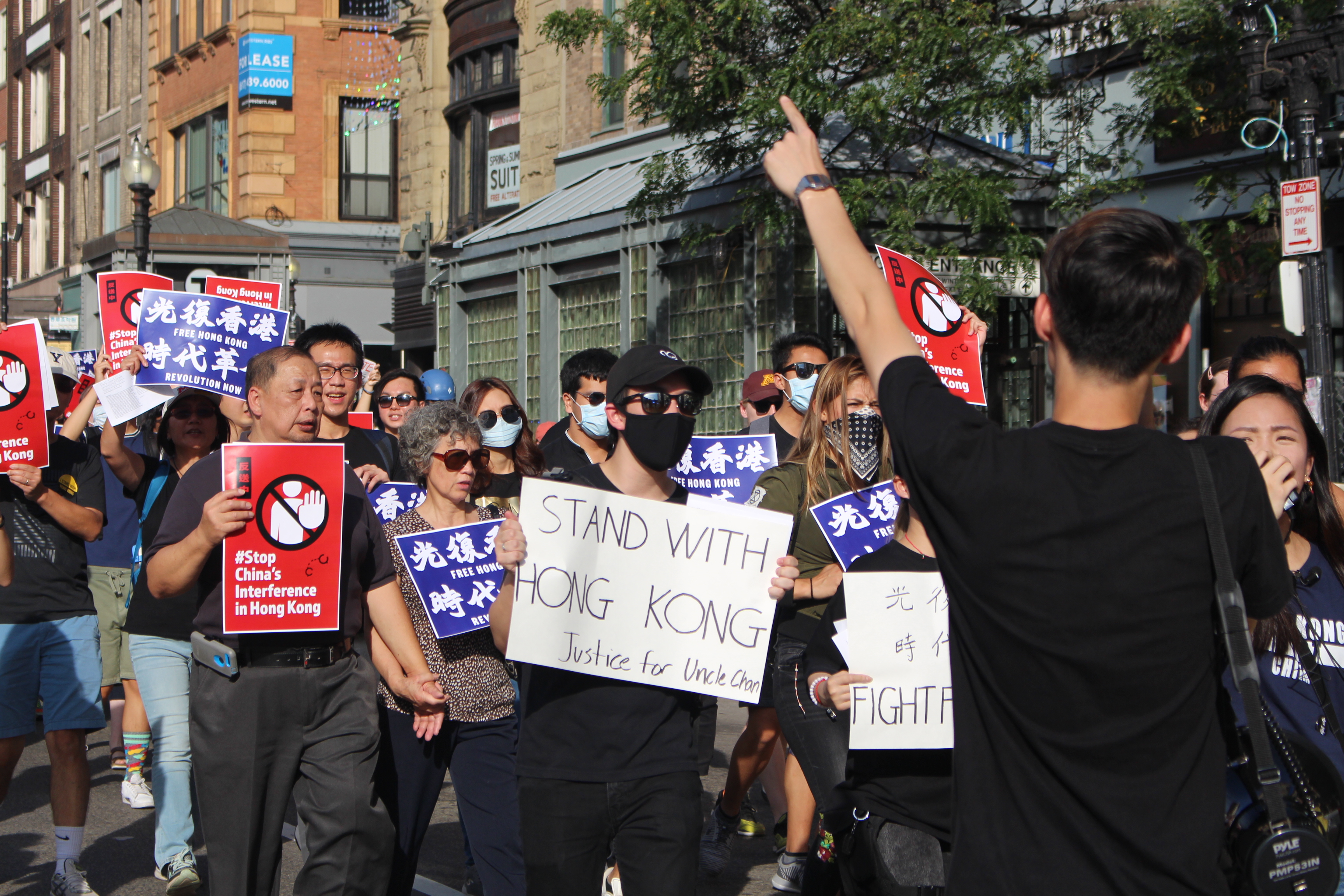 Hui went on to say that the passing of the Hong Kong Human Rights bill was essentially a "last resort for the people of Hong Kong" to maintain their freedom.
Hui said she hoped a rally in Boston would bring awareness to the Hong Kong Human Rights bill and of the police brutality in Hong Kong. Since she and other Hongkongers are unable to travel back home because of safety concerns, she said this was the best way they could support protesters and help out their family and friends living in Hong Kong.
"I think that this is something important for everyone to know. It's not just affecting people in Hong Kong," she said. "Even U.S. citizens who are residing in Hong Kong are also going to be affected [if the bill does not pass]."
Congress is expected to make its decision on the bill this week. 
About the Contributor
Lex Weaver
Lex Weaver is the former editor-in-chief of The Scope: Boston. Weaver holds an M.A. in journalism from Northeastern University, where they were previously...