Life in Mission Hill: Meredith McGowan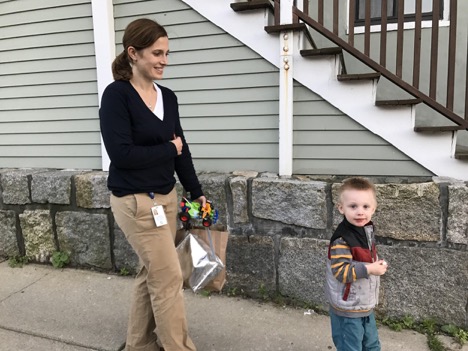 By Gianna Barberia
Meredith McGowan has lived in Mission Hill for six years, but she doesn't have much of a desire to stay. "I have a younger daughter, and there's just not enough space here," McGowan said. "It's not that [Mission Hill]  is un-kid-friendly. There are some kids in the neighborhood."
McGowan is a chemist at one of the many hospitals in the Longwood Medical area, just northwest of Mission Hill.
When she first arrived in the neighborhood, McGowan liked exploring the area. "When I first moved here — before I had kids — me and my husband would walk along the orange line. I like that Boston is very walkable."
McGowan has not noticed significant changes to Mission Hill since she first moved there. "There has always been a lot of students," she said.
These days, though, she tends to think of Mission Hill as a practical home.
"The location is close to where I work. Plus we're close to Mama's Place," McGowan said. Then, she turning to her son, Miles, and smiled. "We love Mama's Place, don't we?"
About this project
The Scope's student journalists spoke with community members in Mission Hill. #MissionHill100 is a collection of their stories.