Life in Mission Hill: Ben Teixiera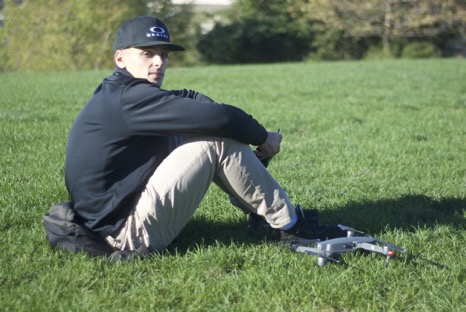 By Ryan Grewal
Ben Teixiera bought a drone.
He enjoys flying it at Fitzgerald Park, the highest point in Mission Hill.
North of the park, most visitors cannot see beyond the rising glass and concrete hospitals of the Longwood Medical Area. To the Southwest, they encounter a sprawl of townhomes and triple-deckers in Jamaica Plain. East of Fitzgerald Park, a brick apartment building blocks the view of downtown skyscrapers. But from the perspective of Teixiera's drone, everything is in view.
"I got into [drones] when I was working at the Wynn [Casino] in Everett that's going up," said Teixiera, a construction management major at Wentworth Institute of Technology. "I saw all these crazy photos of the project and found out that's how they took them."
Teixiera plans on using his drone to take aerial photos and videos of construction projects and real estate developments. "It cost like $1,300," he said. "But soon I'll be making a lot of money off of it."
Mission Hill has been Texiera's home for two years. He rents an apartment on Iroquois Street. Like most residents, he says that he lives "on Mission Hill," not "in Mission Hill."
"My favorite thing about the Hill is all the different college students and then the mix of actual residents who've been living here their whole lives," he said. "I think it's really cool, the mix of people here."
The same housing developers that Teixiera hopes will employ him are also changing his neighborhood. In his time living on the Hill, Teixiera has noticed the same housing trends that are affecting much of Boston. "They're putting all these condos in down on Tremont Street, and I imagine the land-value is going up," he said. "Rents are definitely going up."
Despite the ever changing real-estate landscape and rising cost of rent, Teixiera plans on staying on the Hill. "I'm going to stay until I graduate," he said. "It's close to school and seems like the most logical option."
About this project
The Scope's student journalists spoke with community members in Mission Hill. #MissionHill100 is a collection of their stories.