Chinatown has only one public restroom, and community members are desperate for more options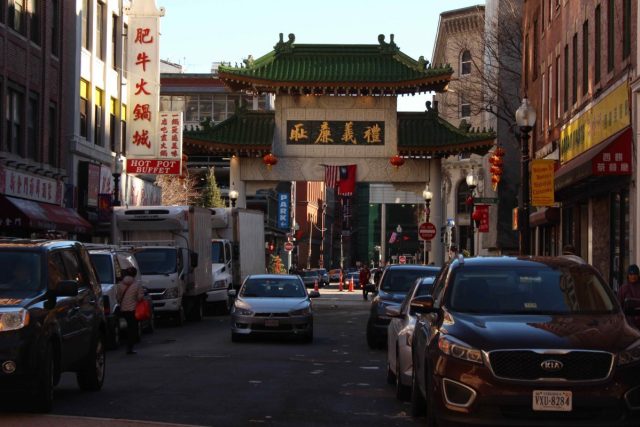 Boston's Chinatown neighborhood has overcome many challenges, but residents are frustrated with human waste on the streets. 
According to the City of Boston, Chinatown has only one public bathroom in its branch of the Boston Public Library, but residents say it's not open enough and many people don't know it exists. Thus, many passersby and community members continue to urinate and defecate all over the streets and alleys of Chinatown. 
"There are always people peeing and defecating in front of my house, especially at night, and every time I smell this stench when I go out, it makes me uncomfortable," said Meiying Ting, a waitress at a restaurant and resident of Chinatown for 18 years. "It would be great if there were public bathrooms in the community." 
The bathroom, inside the library on 2 Boylston St., is limited to the library's hours of operation: Monday through Thursday between 10 a.m. and 6 p.m., as well as Friday from 9 a.m. to 5 p.m. The library is also closed on Saturday and Sunday. Compared to the number and opening hours of public restrooms in other parts of Boston, Chinatown's sole restroom creates an inconvenience for people, especially elderly, passersby and those who are homeless.
The Scope surveyed 14 people in Chinatown, and 10 were unaware of the bathroom's existence. Xu Luo, who often walks through Chinatown, was in this majority.
"If you didn't tell me, I never even knew there was a public restroom here," Luo said. "I'm sure there are more tourists here on weekends, but this public restroom doesn't work." 
Ting emphasized that the most important place in Chinatown for public restrooms is near the "All for the Public" plaque by the Chinatown Gateway, where a lot of tourists take pictures. 
"On weekends, there are a lot of elderly people who gather there, and they need a place to go to the restroom nearby because they don't walk to the other side of the street," Ting said. 
However, building public restrooms is difficult to achieve, said Debbie Ho, executive director of nonprofit Chinatown Main Street. "The dirty stuff goes in and needs to come out from another place," she said. "We need underground pipes to connect the excretion things, the line is far away and it's a hassle to set up." 
In the meantime, Ho is working to help clean up the community's streets, which are not only filled with feces but also garbage and cigarette butts. 
"We have a lot of volunteers [about 100] helping to clear the roads," she said. "But [it's] not enough because there's a constant stream of litter."
The lack of restrooms is not a new issue that Chinatown has been facing. Boston City Council President Edward Flynn mentioned that there is a plan in motion to build one. He said that the timeline for its creation was set back for it due to the pandemic and other logistical challenges. 
"But this is a priority to get it back," he said. "To get it built and provide a public restroom for seniors in Chinatown." 
Without many public restrooms, tourists and passersby try to use restrooms in stores or restaurants, without buying anything or being a customer. For Eva Zhang, who has owned a hair salon in Chinatown for 25 years, this is not ideal.
 "I admit that it's inevitable that people will come into the store and not do hair but ask to use the restroom," she said. "I wouldn't let anyone in unless it was a regular customer I knew because I was concerned about the danger and health." 
Zhang added that she's also heard about a person who died of a drug overdose in a nearby McDonald's, contributing to her worries. Historically, there have been many cases of people using drugs in public restrooms, especially at the height of the opioid epidemic. 
Flynn said that in terms of constructing the new public restrooms, health is top primary concern.
"The restrooms have to be safe for everybody, especially the customers, and the staff that work there. But also, we want to make sure that when people do use the restrooms, they feel safe, and they are clean," he said. "Everybody being a good neighbor and working together is a critical aspect of it."