Pao Arts Center celebrates five years, new installation comes to Mary Soo Hoo Park
Mary Soo Hoo Park in Chinatown has been reactivated with a site-specific public art installation, "YEAR OF THE TIGER," by Cheryl Wing-Zi Wong, a NY-based artist, commissioned by Pao Arts Center and The Rose Kennedy Greenway in honor of the Lunar New Year and the Pao Arts Center's fifth anniversary.
Residents and visitors now have a colorful place to congregate and continue the conversation about how accessible and inviting public spaces helps build community socialization and increase equity within the neighborhood.
"The hope is that this really does become a community hub and a place for people to gather and dialogue," Chery Wing-Zi Wong, the installation artist and trained architect, said. "… just to have casual encounters and to have a place where people feel safe to sit and be in."
The installation's opening on Saturday at Mary Soo Hoo Park catalyzes what's to come in and around the space this summer. To help celebrate its fifth anniversary, Pao Arts Center has partnered up with the Rose Kennedy Greenway for a summer performance series called "Vision/Voices," opening with Wong's installation.
Sheila Novak, the associate curator of public art at The Greenway, selected Wong after following her work for years. Novak said that a lot of her work at The Greenway has been dedicated to the Chinatown community. Creating projects that resonate, support, and amplify community needs, joy and voices are important.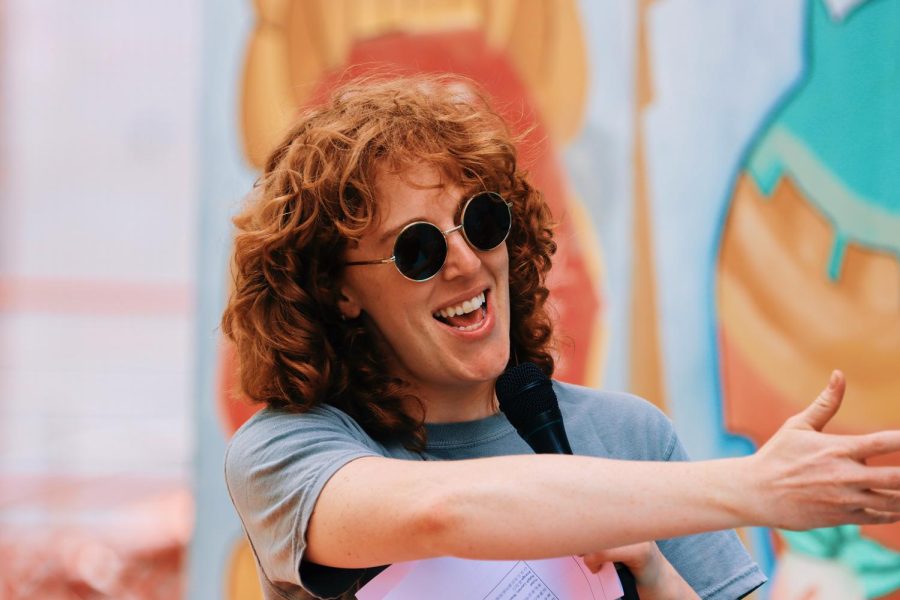 "I've been thinking a lot about how the web of artist, performer and community member is actually really dense … not siloed as we like to in art spaces often think of it," Novak said in an interview with The Scope. "The people in the audience are also performers and artists … who are also community members. I love that it can really be a space that holds work made with, by and for this community. And so even though Cheryl's not from Boston, she honors that intention really thoughtfully, and she said she made it a point to come up here [before starting the commission] to get to know the community."
When taking on the commission, Wong said it was important to talk to Mary Soo Hoo's (who the park is named after) descendants, whom she met last fall.
"I met with her daughters [and] learned about her legacy a bit more, directly from them," Wong said. "Looking at stuff on the internet is limited to bias, and there's very little about her there. So, [it was] to hear more from them about what it was like to grow up in Chinatown and what it meant for their mom."
Mary Soo Hoo Park is on the southern end of The Greenway and is located to the left before the Chinatown Gate entrance. On one side, you will often find a group of elderly gentlemen playing a game of xiangqi, Chinese chess; on the other side, it's usually bare, open space for visitors to pass through but not much else. The team at The Greenway, along with Wong, wanted to find a way to reactivate the space.
"Cheryl was an obvious choice because of her ongoing work in Chinatowns across the country and interest in working in Boston and because of her ongoing practice of creating transformative "art-chitecture" and social gathering spaces," Novak said. "Working with Cheryl was delightful, given her keen sense of spatial transformation and her ability to imagine a space which could hold both casual gatherings and more structured performances. We were grateful, as well, to her intentional, community- and site-responsive practice.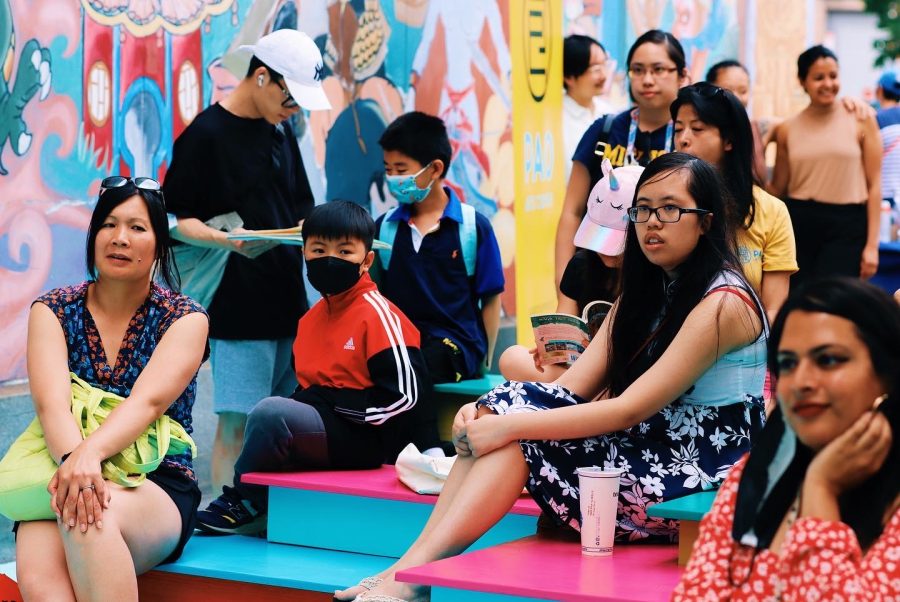 "I think that's a big reason why I do the things I do in terms of why this was cited here, what it does and how it acts as an affiliate," Wong told The Scope on opening day. "The other side of Mary Soo Hoo is well occupied because they have tables and chairs. And I think that's one of the things that I critique in my work or try to look into is that there are a lot of public plazas, parks and spaces, but they're not designed for people that use them and without seating or any real place for people to pause."
While the temporary installation is not fixed to the ground, Wong said that it is heavy enough. The pieces are conjoined together so that they can't move, ensuring that they can withstand any weather or frequent utilization. The legs of the benches are welded steel tubes, and small risers are added to the bottom of the benches to keep them from hitting the ground directly and to be able to level the pieces. The remaining parts are formed by pressure-treated wood with exterior grade paints. 
"To me, that's a big part of public art, figuring out the duration of the piece. What are the conditions in which it'll be exhibited indoors or outdoors and then finding materials that respond to that," said Wong. "But, they will definitely over the next year have undergone weathering. So that's why when they're going to be split apart on de-installation and donated back to local orgs [in Chinatown], they're going to be touched up."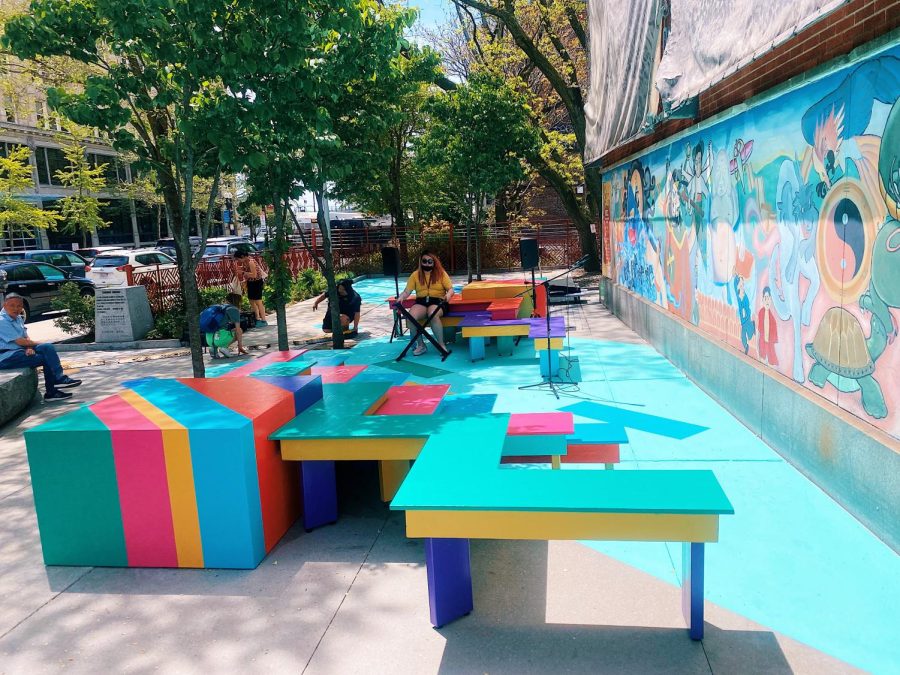 Though the public installation will only be in the park for about a year, the idea of donating its pieces back to the community lends to the namesake of the work's host site.
Mary Soo Hoo was a longtime resident and community activist in Chinatown. Soo Hoo worked fearlessly to advocate for a better quality of life in the neighborhood. Her activism led her to gain recognition from the city with numerous awards and honors, including having the park named after her. A part of Soo Hoo's activism and her continued legacy is to create environments and spaces in the area that enhance one's quality of life, community engagement and public safety.
The collaborative process between Wong, Novak and Pao Arts Center Director Cynthia Woo started with a performance series, building on the bold, confident and generous characteristics of the Tiger. They wanted to host different lineups of Boston-based artists to activate the park through a monthly series of music, theater and spoken word performances. Novak said that the project is especially important in creating spaces for gathering and celebration to create a space of healing from isolation and anti-Asian sentiment and violence exacerbated by the ongoing COVID-19 pandemic.
On opening day, community members enjoyed an afternoon of live performances, including lion dancing from Wah Lum Kung Fu Academy and traditional Korean drumming.
Most of the performers utilized the new installation as their stage, while spectators sat and relaxed in other parts of the installation.
State Rep. Michelwitz and City Council President Ed Flynn both stopped by for a few moments to support the new installation and congratulate Pao Arts Center on its fifth birthday.
"As someone who grew up in the Boston Chinatown community, I always felt like a cultural and arts space was lacking in the neighborhood. The community always looked forward to things like August Moon Festival or Lunar New Year – because those are one of the few moments a year the community was able to come together and celebrate," Ashley Yung, the theatre and performing arts manager at Pao Arts Center, said in an email to The Scope. "The community deserves so many more of those experiences. I'm really proud that now that we have Pao Arts Center, we get to offer more opportunities for the community to gather and celebrate."
The Pao Arts Center (PAC) was founded in 2017 and serves as a community response to a need for a physical arts and culture destination in the neighborhood, where residents and artists can freely express themselves and explore their ethnic identities. The center is the first to exist in Chinatown and is by collaboration between Boston Chinatown Neighborhood Center (BCNC) and Bunker Hill Community College (BHCC).
"In the Boston area alone, there are over 13 AAPI ethnic communities, each with its own social norms and cultural traditions. We are not a monolith of opinions and experiences," Leslie Condon, visual arts program manager at PAC, said. "The more that we can steer our own complex narratives and amplify them within our community, the more we can reinforce our community capital, sense of agency and feelings of belonging." 
In agreement with Condon, in an email interview, the center's director Cynthia Woo said that in its five years of existence, the center has built a space of belonging – both for artists and community members – to connect with each other, their culture and themselves. 
"When we hear from community members that they now recognize that they, too, are creative and artistic or when artists and visitors thank us for creating a welcoming, comfortable space of support for them, it validates the importance of spaces like these," Woo said. "It's also been an immense privilege to work in Chinatown with residents, local CBOs, artists and community members to use creativity, culture, and artist practice to uplift to respond to the needs of this neighborhood.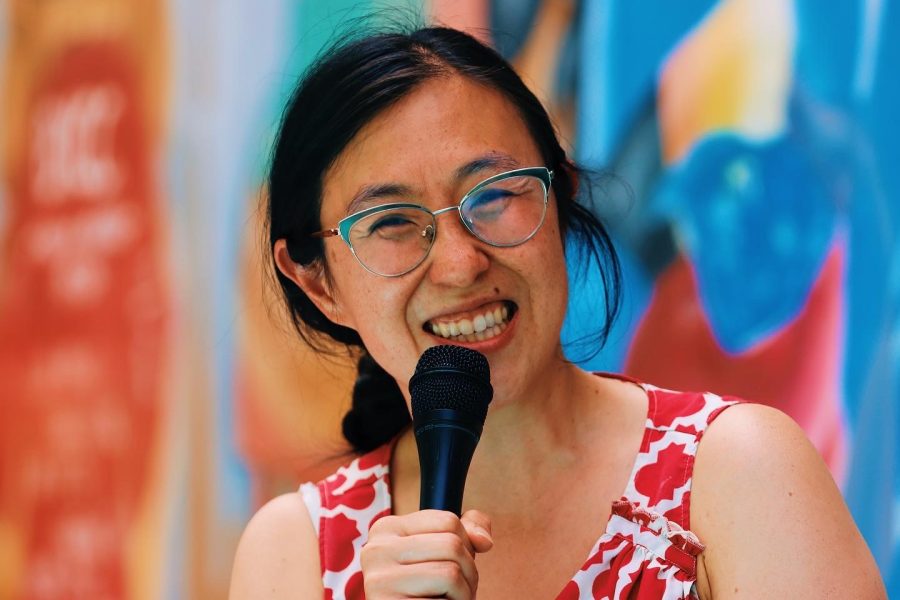 Woo said that in the last five years, the center has been working on using the arts to enhance and support multiple sectors from social service (with BCNC), education (with BHCC) and community development (with ACDC), amongst many other sectors and partnerships.  
According to its website, the center is housed on "a historically significant piece of land, Parcel 24." In the 1960s, many Chinatown residents living in this area were displaced due to highway construction plans. The site says that the redevelopment of this land as a place to celebrate and explore Asian culture represents a powerful shift towards community-oriented development in the face of rapid change.
"To have a community arts center located on that land is a way to reclaim the space for the community. To be able to provide space, material support, and educational support to people in the neighborhood to lead and participate in creative programming is our way of nurturing joy, community voice, individual and community empowerment, and correcting historically inequitable access to artistic resources in the Greater Boston API community," Sophia Chen, communications and development manager for PAC, said in an email. "This framework speaks to the partnership between a social service agency (BCNC) and an education institution (BHCC) that led to the creation of the center. Our programming ranges from dance classes for seniors to innovative artist residencies, an annual arts festival, art classes, and so much more, prioritizing serving the community."
A new exhibition, "The Collective Imaginary," will be opening on May 27th at 99 Albany St., where the center is located and will coincide with the rest of the summer performance series that PAC and The Greenway are jointly hosting. 
For the summer series, Condon, Yung and Woo said that they wanted to bring back and feature artists from the past five years to highlight all the breath, experiences and mediums from alumni artists, make sure the summer artist lineup was intergenerational and include performances that center cultural practice and identity.
"The neighborhood has a long history of community organizing and the recognition of the role arts, culture and creativity can play in activism and support," Woo said. "This five-year anniversary belongs to every organization, residents, community members and artists."