Boston Starbucks workers march with local cafes against union-busting
Workers from Boston-based Starbucks locations as well as local coffee chains Pavement, Darwin's Ltd. and others gathered and marched through Cambridge on Sunday to support coffee shop unions and stand in opposition to what workers claim have been union-busting tactics employed by their bosses. The event was one of many held across the city in honor of International Workers Day.
More than 100 people gathered in the Cambridge Common on Sunday, May 1, to call for union solidarity across Boston's network of independent cafes and foodservice establishments. The rally was followed by a march across Cambridge to the glass-door storefronts of two union-certified coffee shops — Darwin's Ltd. and Pavement Coffeehouse — whose workers succeeded in unionizing and have since started to negotiate contracts.
The general demands of these unions come down to a few main concerns, said Ty Nolan, a barista at the Starbucks in Lower Allston: higher wages, more accessible healthcare, and an end to same-day shift cuts.
"If we're able to collectively unionize," Nolan told The Scope, "then we'll have a real chance to fight for a 24 dollar per hour minimum wage or comprehensive accessible healthcare, including trans-inclusive healthcare — all of these things that affect our day-to-day lives."
Two Boston-area Starbucks locations in Allston and Brookline voted unanimously to form unions during their National Labor Relations Board elections. Four more stores in Mission Hill, Lower Allston, Watertown and Cleveland Circle are holding their union elections on Tuesday, with 16 other locations across Massachusetts having filed petitions to unionize.
These stores are part of a massive nationwide labor movement taking place in the last few months at Starbucks locations after a Buffalo, New York store became the first in the country to unionize. More than 40 Starbucks locations across 17 states have voted to unionize with Starbucks Workers United, with 250 stores attempting to join them.
Pro-union Starbucks workers like Nolan allege retaliation from management with union-busting tactics, holding one-on-one intimidation meetings and "captive audience" meetings, where corporate executives are flown out to discourage workers from forming a union. 
Across the country, Starbucks employees who speak out have seen their hours cut. "They're trying to see if they can force people to leave and find other employment," said Nolan. "They've tried to economically squeeze us out from our workplaces."
Starbucks denies retaliating against workers attempting to unionize, which would be a violation of federal labor laws.
The march ended in front of Pavement's Harvard Square location. In June of last year, the store's workers won their election and became the first union cafe in Boston. They're in the middle of negotiating their first contract.
Matthew, a Pavement worker and member of the Socialist Alternative, shared a few tactics that he and fellow members of Pavement United have employed to fight back against union-busting.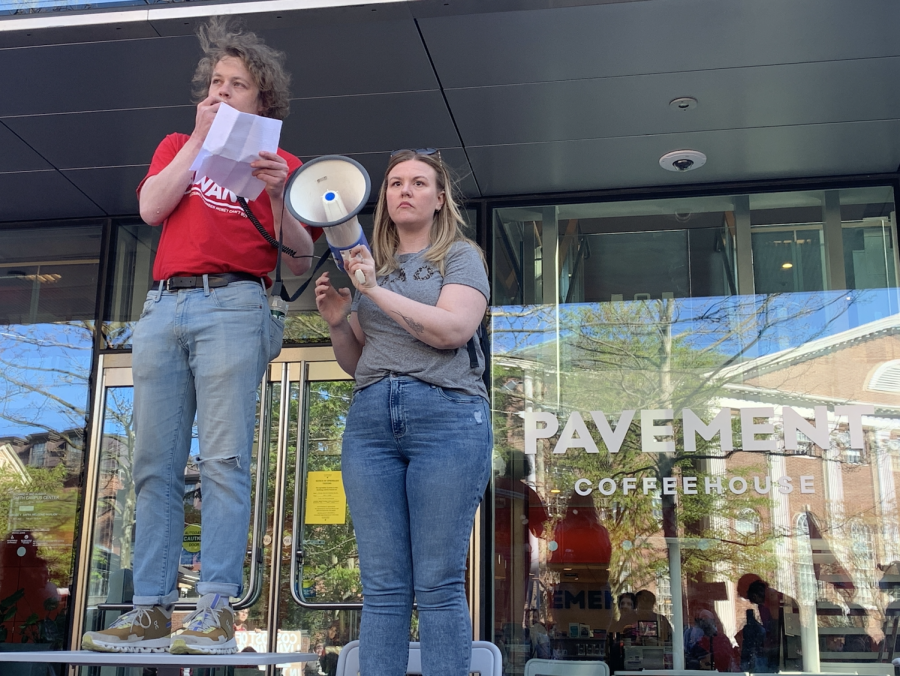 "We can temporarily eighty-six a popular menu item," said Matthew to the crowd. "Pretending that we're out of a popular menu item when really, we've got them in stock."
Darwin's United implemented a different strategy, staging a seven-minute employee walkout across all four locations. The number is a nod to the Memphis Seven, a group of Starbucks workers fired in late February who attempted to unionize their Memphis location. The walkout came as a response to what Darwin's workers called a "stall" in contract negotiations.
"The owners in the bargaining room were dragging ass," said JT Sims, a barista and member of the recently certified Darwin's United. "We had a conversation with the customers in the store at that moment to let them know what was going on and let them know who owned that business. The workers, baby."
One conversation went viral on TikTok, placing further pressure on owner Steve Darwin and winning their union four additional bargaining sessions alongside increased job security, ensuring workers are no longer at risk of being fired for unionizing. To coffee shop workers, these victories are just the beginning.
Sam, a member of Darwin's United and emcee of the May Day event, stressed the necessity of worker solidarity on all fronts when bosses and corporate executives start to break out every union-busting trick in the book.
"The main thing," they told The Scope, "is that we need to keep building democratic structures, bringing together groups of people across industries who are ready to talk about how we build a movement on a fighting working-class basis, learn the lessons of labor struggle, and apply it to our contract fights and our union drives."
Socialist Alternative will be holding a public meeting this Wednesday, May 4, at the main branch of the Cambridge Public Library to discuss Boston-based unions and the future of working-class movements.