Black Girl Magic: Black women rise to the top of Boston's hip-hop scene
Through mutual support and community-building, these Black women formed an alliance within hip-hop.
In 2018, Dorchester and Roxbury-based trap feminist MC Brandie Blaze predicted that women and nonbinary artists would run Boston's hip-hop scene. Four years later, Black women are commanding the city's hip-hop scene, with artists like Blaze, Red Shaydez, Cakeswagg, Amanda Shea, DJ WhySham, Vintage Lee and MonaVeli carving out a space for themselves and working to put Boston on the map for rap.
"I always wanted Boston to be a destination [for hip-hop] like Houston, Atlanta and New York," said Blaze, a third-generation Bostonian.
Boston was a tough nut to crack, given its reputation as a band city, but venues on the north and south shores embraced her. Spending time polishing her persona prepared her for the competitive Boston music scene while also introducing her to seasoned –mostly male – hip-hop artists.
"For much of my early career, I was the only woman. I really learned the hip-hop game and the machinery from men." Blaze said. Blaze began rapping at 27 years old and jokes about how that is often considered "old" by rap standards.
Now at 35, Blaze wants women rappers to have it easier than she did. 
"I was really outspoken. Whether it would hurt my career or not, I didn't care. I did the best I could to make it better for the generation that comes up under me. And all I want for them is to win and shine," Blaze said.
Blaze used her persona as a tool to come out of her shell and become the woman she always wanted to be. "Brandie Blaze" is a woman who unapologetically goes after what she wants and says what's on her mind. Her signature style is both hyper-feminine and no-nonsense. She was initially cautioned that her "aggressive" persona wouldn't translate to broader audiences because she seemed too angry.
"I feel like as a Black woman, anytime we display displeasure, [we're] seen as aggressive and angry. This is an emotion that I really wanted to embrace because I have every right to be angry. The way this country treats women of color, LGBTQIA+ people, why can't I be angry?" Blaze said. "[Women] have to be so hard and on guard all the time. Being around each other, we can let our guard down [and] take our bras off and be comfortable."
After building momentum, Blaze started showing up in Boston. Oompa, a nationally acclaimed, Boston-born poet, rapper and educator, hosts events to uplift women and nonbinary artists. After seeing Oompa's rap slam posted on Facebook, Blaze went and won. 
"Winning [that slam] opened the floodgates to everything else," Blaze said. 
Red Shaydez is another rapper who attributes her success in Boston to Oompa. Shaydez began performing from her bedroom, where she established an international fanbase. Despite being from Boston, Shaydez didn't have a local presence at first. 
Everything changed when she landed a spot in Atlanta's prestigious A3C Festival in 2018– the only artist from Boston to do so that year.
Although they hadn't met before, after seeing all of the buzz about Shaydez' festival placement, Oompa messaged her on Instagram with an invitation. Oompa planned a showcase amplifying female-identifying rappers like herself and Blaze. Shaydez met Blaze for the first time right before the show. 
"So, I go to introduce myself to Brandie Blaze, and she cuts me off – telling me she knows who I am and that she's been a fan of mine for a long time," Shaydez said. 
Shaydez said she was elated but also surprised. Shaydez, like many other Black women artists, expressed feeling overlooked regardless of how long they've been making music. Hearing that Blaze was a fan opened Shaydez's eyes to the supportive community of female artists, catching the attention of Boston media and audiences.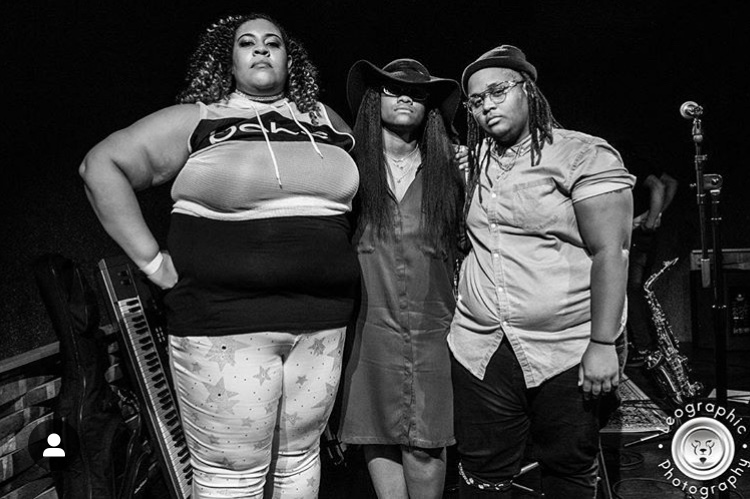 "When we did that concert, a photographer took a photo of me, Brandie Blaze and Oompa standing on stage. When that picture went up, the city went crazy," Shaydez said. "I just remember the domino effect." 
After the photo went viral, WBUR published an article embracing the three feminine-presenting yet gender non-conforming artists for changing the hip-hop scene. From there, the opportunities flooded in for these trailblazers, ranging from speaking opportunities, media coverage and more. 
Since 2018, Shaydez has become an award-winning hip-hop artist, video producer, public speaker, educator and youth mentor. 
Black women in hip-hop have each other's backs
Cakeswagg, a lyrical rapper known for her bright and extra-girly style, said she's worked twice as hard to be in the same conversations with her male counterparts. Despite the diversity of aesthetic styles and subgenres of music represented among female artists, it's common for the media to pin them against each other. 
Instead of how female hip-hop artists like Nicki Minaj and Cardi B are often compared despite their different musical styles and lyrical content, Cakeswagg said Boston's female hip-hop community embraces each artists' unique qualities while continuing to support each other.
"With Boston, the interesting thing is, we're all different. We rap different. We like different stuff. We dress different. We talk about different things," Cakeswagg said. "But we're all friends … We call each other for advice."
Cakeswagg explained that women artists often have to put people in their place when they try to create negativity. 
"We're not about spreading this narrative where you pit us against each other because we don't do that here," she said.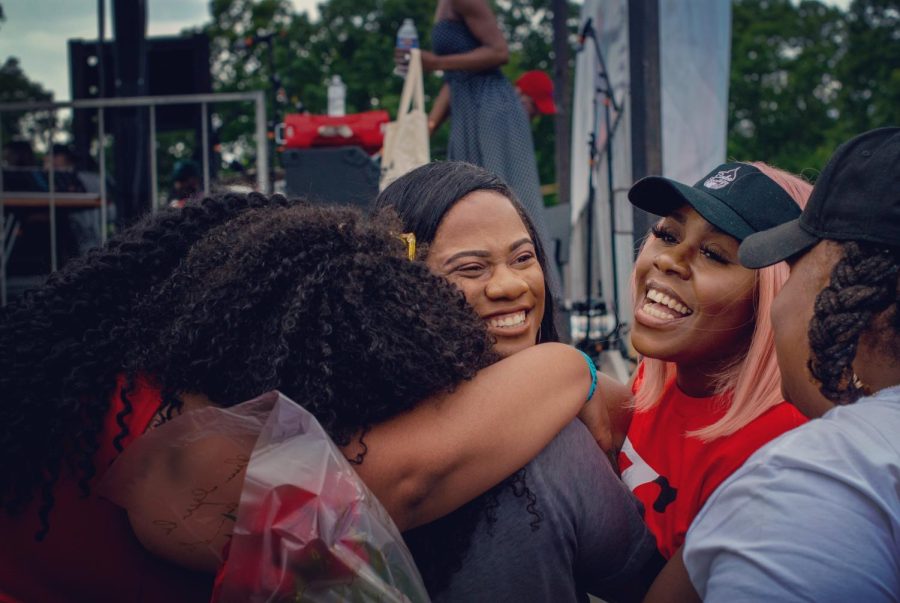 Media coverage contributes to the disparity between the perceptions and conversation around female vs. male artists. There are different expectations surrounding what women have to do to be in the same conversation as men in terms of their live performances. 
"When we get up there, it's hair, makeup, wardrobe, heels, sometimes we even have dancers and a band," Cakeswagg said. While women have to come with the entire package, Cakeswagg explained that guys can get up there with just a mic. 
Reflecting on the experiences of many other women, Cakeswagg constantly grinds to keep herself and her art in the conversation. While men are almost instantly respected in the hip-hop and music industry, Cakeswagg explained that women have to prove themselves over and over again to be considered a force to be reckoned with.
"So it's just like the women, you know, like, we're doing two and three things to even have value," Cakeswagg said. "I feel like we're giving 110% and that everything we do needs to be almost near perfect when we do it. We love what we do, so even if it's a 95% day, we're gonna dig and find that extra 15%."
Rising to the top of Boston's hip-hop scene has not been easy for Black women. Not only does their identity create unique obstacles, but they also have to battle the stigmas and stereotypes attached to hip-hop at large. 
Amanda Shea, a spoken-word artist and New England's 2019 Hip Hop Woman of the Year, said the genre is often associated with violence, alcohol and drugs. Shea explained that these negative assumptions make it difficult for hip-hop acts to book venues in a city that often prioritizes rock 'n' roll and indie, two genres that aren't plagued with often false, yet trusted, stereotypes. 
"Hip-hop sometimes has a negative connotation around it. That's why we were kept out of the loop or not given certain opportunities because of those ideologies," Shea said. "Now in this climate where we're at, we've had a lot of hip-hop artists such as Oompa, Red Shaydez, Brandie Blaze … that I feel have broken the barriers to that." 
Shea fights hip-hop stereotypes by embedding herself as an artist, manager, publicist and supporter into Boston's hip-hop scene. Shea said she's become the representation Black women in hip-hop need by being loud, transparent and collaborative, which helps artists overcome barriers to success.  
Emphasizing the importance of female solidarity within the hip-hop scene, Shea said she works extra hard to uplift other artists regardless of their level of recognition in the music world. Whether an artist is just emerging or has been under the spotlight for years, Shea uses her skills as a performer, event host and social media marketer to let everyone have their chance to shine.
"What I'm all about is feeding the ecosystem. What can Amanda Shea do to garnish more attention to Bostonians?" Shea said. "The sun is big enough for everybody to shine. So if I'm shining, then it's my duty to make sure that I'm opening doors behind me, and in front of me and on the stage with me, for everyone to bask in."
Reminiscing on her relationship with Blaze, who she works very closely with as Blaze's publicist, Shea explained that partnering with people in her community who can understand her experiences empowers her as an artist and inspires her to persevere through challenges.
"We're both artists in the same city, and we really can understand each other's breakthroughs, each other's triumphs, each other's depression, each other's ugliness that happens in our personal life," Shea said. "Most of the time, artists are balancing work life and art life, and that's really difficult. And to have someone that can mirror and understand exactly what you're going through in this industry here in Boston and just in general, it's very, very comforting."
These trailblazing artists give back to their community and each other 
View this post on Instagram
Hip-hop and community are inextricably linked for WhySham. Because lyrics in hip-hop often discuss local matters like racial, social and political injustice, the artist and their listeners share a unique bond. At the beginning of many of WhySham's songs, listeners hear "from the 617 to your backyard," emphasizing the personal, intimate nature of her work.  
While WhySham, who calls herself "your community DJ," currently DJs for Blaze and Cakeswagg, she said she supports other artists when they need it.
"When it comes to the rest of the artists, I'm just like your community DJ. I'm here for backup. I'm here if you need me," WhySham said. "Hip-hop for me means, honestly, community."
While WhySham does her best to support and uplift fellow Black female artists in Boston, she admits that there's a lot of room for improvement within the Boston hip-hop scene. WhySham said Black women deserve to be in charge and have more leadership roles in music. She hopes that gender identity will play second fiddle to one's ability to succeed within this male-dominated industry. 
"I believe Boston can do a better job at… [showing] there's more than guys… Whatever you identify as … that shouldn't matter if you're great at your craft," WhySham said.
Although the Dorchester-based artist hopes that one day the music industry can evolve to overlook gender identity when determining someone's potential in hip-hop, she does her best to support and uplift women in a space where the odds are stacked against them. 
After attending an all-women's college in Pennsylvania, WhySham said the idea of supporting women was ingrained in her mind, and it's a part of her everyday life to celebrate and check in on the women in her life. 
"Women are genuine because we want to see each other win," WhySham said. "We know how hard it is, just like in any other industry, to be recognized."
DJ WhySham has worked hard to surround herself with a group of talented women in Boston's hip-hop scene, and it culminated in the proudest moment of her career thus far: "Finally."
"Finally," a 2020 album created by WhySham, features over 15 women, including Blaze, Cakeswagg, Shaydez and herself. And it passes the mic to women in hip-hop and gives them a chance to truly shine in a collaborative body of music entirely dedicated to female artists. 
"That project right there for me showed me that we can do this as a community," WhySham said. "It was beautiful."
And for Vintage Lee, a Roxbury-based artist whose single "Hennythings possible" was featured in season two of smash-hit HBO series "Euphoria," integrating hip-hop and community means giving back.
View this post on Instagram
Lee said she wants to funnel the funds from her music into community outreach. This can mean anything from contributing to community fridges to help increase food accessibility, supporting single parents and helping students and young athletes.
"I want to help people not have to go through the same things that I went through," Lee said. 
Emphasizing Lee's genuine desire to give back to her community, she also said authenticity, regardless of racial or gender identity, is the best way to grab the audiences' attention.
"Really being yourself and being authentic regardless of if you're female or male will get you a lot further than trying to be something else," Lee said. "I think people just need to be open. A lot of people are just stuck in their experience and in their way."
Lee, who grew up listening to hip-hop with her sister and friends, admits that most of her inner circle within the industry is men. As a result, she's become accustomed to existing in male-dominated spaces. 
But she still hopes Boston's hip-hop scene can evolve to become more open-minded so that female and non-binary identifying artists can be free to be authentically themselves. 
The hip-hop industry has a long way to go before it can truly be considered accepting of women, so MonaVeli, an artist based in Brockton, uses the tenacity and perseverance of her peers for constant motivation.  
MonaVeli, a self-proclaimed multi-genre artist with no bounds, started her career performing in her hometown at just 15 before breaking into the Boston scene. Initially mentored by local hip-hop greats like Dutch ReBelle and Latrell James, she credited the women who came before her as a force of inspiration.
"We're always trying to outdo each other, but at the same time always giving each other props. You don't necessarily get that from the male side," said MonaVeli, now 21.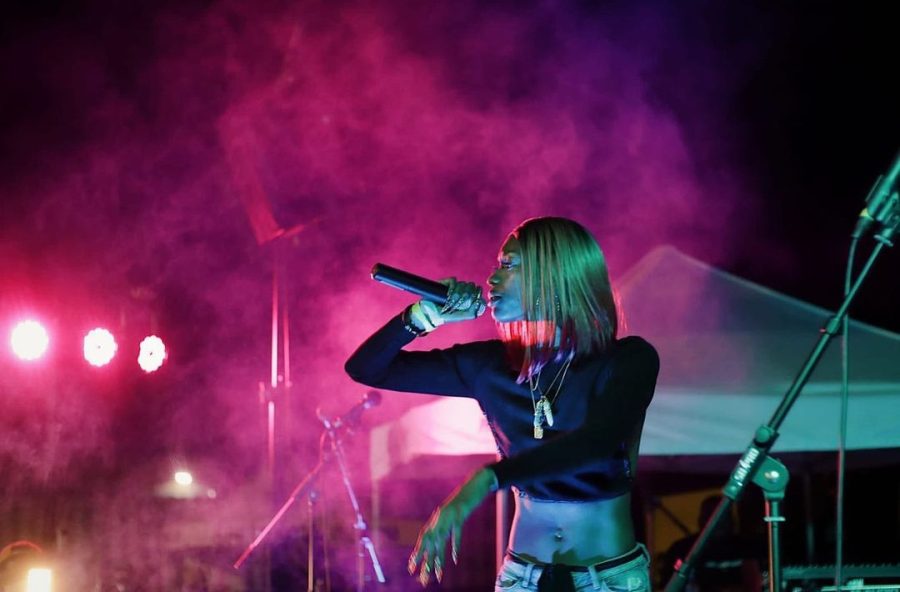 Age is not the only characteristic that makes MonaVeli feel isolated in the hip-hop world. While younger than most other artists, MonaVeli is often the only woman at events as well. There is a noticeable difference between how men and women approach diversity when curating line-ups. 
"A lot of times, if it's not run by a woman, men just think if they have one woman [in a line-up], that's diversity," MonaVeli said. 
MonaVeli also believes that women-led shows generally run smoother. 
"Every time I go to an event curated by a woman, whatever I expect to go wrong never happens," she said. The events are more diverse in terms of the talent and more comfortable. "My standard for shows is really high [and] women set that standard," she said.
MonaVeli knows a lot of female artists and has forged personal connections with them outside of the music scene. And she is not the only Black woman with these special relationships: A supportive community of Black women in Boston's hip-hop scene has propelled many artists toward great success, and they all do it while enthusiastically cheering each other on.
"Whenever I need help with anything, I go to a Black woman," MonaVeli said.
Editor's Note: Oompa was not available for interview by the deadline date for this feature.