Changemaker: Boston's poet laureate, Porsha Olayiwola
Porsha Olayiwola is a poetic force. A writer, performer, educator, and curator, she is Boston's current Poet Laureate. 
"Black, poet, queer-dyke, hip-hop feminist, goddess, womanist, futurist…" are among the words she has used to describe herself. Olayiwola is also known as a mentor within her community, a trailblazer and an inspiration to fellow poets and audiences alike.
"Hopefully, by me seeing me, other people see themselves," said Olayiwola, whose poems often explore her own personal and cultural identity in intimate detail.
Although she originally hails from Chicago, she currently lives in Dorchester. Upon her arrival to Boston in 2010, she was drawn into the rich political and cultural history that lives here. As Olayiwola's body of work has grown, she has imprinted herself on the landscape of the city she now calls home.
Her first book, "i shimmer sometimes, too," delighted both critics and fans following its release in 2019. Her writing has been published widely by TriQuarterly Magazine, The Boston Globe, wildness, and the Museum of Fine Arts Boston. 
Olayiwola is the 2014 Individual World and 2015 National Poetry Slam Champion, Brown University's 2019 Heimark Artist-in-Residence, and a 2020 Laureate Fellow with the Academy of American Poets. 
Olayiwola was the founder and lead organizer of the debut Roxbury Poetry Festival, which took place at the Blair Lot in Nubian Square on June 5, 2021. The event combined virtual workshops with a live poetry slam and concluded with a rap concert featuring femme artists from the area. 
The slam winners, local poets Miya Coleman and Usman Hameedi, received a book deal from Button Poetry, who helped sponsor the event. Olayiwola hopes to keep up the festival to give more opportunities to rising poets and show love to the neighborhood where she spent years living and working. 
The Scope spoke with Olayiwola to discuss how she brings herself to her poetry and other work. The conversation has been edited for length and clarity.
What was it about Boston that made you decide to stay, and what do you love about the city?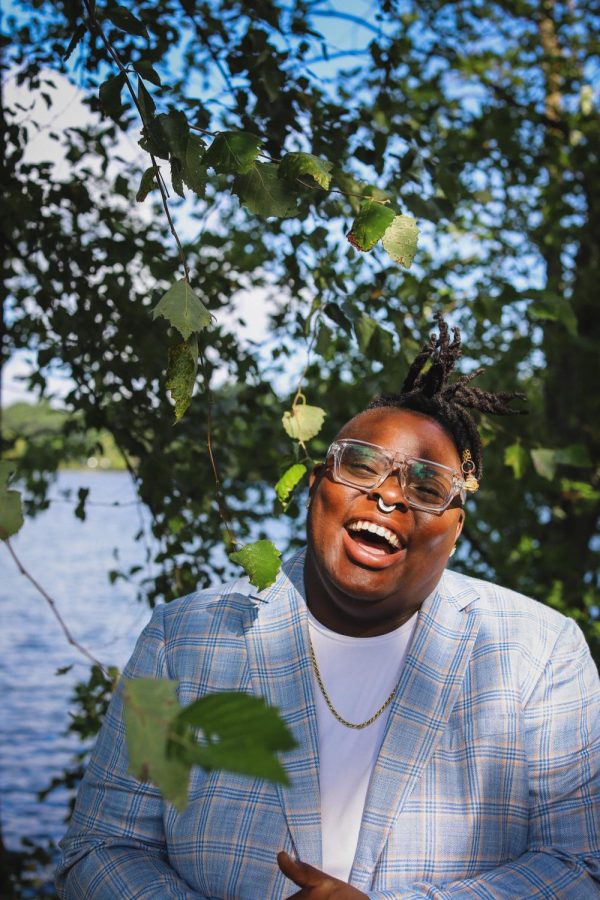 I think overall, the landscape. I mean the infrastructure, the parks and the ocean, and the people in the way in which the neighborhoods are separated — something about these things feels very cozy. And it feels manageable and livable, walkable, even. It's just a city where people get to know each other. And if they don't, then they already secretly know each other. 
How do you hope to impact Boston in your role as Poet Laureate?
There's obviously the definition of the role, which is civic engagement and incorporating poetry into the everyday life of citizens. But I think for me, what I'm always trying to do is provide resources for writers and poets, whether that is mentorship or workshop or spaces or readings or access to certain writers or thinkers … figuring out ways to give the people what I want … thinking about the things that I needed or wanted as I was becoming my own writer and figuring out ways to do it for free, hopefully.
[I want to] blur the line, or delete the line, between performance poetry and page poetry. As a person with lineage and foundational roots in performance poetry, it always feels like there's such a huge gap between page poetry, published poetry and performance poetry. And the reality is, [there's] not. I've been trying to do some work or thinking about how to close that gap. 
How do you explore your identity and self in your writing?
Often the question I'm asking myself is: why? Like, why are you writing this?
So I think for me, the part of the poem is figuring out the reason. And I think that, for me, is the life or the jolt of something beyond the poem.
I think that part lies in discovery. I have an idea for a poem. And my process consists of thinking about the idea for a very long time, and maybe thinking looks like researching things or watching a documentary, etc. And then I write the poem. But by the end of the poem, I'm learning something new or different about myself or something different than what I thought the poem would be. And I think maybe that the avenue of inserting myself is when I reach that discovery.
What are you currently writing, and what are you drawing from for inspiration?
I'm totally working on a book of poems. I spent time this morning attempting to edit an abecedarian about being glorious and queer and all of those things. 
A lot of the poems either stem from history and a collective identity or history of a personal identity. I love history. I've always loved history. So a lot of the poems that I've been writing intersect there. Right now, I'm kind of obsessively writing about water and the black diaspora, which is in part my own identity, obviously, and just inquiry into history and inquiry into water, which is a universal lifeline.
The rest of the poems I've been writing have been about queer intimacy … When I think about intimacy, I think about the body, but I'm thinking about my body as dark and large and fat, and all of those things, in addition to being queer, are happening in that moment. 
How can fatphobia and colorism, topics you address in your work, manifest white supremacy culture? 
I think [these ideas have] roots in white supremacy and capitalism, and internalized racism is also in response to that. It's just like a tool of [white supremacy and capitalism]. The idea of beauty, I think, the standards of beauty … it's this thing that we're supposed to achieve and we're supposed to strive to. 
For me, the apprehension associated with colorism, fatphobia, all of those things, happens more in life as I move through the world than actually in poems. Those things exist in the poems, but they exist without a limitation, or I get to decide what they look like in the poem. There's more of a freedom there than what happens when I walk outside my door and feel it on me. And then, when I'm sitting with me and the page, I don't feel any of those things. I feel more pensive, more reflective, more control.
What do you want to teach others?
Some of the stipulations associated with poetry and what it means to be traditional and of the canon follow these very specific rules. I think life is about breaking all of those standards or rules. The biggest thing I want students to think about is how do they break all of these things? What does my voice look like in these rules, and how many rules can you break in any given moment? I'm hoping folks feel inspired and feel conviction that they can do whatever they want.
How do you curate spaces for poetry and self-expression?
I'm actually totally revamping all of my workshops. Maybe the framework that I'm going to be moving with as I shape some of these new workshops that I'm curating is really: how do I utilize just talking about the self more, maybe as an extended metaphor, right? We can look at the poem and talk about what the writer thinks, which is awesome and cool and meaningful. And also, there is something about studying the self that pushes people differently. And I want always to bring that element. Then automatically, the poem almost writes itself. Understanding that we are our first teachers; it's going to be monumental for me. 
Now I'm really interested in poetry for entertainment. I've always done poetry for poets and poetry spaces for writers. I've been thinking about curating a four-part series … it's a show, not necessarily meant for the writers and poets, but for the people in attendance.
What types of conversations do you hope your poetry ignites?
I've always thought that I want people to see themselves. I want to see myself. And then hopefully, by me seeing me, other people see themselves.
I want conversations that surprise me. I want completely unexpected conversations. I love learning new things and thinking about the world in different ways, so when conversations just completely catch me off guard, I think it's amazing. 
For example, a [OBGYN] messaged me, and she said, "I watched your poem 'Tangled aka Rapunzel aka Long-Hair-Don't-Care-and-What,'" which is about somebody's hair being touched without permission. [The doctor said], "I work with a lot of Black women and listening to that poem was the first time I realized that I have no idea what my patients feel, especially Black women as they are giving birth… how the woman felt when her hair was being touched is maybe a glimpse of how uncomfortable patients might be."
This is beyond my dreams, that [my poem] would be in this conversation … that hair and feeling could relate to this thing that feels massive.