'Our hearts are broken' – groups gather at the State House to push prison moratorium bill
"Free her" was the resounding message of the broken hearts strung along the gate outside the State House this Valentine's Day. Protestors had written the names of their incarcerated loved ones on the paper valentines.
Prison abolitionists, activists and students met in front of the government building on Monday, Feb. 14, at noon to campaign for a prison moratorium bill which, if passed, will stave off plans of investing $50 million into a new women's prison for five years.
The possible new women's prison in Norfolk would replace a collapsing women's prison at MCI-Framingham. However, a new prison would substantially decrease incarcerated peoples' chances of being released on clemency. Many of the 158 incarcerated women in the Framingham prison have served for years or decades, are elderly, have serious health complications and would be very unlikely to pose a public threat.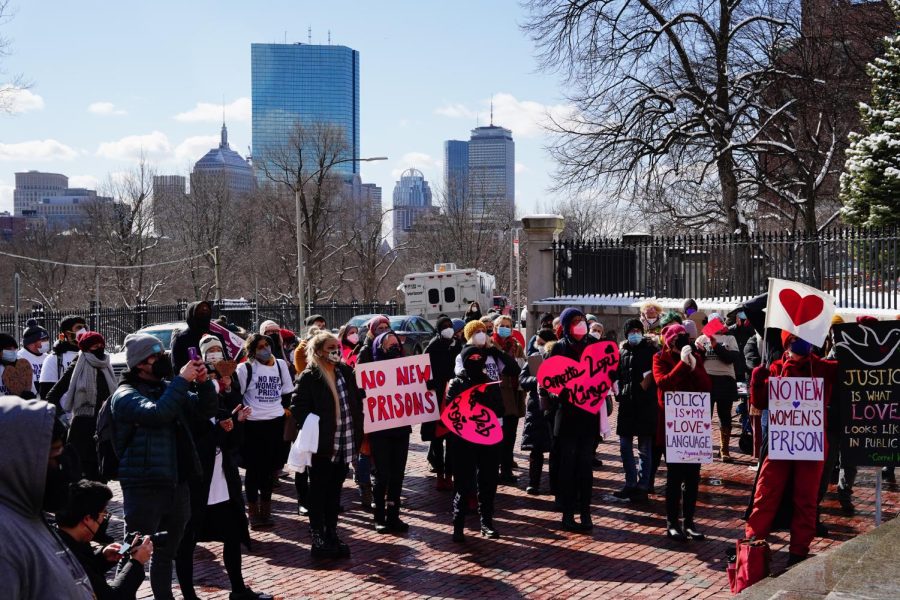 State Rep. Chynah Tyler and Senator Joanne Comerford filed bills in the House and Senate in March 2021, urging that the passing of a prison moratorium bill is "necessary for the immediate preservation of the public safety and health."
Despite the bitter windchill, a collective voice rang clear Monday afternoon: "We don't want a coat of pink paint!"
The chant responds to the DOC's claim that the new prison will be "trauma-informed." They promise "therapeutic and cozy areas for visitation with families."
What they don't understand, said Fiona Hoffer, a canvasser for the People Not Prisons Coalition, "is that trauma-informed prisons don't exist."
As someone in recovery, who has seen many loved ones overdose, Hoffer has grown increasingly passionate about abolition. "It's become really clear to me," she said, "that criminalization of social problems does not make for healthier and stronger communities – it only creates further problems."
Currently, there is a plan for Mass. to spend $520 million over the next 10 years on prisons and jails as a whole. But many are asking: for what?
With a much smaller budget, Sashi James, organizer of the National Council for Incarcerated and Formerly Incarcerated Women and Girls and Families for Justice as Healing, is doing much more. 
"We're impacting people's lives for the better," she said. "We're reconnecting families and helping them grow and thrive and get to a space of healing."
What makes it personal for James is that growing up, both her parents went to prison for a period of time. "I'm a daughter of incarcerated parents," she said, and "I also live in the most incarcerated corridor of the Commonwealth of Massachusetts, which is Roxbury – from Nubian Square to Franklin Park."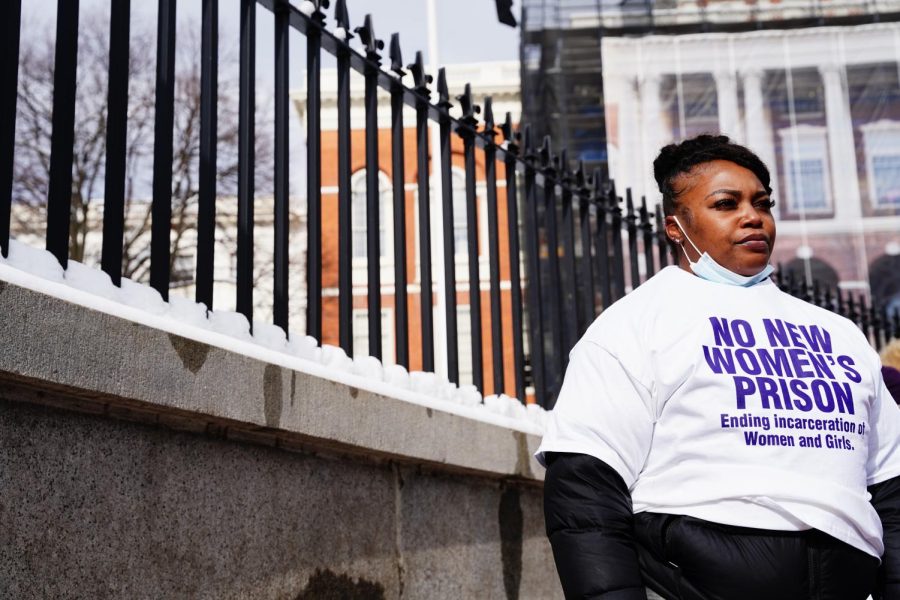 Her mother, Andrea James, is a former criminal defense attorney who was incarcerated for close to two years. Struck at the utter lack of resources these women had upon release, James founded the National Council and the Families for Justice group and has dedicated her life to serving in both.
"Now," Sashi James said, "we're doing all kinds of exciting things." The Families for Justice group is able to fund five women with mutual aid monthly stipends. That way, when they are released from prison, they have somewhere to go, some savings, a support group.
Tiffany Wang and Tiba Fatli are Northeastern School of Law students who attended Monday's gathering. Speaking on behalf of herself and Fatli, Wang said, "These orgs here are doing amazing work. Both of us are new to the city more or less, we came here for school, and we feel like we want to get connected with the on-the-ground communities doing the real work. We want to support them."
Families for Justice as Healing has successfully halted the construction of the new prison twice before and remains hopeful about where the House version of the bill is at, as well.  
"What we know is that if they build a new women's prison, it's going to be incarcerating the grandchildren of people who are currently there," said Hoffer. "It is going to just continue these cycles of inequality, and we need better. We need investments in things that truly make communities healthy, and that's not what prisons do."