Lunar New Year celebrations return to Boston's Chinatown
Despite snowy weather, hundreds gathered throughout Chinatown to embrace the Year of the Tiger and bring in a new year
Two years since the last public Lunar New Year celebration was held throughout Chinatown, festivities once again returned to the neighborhood, and so did an exuberant crowd of people, despite the snow.
On Sunday, large crowds once again filled the streets and alleyways of Chinatown to partake in the Year of the Tiger celebration that, this year, mainly consisted of lion dance parades around the neighborhood. 
"This year will be the year of resilience and strength," Hung Goon, the event emcee, said. "It will be a great year for achieving your goal and pursuing your passion. Everyone can do it by tapping into the confidence of the tiger."
This Year of the Tiger is one of the 12 years of the Chinese zodiac. The word "tiger" in Chinese is often associated with "brave," "strong" and is a symbol of power. For some, this meaning and yesterday's celebration was an opportunity to connect with their heritage like they never have before.
"I'm here to celebrate [the New Year], but I am here for my ancestry," Kartina Richardson, who, along with her mother, Aloyah Isa, and her daughter, Smokey, traveled from Providence, R.I. to celebrate the Lunar New Year in Boston.
Richardson, who is Black and Malaysian-Chinese, found it important to connect with her Chinese roots and wanted her daughter, who attended the lion dance parade for the first time yesterday, to learn more about their culture.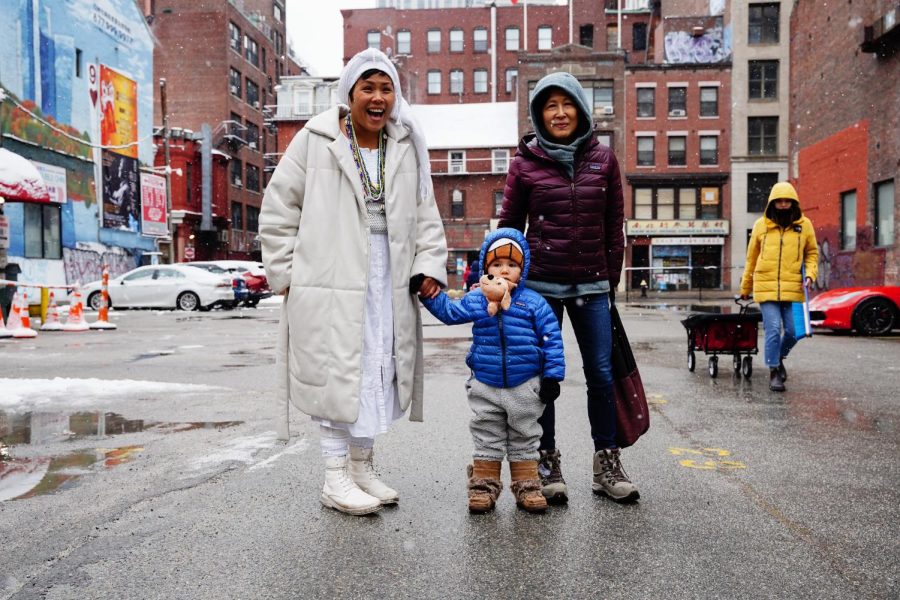 This isn't an uncommon experience, and Lunar New Year celebrations serve as a connection for and between many Asian communities. Lunar New Year is the celebration of the beginning of a new year on the lunar calendar, which some can view as a "rebirth" and as a source of cultural pride. The lunar calendar is embraced in East and Southeast Asian countries due to the influence of the historical Chinese lunar calendar. 
Sunday's crowds were entertained by 10 lion dance groups – Asian American Cultural Center (Nam Pai), Boston Chinese Freemasons Athletic Club (Gung Ho), Gund Kwok, Hung Gar Kung Fu & Lion Dance Academy, Kwong Kow Chinese School, Wah Lum Pai Boston, Wong Keung, Wong Family Benevolent Association, and Woo Ching White Crane Kung Fu – that kicked off several different parade routes throughout the area, visiting businesses for good fortune.
The event's sponsors and city council members took the stage for remarks. Mayor Wu wished the crowd a prosperous New Year and took some time to introduce Chulan Huang, who was recently appointed as the neighborhood liaison for Chinatown, Downtown Boston and the Leather District.
Before passing the mic, Mayor Wu urged the crowd to support local businesses in the area.
"They very much need [some] love coming out of this pandemic," she said. "So, go have lunch after this, shop in our local businesses in Chinatown."
During the day, Chinatown businesses invited customers in for dining, festive treats and to shop holiday ornaments and accessories during Sunday's celebration.
The return of Boston's Lunar New Year celebration is met with pride, joy and possibly a bit of relief. After experiencing over two years of heightened anti-Asian racism and economic uncertainty – some of which stemmed from former President Trump's negative remarks and blame toward China at the top of the Covid-19 pandemic – Asian communities across the country have been left to grapple with new safety concerns and empty restaurants and businesses.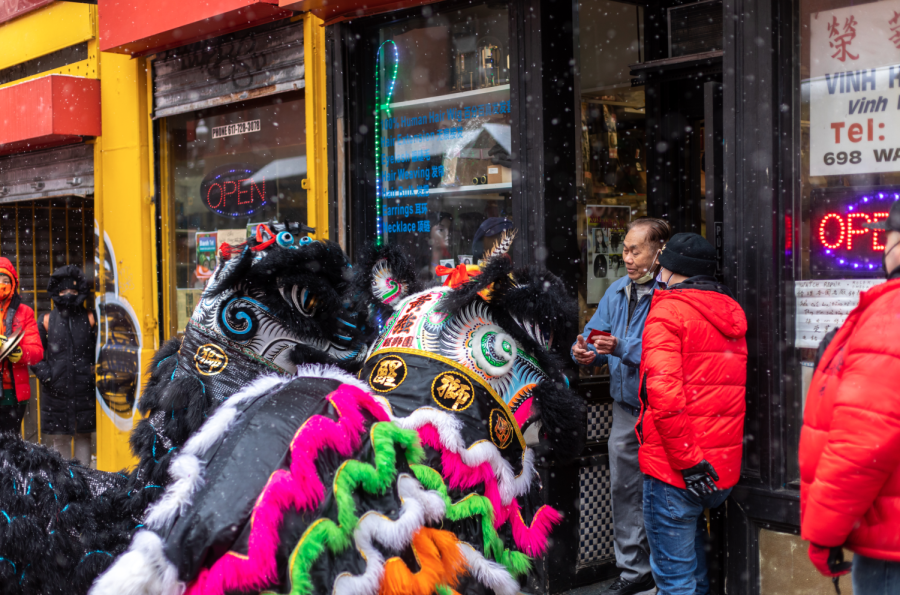 "We have to acknowledge the anti-Asian racism that we've seen in this community and across the country over the last two years … over the last several years," Ed Flynn, the City Council president and District 2 councilor, whose district includes Chinatown, said to the crowd on Sunday. "We have more work to do in making sure that the voices of immigrants are heard across our country."
Even with the extra footsteps in the neighborhood to help close out the New Year celebration, some workers are concerned that yesterday's business boom is temporary. Jenny Leen, an employee at Fortune Market Inc. on the corner of Harrison Ave., said that business has been "so bad in the last year."
According to her boss, Leen said that compared to 2018, when "business was good," it's still been hard to recover the same volume of customers since the pandemic began in late 2019. 
"A few weeks ago, everyone stayed at home … so that's not good," she said. When asked did she think today's celebration would make a difference in foot traffic coming back to the area, Leen was unsure.
"I think it's not really up to today," she said in Mandarin to a Scope reporter. "It's still up to the government's policy on Covid-19. "A week or two ago, there was little patronage, so I think it still depends on how Covid-19 goes in the future."
In Feb. 2020, then-City Councilor Michelle Wu and Councilor Flynn held a large brunch to encourage the public to curb their fears and dine in Chinatown before most of the U.S. went on lockdown a month later. Initiatives sparked back up last summer after Covid-related restrictions eased up throughout the city; a series of weekend pop-up events, including smaller-scale lion dance performances to bring shoppers back to the area, were central to the area's economic recovery.
Maggie Hsu, an employee at Bao Bao Bakery, is optimistic about the area's revitalization. 
"Last year, there was just not much business," Hsu said in Mandarin. And even though it's only February, Hsu thinks business this year could be more than twice as good as last year, "at least twice," she said.
Hsu's optimistic thinking comes along with her joys of the holiday. She said always looks forward to the lion dancing.
"Even in Asia, sometimes, you don't really feel [the vibes that the] lion dance [gives off] that much," Hsu said. "But here, you can just feel it … and it's fun."
Reporters from The Scope were able to spend the day with local businesses, dance groups and crowdgoers. Here's a photo recap:
Xiaoxi Ma is the assistant editor for Global Observer and a Media Innovation student at Northeastern University. This was written in collaboration with The Global Observer, a digital magazine that shares the perspectives of international students in the U.S.