Boston-based group Skate Hags creates inclusive community on wheels
In August of 2020, Jen Millis, Octavia Bennett and Jen McMahon were searching for a safe place to skate in Boston.
"We needed flat ground that was decently paved with some light," said Millis, who uses quad [roller] skates, "and it was shocking how difficult that was to find."
Once they found a spot that worked, the group wanted to share it with other people looking for similar spaces. They came up with the name Skate Hags and invited others looking for a welcoming place to skate and an environment supportive of LGBTQIA+, women, BIPOC and neurodiverse communities of all levels and on all types of wheels. Over time, Skate Hags grew from just the three founders to 10 or 12 other skaters showing up to meet-ups hosting well over 100 people. 
"We've just kind of skyrocketed since then," said Bennett. "We maxed out at about 150 when we had a group with Lonely Bones, another skating group – that was in June."
McMahon, who started in-line skating as a teenager, picked it back up again during the pandemic. For them, spending time skating is a moment to unplug from everything that's been happening.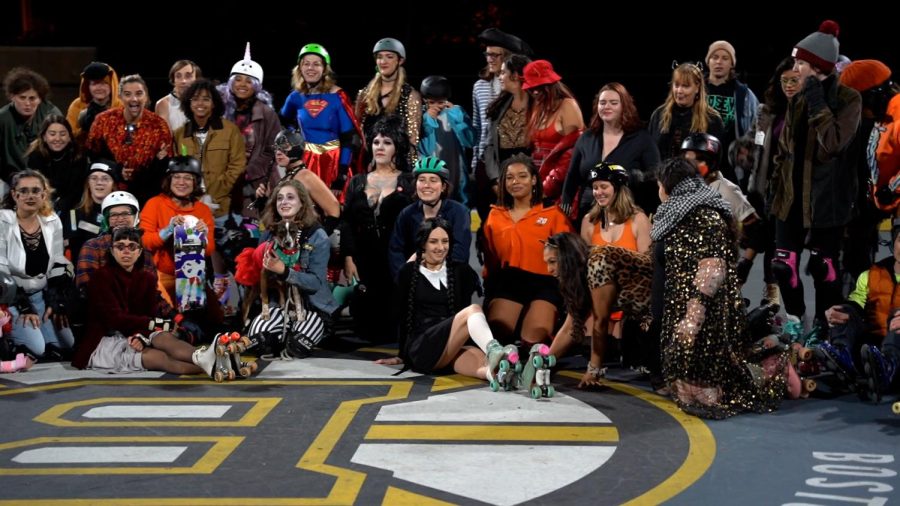 "When you skate, you're in the moment," said McMahon. "You can't think of a past or future or anxiety. It's like you have to focus on being upward. And so for a brain like mine, which is very anxious and a thousand thoughts a minute, having that time of clarity, where it's like all you're thinking about is one thing, is the best."
According to McMahon, joining the Skate Hags community isn't just about being in a friendly and inclusive environment. It's also about developing how you interact with other people and strengthening your ability to navigate new social groups. 
"Interacting with all different types of people, interacting with different communities, it's a chance to learn," McMahon said. "And it sounds scripted and weird to say, but it is true. You are learning, [and] you are evolving; you're trying to improve, you're trying to get better."
As it's grown and progressed, the three founders say Skate Hags has become more than they ever imagined it would be. For new skaters who are just starting, they offer protective gear and hope to one day also provide skates. They're also interested in finding sponsors so they can rent out indoor rinks this winter. 
Although they still have a lot they want to achieve, for Millis, the goal of creating an environment where people of all levels can learn to skate and feel comfortable and welcomed has been accomplished. And, during a year that has been socially isolating, it's come with some perks along the way. 
"I have made so many friends," said Millis, "and it's really amazing because I'm in my late 30s, and making friends when you're like over 30, making new friends, is actually really difficult. But we have found a way to make literally like 100 friends this past year just because you show up, [and] you have fun. It's just been wonderful."
While Skate Hags switches up their meeting location occasionally, they often gather at Smith Field in Allston, and many of the meet-ups have costume themes. For anyone interested in joining, the group posts fliers on their Instagram. 
According to McMahon, all you need to participate is to "just show up. We're just a crew. But we're holding space for community, and we're inviting people into our friend group to hold space."
As more people have shown up, the Skate Hags founders say they've had to become a lot more organized, putting more effort into making sure every skate night goes smoothly and that everyone is safe. The work has paid off in a big way.
"The support that everybody gives each other, whether it's when someone gets injured or when they're working on something or they need a ride or just emotional support – I think everybody has just felt so much happier since they've become a part of our little community," said Bennett. "I know I have."