LGBTQIA+ Inter-faith Communities Are Resources For All
Yale School of Public Health conducted a study in 2019 that disclosed an estimated 83% of those in the world who identify as lesbian, gay, bisexual, or transgender keep their orientations hidden from all or most people in their lives (Poitras, 2019). The study does not indicate if it includes queer, intersex, and asexual identifying individuals, the Q, I, and A in LGBTQIA+. Although concealment of gender and sexual identity is lower in the United States when compared to other countries around the world, within specific regions in the US, concealment varies by societal and political forces; One historically dominant and influential force being religion.
Faith communities have assumed leadership roles throughout history by nurturing love of neighbor, justice, care for the earth and all creation, and the very nature of human life. Yet, many of these faith communities reject the LGBTQIA+ community to have a safe space within their traditions. This rejection from faith communities, connected to family and larger society as well, results in increased discrimination and greater mental health challenges faced by the queer community. In order to combat the discrimination, many queer-identifying people face as a result of the rejection of their identifies by their communities, safe spaces for the LGBTQIA+ community to feel welcomed and accepted as they are, must exist.
Kevin Vetiac, music director at The Crossing and director of the LGBTQA Resource Center at Northeastern University, describes his experience when he first joined The Crossing, a grassroots, justice-focused, queer-inclusive church located in Downtown Boston, as: "Sometimes you're in Christian spaces and you're worried about being queer, and there are some queer spaces where you're worried about being Christian. At The Crossing, I felt whole, and I could bring my full authentic self to that space."
The inclusion and welcoming spirit in faith communities that aim to make their congregations supportive of LGBTQIA+ members have seen positive results in terms of keeping their community and service attendance numbers steady. At a moment when institutional churches are continuing to decrease in membership and affiliation, and mainline non-denominational churches are also shrinking, society is seeing a shift in individuals' preferences in engaging in their spirituality. Rather than relying on an institution to have spiritual needs met, as religion and faith have historically and traditionally operated, people are shifting their interests to becoming part of a smaller group of people; a group who will, generally speaking, accept these people as they are.
Vetiac was interviewed on his role as music director at The Crossing where he expressed his optimism for the Episcopal church going forward. Vetiac outlines the obstacles that The Crossing currently faces in Boston and provides an overview of inter-faith communities and where The Crossing differentiates itself using its welcoming atmosphere.
What is your position at The Crossing and when did you first start attending services? How did you hear about the church?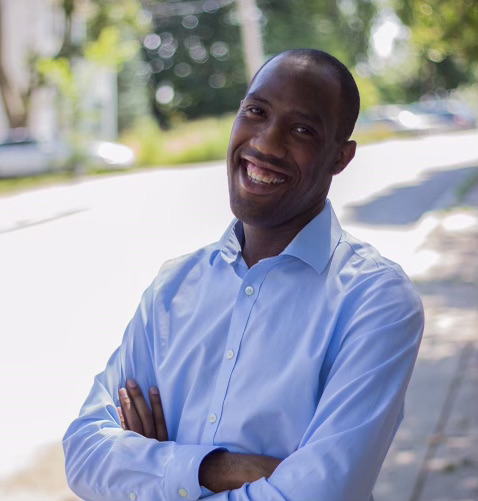 I've been involved with The Crossing community for six years. I began working at the organization as the Music Director in the Fall of 2016. I first heard about the crossing eleven years ago. I was a graduate student at Boston University and had just recently come out myself. I went on a religious retreat and the crossing was recommended to me since my religious background is evangelical and I was looking for an LGBTQA friendly place to worship. I was really moved, even though it was different from the service that I was used to seeing growing up. The sincerity, authenticity, and the community were all reasons that I became interested in the Crossing at that first meeting… I was in that safe space and I felt whole.
Have you always been a part of a faith community?
I was raised Catholic and first started attending a Black evangelical church when I was 13. When I began attending graduate school, I was going to a Pentacostal church which is where I discovered the Crossing. I am in the ordination process with the Episcopal church as well. I am planning on being named a Deacon in June 2023.
Do you find that a lot of the work that you do at the Northeastern LGBTQ Resource Center coincides with the work you do at The Crossing? Have you recommended the Crossing as a resource as an environment where people can practice their faith?
There is this new initiative called the wholeness initiative. It's a joint collaboration between our center, the Center for Intercultural Engagement and the Center for Spirituality Dialogue and Service. The purpose of the group is to have students who are Christian and queer reconcile their faith and their queer identity. The transition can be hard for some to make so we want that to be a resource available in any of these centers on campus. Adding on, The Crossing is a great place for anyone who is in the middle of a faith transition or any reevaluation of their faith.
Can you talk to us about what goes into creating a safe space at the Crossing? Can you describe the different elements, perhaps regarding music and hymn choices and where it comes into creating a welcoming environment?
During the open space part of the service, the band will do an instrumental or I will sing, which is the perfect opportunity for us to take a secular song or one that has spiritual themes and to play it in the service. We always start every service with a chant rather than singing which we find is a better way of getting people involved. It is an invitation for people of any background to participate. I think music is a very central part to our service.
What factors would you contribute to the decrease in attendance numbers for traditional churches?
Sometimes churches are stuck in their traditions. There are plenty of progressive churches that fully accept people as they are, but there are still so many churches that do not. I feel like church attendance numbers are going down because there are still a lot of churches in this country that are not progressive.
When people feel like they have to behave a certain way and be told that they are less than, it will contribute to those attendance numbers steadily declining. I feel like the church has to change for a fluid society otherwise it will just make itself irrelevant.
The Crossing is something new in relative terms because it's only 15 years old. Some churches in Boston are over a hundred years old. It was easier for us to try out new methods of worship due to the fact that we are a newer church. Emergent church is a term that we would use more often in our service, which means that our content was being generated by the community.
Our unique perspective, of having mostly queer people write out the liturgy for the week, is no mystery why other queer people for welcome. 'This space was designed with you in mind.'
The dynamic graph below portrays LGBTQ+ friendly places of worship around the city of Boston.
The graphic above lists the different inter-faith communities that are available in the city of Boston. If you are interested in attending one of these meetings in order to learn more about the intersection of faith and sexuality, feel free to reach out to any of the groups.
This interview is a part of a Project Narratives assignment for Rahul Bhargava's 'Digital Storytelling and Social Media' course at Northeastern University. Students are assigned to write and interview with community partners they are working with as a part of the service-learning component. To see more student work on The Crossing, please visit the following:

The Crossing: Persuasive Story by Nolan Piccola, Zach Carmosino and Katrina Makayan

A Boston Church shows how the relationship between faith and sexuality is changing by Alexis Santoro and  Dylan Dhindsa