Legal dispute over zoning is driving a wedge between Jamaica Plain neighbors
A much-needed affordable housing project for low-income seniors in Jamaica Plain was approved for construction over four months ago by the Boston Housing Development Authority. But in order for progress to begin, a contentious, grievance-filled swamp needs to be drained.
Jamaica Plain Neighborhood Development Corporation (JPNDC) plans to build a four-story mixed-use housing development at 3371 Washington St. The proposed building includes 38 apartments at different price points for elderly Jamaica Plain residents who are at risk of displacement. The plan also includes an apartment for a live-in-responder in case of medical emergencies, and designates the first floor as a commercial space for the site's current tenant, locally-owned restaurant El Embajador. 
According to the would-be neighbor of this development, Turtle Swamp Brewing, the new building represents an existential threat to its business. It sued in May, and the project remains tied up in land court.
"The real risk to Turtle Swamp Brewing's business is their own actions," said Helen "Homefries" Matthews, the communications manager for City Life/Vida Urbana (CL/VU), a Jamaica Plain-based grassroots community organization that helps people stay housed. "The longer that [Turtle Swamp Brewing and Monty Gold] stand in the way of affordable housing for elders, the more people will refuse to patronize them."
The parcel of land at 3371 Washington Street was purchased from City Realty by JPNDC in January 2020 at market rate. This follows a prolonged struggle which saw the community rally against the displacement of El Embajador.
"The fact that 3371 Washington Street is now owned by the community is the outcome of unprecedented, extremely powerful community organizing," said Matthews. "That organizing took place in the face of a flood of luxury development that is really pushing out long-time, low-income immigrant families from homes and businesses in our neighborhood." 
JPNDC submitted the plan to the Boston Planning and Development Agency (BPDA) in September of last year. Following an extensive review process which included several community meetings, the project was amended from six to five stories and redesigned to better fit community development guidelines.  
On April 23, the Zoning Board of Appeals (ZBA) granted the project relief from zoning codes. According to public documents included as exhibits in the lawsuit, the board found "the requested relief will have no negative impact on the surrounding area, and is in harmony with the general purpose and intent of the Code."
The board also cited the support of the Mayor's Neighborhood Services department and City Councilors Matt O'Malley, Annissa Essaibi George and Michael Flaherty in their affirmative decision. The BPDA was aware of opposition from Turtle Swamp, but the brewery never submitted any official objections throughout the review process.
On May 11, the project screeched to a halt when the owner of the abutting property, Monty Gold, and his tenant, Turtle Swamp Brewing, filed suit in Suffolk County. The plaintiffs appealed against the City of Boston Zoning Board of Appeals' "unreasonable, whimsical, arbitrary and capricious" decision to approve the development and claimed that the zoning code was incorrectly interpreted. The appeal took issue with the project's size, proximity, and lack of sufficient parking.
The appeal came less than a week after Monty Gold settled a similar lawsuit out of court that held up a nearby housing development by the Pine Street Inn. The new building will have over 200 apartments, many of which are designated to help people exit homelessness.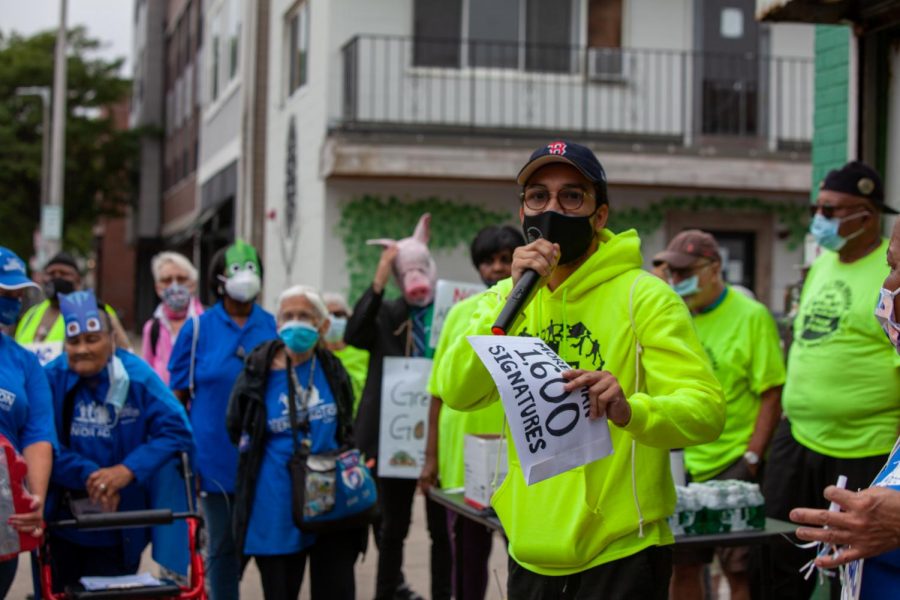 The odds are not in favor of rents becoming more affordable in Boston. As the city's population and economy grow, housing is only becoming more costly and scarce.
According to data gathered by CL/VU, six out of every 10 Massachusetts senior residents lack the funds to make ends meet. Boston is already more than a quarter behind on its goal for 2,000 newly permitted senior affordable housing units. This lagging development and high demand is one reason the wait for access to housing with affordable rent can range up to a decade. In 2019, 12,000 seniors were on the waiting list for public housing in Boston. 
According to the American Community Survey, 44% of Jamaica Plain residents are rent-burdened, meaning they pay more than 30% of their income on rent. Of those residents, nearly 5,300 are 65 or older.
Housing experts warn that a pre-existing upward trend in homelessness and housing insecurity among seniors will be exacerbated by the pandemic. Tufts University's Center for Health Systems and Policy identifies this as an "urgent crisis" that further threatens an already endangered population. 
CL/VU is leading the community resistance to Monty Gold and Turtle Swamp Brewing in partnership with the working-class elders on the Massachusetts Senior Action Council (MASC). They've gathered over 1,600 signatures petitioning the plaintiffs to drop their suit.
Alex Ponte-Capellan, CL/VU's lead community organizer, stood outside Turtle Swamp's JP Taproom frequently during the past month, handing out flyers to passing pedestrians reading "take action against Monty Gold's greed," accompanied by a picture of a grumpy-looking turtle saying "I hate seniors."
"I have a love for local businesses in Boston," said Ponte-Capellan. "Businesses that are part of the community, that care about the community, and want to see all members of the community flourish."
According to Ponte-Capellan, a 29-year old Dorchester resident who grew up in public housing at Lower Roxbury's Lenox Camden projects, Turtle Swamp Brewing's choice to sue is a "racist, classist and ageist" attempt to control "what kind of neighbors will be next-door to them." 
On September 10, CL/VU, backed by allied groups and Jamaica Plain residents, published an "Open Letter to the Jamaica Plain Community" in the Jamaica Plain Gazette. It included plans for a protest at 11 a.m. Saturday the 16—right on Turtle Swamp's doorstep.
"Turtle Swamp is not this loving, loving local business that I want to defend," said Ponte-Capellan. "They want to make this an issue about local businesses when they're forgetting about the local business that we fought for years, a working-class business of color that we fought for."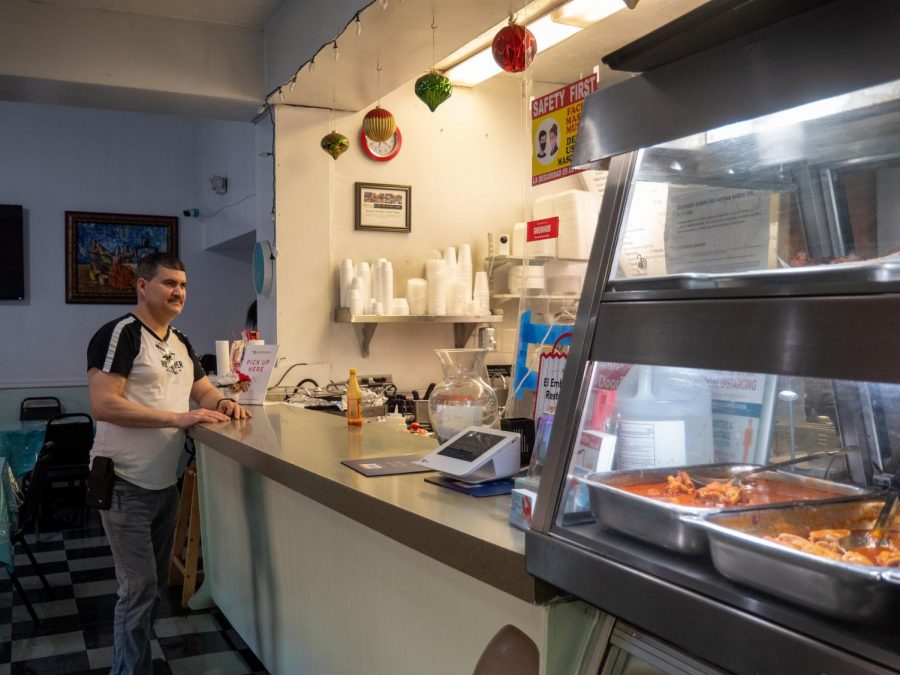 Rafael Báez is the manager at El Embajador, the restaurant that has occupied the old structure at 3371 Washington St., for nearly three decades. He has worked there as long as he's lived in America and lives in Jamaica Plain with his two children.
"My father brought me here when I was very young. I don't want to leave here," said Báez.
From behind the counter, Báez greets a line of regulars as they enter the restaurant in pursuit of the Dominican dishes El Embajador is known for: maduros, chicharrones, stewed meats, papas fritas, mofongo and more. Restaurant employees and customers trade Spanish as Báez rattles off new orders at a breakneck speed.
"Hola, mi amor," he says as a familiar face approaches to order. He asks an older woman about her health, affectionately referring to her as "Mami." Customers are treated like family here.
If the construction of the new development goes forward as planned, the old building will be demolished and El Embajador will take over the ground floor, a welcome refurbishment for the aging building. But the beloved mom-and-pop restaurant is caught in the middle of the feud.
"I want a new, beautiful space, and the development of the community. But they have their reasons…the money," said Baez about the lawsuit blocking the construction. "It's painful." 
Next door, a smattering of beer-drinkers chat at outdoor picnic tables in the outdoor dining courtyard for Turtle Swamp Brewing's JP Taproom. The brew pub opens at 3 p.m. and customers can stay until 10:30 p.m. on weekdays and 11 p.m.weekends.
According to a bartender who works at the taproom (and will remain unnamed due to concerns of retaliation from his employers), the whole dispute is a result of a "large misunderstanding." Based on what he was told by the owners, the brewery would prefer that the new apartments take up more vertical space rather than horizontal so as to not encroach onto their patio space. He also had concerns over the safety and appearance of cranes overhead during construction. 
John Lincecum and Nik Walther, who founded Turtle Swamp Brewing in 2017, could not be reached for comment after multiple attempts. Representatives for Monty Gold did not respond to The Scope's inquiry.
The JP Taproom shares a wall with Santia's Bakery which specializes in treats from the Dominican Republic. Philip Sanz, who owns the bakery with his wife, had similar concerns to Turtle Swamp regarding the lack of parking spaces in JPNDC's plan for the new development. The spaces in front of 3371 Washington St. are often used for 18-wheeler truck deliveries to Turtle Swamp.
When it comes to creating more affordable housing, Sanz is "all for it." But in order for the new development to be in harmony with its neighbors, he wants to see more consideration for the other existing businesses nearby and how they use the space.
"They need to think about the neighborhood and the people that are already here," said Sanz.
The unfortunate fact is that the demographics of the neighborhood are rapidly shifting as the people that have lived there are being forced to relocate. 
Giovanny Valencia, the director of community organizing at JPNDC spoke with the Scope in February, before any of the lawsuits were filed. JPNDC is not commenting on the matter besides public statements at this time.
"The only option for low-income families is to find an affordable unit," said Valencia. "That is what we build, that takes so much time and work. Using public land and public money, we build housing for residents who are really, really struggling, who usually have two or three jobs in their families, and still, they cannot make enough money to pay for rent in the neighborhood."
The challenge of providing decent, affordable housing not only extends beyond Jamaica Plain but further than the Greater Boston area. 
The North Shore CDC builds projects similar to JPNDC's. They built over 400 apartments for low-income families and have two projects for low-income seniors in their pipeline. Mickey Northcutt, the founding CEO, has worked for over 20 years in the affordable housing sector. Northcutt is familiar with the process of permitting and construction of such developments, as well as the opposition they may face.
"In my experience, most appeals are an attempt to exhaust the developer financially and encourage them somehow to walk away from the project," said Northcutt. "Also, in my experience, they are extremely rarely successful."
According to Northcutt, a project has to pass through "a gauntlet" of planning and zoning boards in order to gain approval.
This was confirmed by Ted Landsmark, who serves on the BPDA board. Although he could not comment specifically on the 3371 Washington St. proposal due to the ongoing litigation, he said, in general, a project must go through a "very extensive review process within the agency that also generally involves community input… and a number of negotiations with the community."
"Usually by the time something has gotten to us at the BPDA board level, it has been through six or eight months, sometimes a year or more worth of design review by people who know what they're talking about," said Landsmark.
This includes the Boston Civic Design Commission and others that serve to maintain a delicate balance of economic, population, and housing growth.
"Code requires developers to protect places like a public sidewalk or a neighboring cafe," Northcutt said. "Any projects like [3371 Washington St.] would have to come up with a plan to shield their site's construction from their neighbors."
Even after a long period of compromise and revisions to the original design based on public meetings and feedback, some neighbors remain unsatisfied.

"I feel in this case, they've really pushed the limits," said Carolyn Royce, who recently decided not to run for re-election to the board of the Jamaica Plain neighborhood council in August after serving on the board for over 6 years.
Royce, 67, is also a member of the Egleston Square neighborhood association. She moved to Jamaica Plain in the mid-70s and has witnessed the neighborhood reform around her while participating in community planning such as Plan JP/Rox.
"It's unfortunate for both sides," said Royce, who wishes there was more funding available for affordable housing so developers could have more options to address objectors' concerns. "I was saddened by the Turtle Swamp lawsuit and I'm saddened by JPNDC's proposal." 
According to Royce, the plans for the new development violate the zoning guidelines set by Plan JP/Rox to convert the industrial feel of Washington Street to a residential one. Throughout the public comment period, she was vocal with her concerns over parking availability, proximity to the property line and the appearance of a five-story, windowless brick wall on the building's south side.
JPNDC has indeed incorporated community feedback into the building plans. Over the spring and summer of this year, the development team revised the design. They even removed a story from the building (resulting in fewer units) in order to better comply with zoning guidelines. 
According to experts in housing and real estate, zoning laws are more often than not arbitrarily assigned and out of sync with the current landscape.
"What zoning dictates in any given area is often totally disconnected with what the neighborhood calls for," said Northcutt. "So it's extremely common for both market-rate and affordable developers to seek special relief for permitting." 
Relief from zoning or permitting requirements is by no means a signal that affordable housing cannot be well-designed or aesthetically pleasing. In many cases, affordable developments are actually more livable and sustainable than their market-rate, "luxury" counterparts. 
"In nearly every case, the quality of construction of affordable housing in 2021 is significantly better quality than most market-rate housing," said Northcutt. 
The state agencies that subsidize the projects have standards that are "much more rigorous than code," resulting in a more sustainable structure because many affordable housing developments receive public funding.
Based on JPNDC's proposal, the 3371 Washington St. building has a sustainable design that would meet the Mass. Stretch Energy Code and zero emissions building standards. They also plan to ensure that more than half the workers involved in construction are minorities (people of color) or women.
"[The effects of the construction] can be navigated and worked around because folks have been developing properties since the dawn of the modern age," said Northcutt.
In March, JPNDC preemptively proposed commitments to minimize the impact of construction. They invited Turtle Swamp Brewing and Monty Gold into the planning and promised to incorporate common techniques for controlling dust, noise and other potential safety or aesthetic concerns.
"They even proposed to move Turtle Swamp to the brewery complex just a few blocks away and give them the space…which had a beautiful patio, plenty of parking, and they even offered shuttle busses for their customers in case they come to the wrong location," said Ponte-Capellan. 
Given the fact that several other developments on the block progress through the pipeline unimpeded, including the ongoing construction of 23 market-rate apartments by City Realty at 197-201 Green St., that also required zoning relief for approval, some people wonder if the concerns with this project are justified.
"I think this is their way of extorting the community for money," said Ponte-Capellan.
The community organizer pointed to the settlement of the previous lawsuit by Monty Gold, wherein a fund was created for local businesses to apply to if their development was affected by the construction expanding the shelter for people experiencing homelessness.
Regardless of the true motives of the suit, the fact remains that the longer the project is delayed, the longer seniors who are struggling to make rent will have to wait for more affordable housing. In this case, the quibbling over construction noise, the appearance of a brick wall, and a few parking spaces seem dissociated from the larger issues. As Northcutt put it simply, as a part of urban living, "we all have to live with some measure of disturbance." 
"The public policy goal of increasing both our housing stock in general, but also specifically affordable housing trumps the short term disturbance of a small number of neighbors," he said, "In the long run, if everyone said that, we would never build another thing."
Staff reporter Marigo Farr contributed to this story.
Correction: A previous version of the story incorrectly identified BPDA as the granter in the April 23rd decision for zoning relief, the Zoning Board of Appeals was the granter. Additionally, the building was originally proposed as six stories that is now reduced to five. The original version of this story said that five stories were proposed and reduced to four. This was updated on October 11, 2021.
Correction: A previous version of this story stated that Monty Gold did not respond to The Scope's inquiry. This has been updated to reflect that Scope staff have reached out several times to his attorney and received no response or any other way to make contact with his client about the matter.