Centuries-old traditions brought thousands to celebrate and worship in Little Italy
The streets of North End filled with the taste, sounds and spirit of Italy as residents gathered for St. Anthony's Feast and St. Lucia's Feast — a four-day festival honoring Italian culture and faith.
Boston's North End streets filled with thousands of visitors and the smell of delicious Italian food all weekend long. Sunday was the culmination of the yearly four-day festival for Saint Anthony's Feast and St. Lucia's Feast.
After a year off due to COVID restrictions, the feasts were back in full force this year, bringing in projected crowds of over 300,000 people. Endicott, Thatcher and North Margin streets were lined with carnival games and vendors selling Italian food and merchandise. At the center of everything was an illuminated chapel that housed a figure of St. Anthony, where festival-goers left money that would be donated to local charities at the event's conclusion.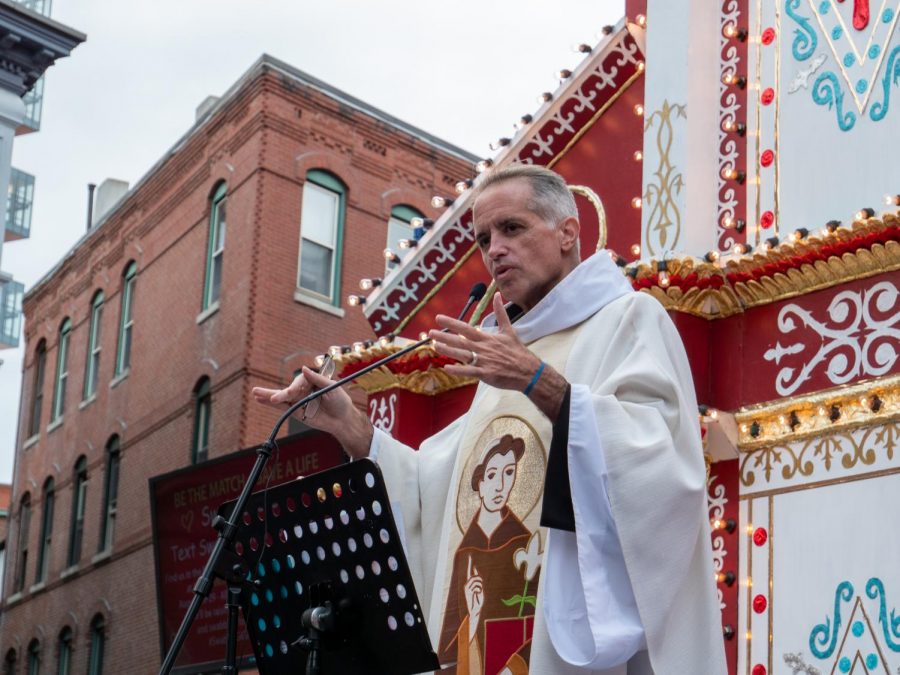 When Italian immigrants (a large majority of whom were fleeing economic and political distress in the Southern region of their home country) settled in what is now known as Little Italy in the North End during the late 19th and early 20th centuries, they continued their traditions. Many of their customs were tied to their Roman Catholic faith. St. Anthony and St. Lucia are two of thousands of saints they prayed to and selected as patrons to watch over their new home. 
St. Anthony is known as the saint of miracles and lost causes, and people even pray to him to help find items that have gone missing. Saint Lucia, often pictured holding eyeballs on a dish, is said to illuminate not only things seen but also those unseen. 
The festivities, which began on Thursday, were dedicated to St. Lucia. This year was the centennial celebration, led by the women of the 100-year-old organization, St. Lucy's Society. St. Anthony took the main stage on Friday, and the members of the male counterpart, St. Anthony's Society, who organized the weekend's full schedule of processions, masses, and concerts, ensured everything went smoothly.
Joyce Pedi, age 65, helped visitors to the chapel at the St. Anthony of Padua Society headquarters at 201 Endicott St. as they pinned offerings in the form of dollar bills to ribbons attached to figures of St. Anthony and St. Lucia. Pedi's grandfather was one of the founding fathers of the St. Anthony's Society when formed in 1919. In 1947, her grandmother joined St. Lucia's (or Lucy's) Society.
"It's very important to us," said Pedi, who was joined at the celebrations by her daughter and granddaughter. "A lot of people that lived in the neighborhood come back for all this."
Pedi lived in the Little Italy neighborhood for most of her life and only recently relocated to the Boston suburbs. But the extra distance she had to travel was nothing compared to the trans-continental voyage made by her Italian-immigrant predecessors. 
"They brought the tradition over from Italy…When they came to this country, they just continued traditions, and the feast is going on at the same time in a little town, Montefalcione," Pedi said. "Saint Anthony, they take him out at noontime tomorrow, and back in Italy, they're taking him out at six o'clock at night."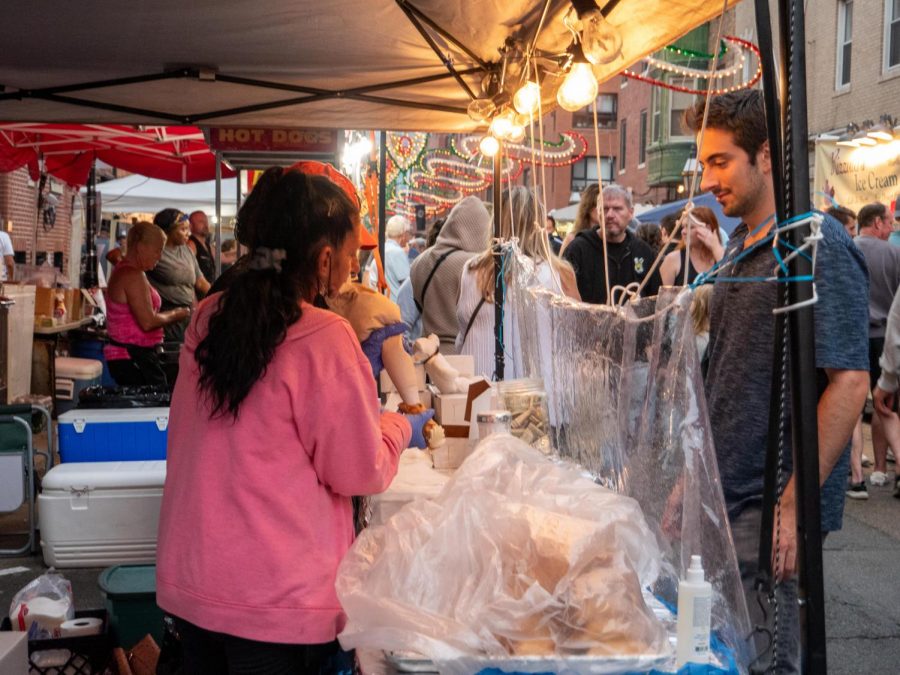 With the time difference, the processions begin simultaneously at home and abroad, no matter which side of the Atlantic the devotees make their home. According to NBC Boston, the feast, known as the largest Italian religious festival in New England and the second largest in the entire country, is also an opportunity to revive traditions through music, dance, and of course, food.
Rene Squillante, The Original Cannoli Girl, sold hundreds of cookie shells filled with creamy ricotta and dusted with powdered sugar over the weekend. According to Squillante, she sold the "very first cannolis ever" at the feast, and everyone says hers are the best. 
"I've been doing this 49 years this year," said Squillante, who was born and raised in the North End. Her grandparents owned a bakery on Salem Street when she was little, and she would often wake to the smell of baking bread and cookies. 
"I helped make cookies and stuff," she said. "Before you knew it, I was rolling—they made me do baby shells by hand with a wooden stick. It was a broomstick…that's how they rolled the original cannoli shells, all by hand."
The first time she sold her family's baked goods at the feast, she was about 16 years old. Her grandmother told her to sell out the cannolis—she did just that. Ever since she has made a life of spreading joy through cannolis as a vendor at festivals across New England, even though she had to move through the tunnel into the suburbs, the North End is still home.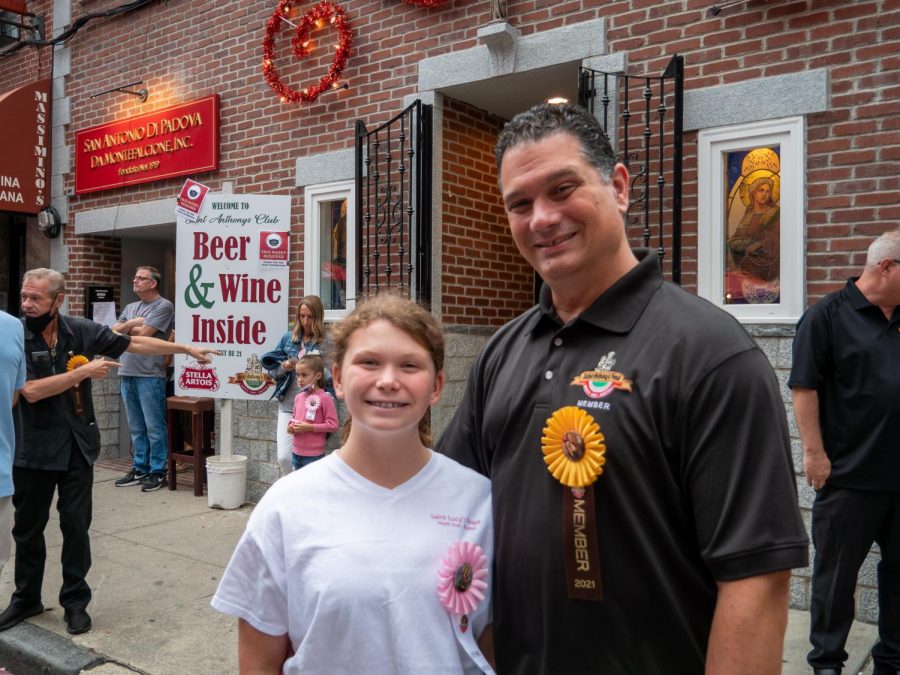 "I know everybody here; they all come to visit, all the oldies," said Squillante. "I have customers, and their mothers brought them here when they were little. They're all grown up now with their kids and their kids."
The festival was a family affair all around. For many of the members of St.s Anthony's and Lucy's Societies, they were carrying on the mantle of their relatives that had come before them.
12-year-old Ava Tordiglione will be a third-generation member to join St. Lucy's Society when she comes of age. Her great grandmother and grandmother were members, and her aunt, who was there with her, Carmen Tordiglione, is a current member.
"I just love the saints," said the young Tordiglione, "St. Anthony helps me find things all the time…I mean all the time."
Dante Tordiglione, a member of St. Anthony's Society, was also there with his daughter and sister. He said that even though the religious significance of the feast can sometimes get lost in all the joyful chaos of the festivities, the celebrations are most appreciated and best understood by the faithful.
"That's really the most beautiful part of the feast for me, anyway," he said. "The real faithful that come out who really want the support from Saint Anthony and find comfort and love through him. That's the best part for me."
Check out more photos from the weekend: