Porchfest returns to Jamaica Plain with a new organizer and a mission to spotlight and pay local BIPOC artists
Under new leadership, the festival plans to build more opportunities and equity for artists of color
On Saturday, Porchfest, a free music festival where lawns, courtyards, and of course, porches, become stages for local artists, returned to Jamaica Plain for its 7th year. After a year off because of Covid, the revival of JP Porchfest this year was a chance to reinvent the festival while also continuing a cherished neighborhood tradition.
Besides the fact that the performances span two days and included virtual programming for the first time, local nonprofit Dunamis has taken the lead in organizing the event. Dunamis partnered with other community businesses and organizations to achieve their goals — to pay performers, another first, and to spotlight artists of color.  
"The more that we can celebrate [the Jamaica Plain] community, the people in it, the artists in it, that I think that's one way that we can push back against gentrification," said J. Cottle, the executive director and founder of Dunamis. 
Although the organization is less than five years old, its work of empowering, nurturing and supporting emerging artists and arts managers of color has already made an impression.
Last year, addressing racial inequalities was a priority for Mindy Fried and Marie Ghitman of Hoopla Productions. They founded JP Porchfest in 2014 and have been the lead organizers for the festival in its first six years. They chose to pass the torch to Dunamis, a BIPOC (Black, Indigenous and people of color) led organization to advance their mission of creating a more equitable arts scene and desegregating the Jamaica Plain neighborhood with the arts festival. 
This year, thanks to the hard work of Dunamis and its partner organizations, lineups at the three main stages (the Samuel Adams Brewery, Rogerson House, and Eliot School) feature almost exclusively artists of color.
"[Porchfest,] it's not just a performance thing," said Cottle.. "It's a tool, and we believe it's a tool that can dismantle racism and build equity and again fight against these issues through joy."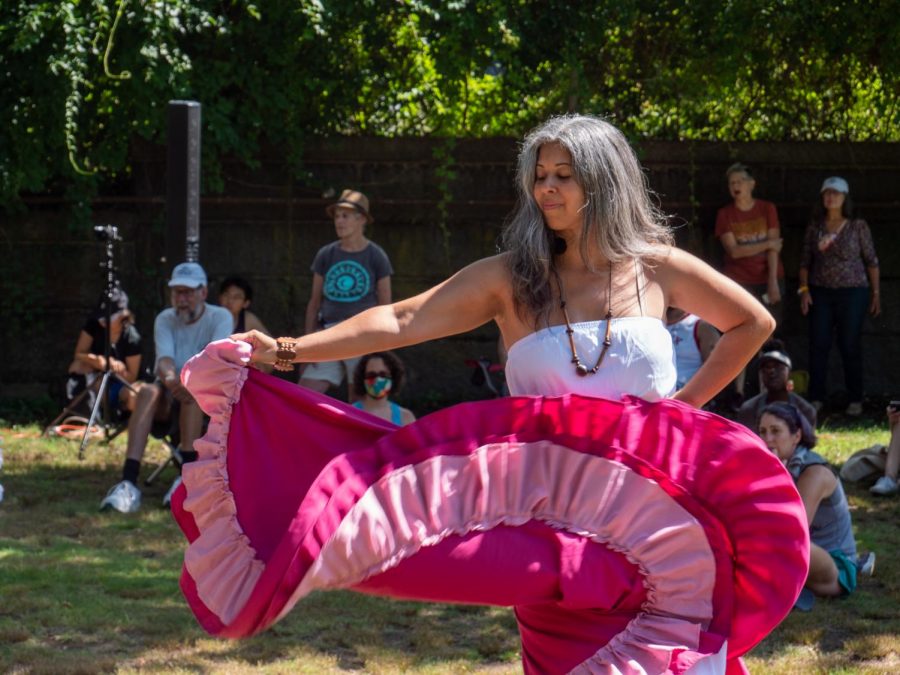 Cottle, 30,  said that for artists of color, it can be more difficult to get the same opportunities and exposure at the same level as white artists. Part of the issue is that the people making decisions behind the scenes are often white, a disparity Dunamis is working against by supporting BIPOC folks at all levels of arts production.
"If there aren't BIPOC folks in those positions creating opportunities for the artists, that's a part of the problem as well," Cottle said. "So we're trying to fix both problems at once."
Unequal representation in the arts has received more attention amid increased calls for racial equity over the past year. From the Boston-based Institute of Contemporary Art, Museum of Fine Arts, Isabella Stewart Gardner Museum, Huntington Theater Company and Boston Ballet to national forums like the Grammys, arts institutions have committed to diversifying their staff. But progress has been marginal.
"I don't think it's any secret that Black and Brown people are being pushed out to the outskirts, and they're not really represented," said Jasmine Garcia, 27, the director of educational programs at Dunamis. "I don't think people feel like they belong right now."
According to Garcia, creating space for BIPOC people in the arts is just the first strep.
"If you see yourself in a community, in a space that feels welcome, then that's the beginning," she said. 
Another crucial element is that artists are compensated financially for sharing their talents, cultivated through many hours of dedicated hard work.
"This year, we're happy to say that every artist that wanted to be paid —not all of them did — we're able to pay," Cottle said. With the help of sponsors like Samuel Adams Brewery, Porchfest was a paid gig for the first time ever.
Amber Williams, 36, also known as SublimeLuv, performed spoken word on the lawn in front of the Rogerson House. According to Williams, people often don't recognize artists as professionals who deserve to be paid because their work seems enjoyable and many artists love what they do.
"Things go into your craft, you're practicing, you're memorizing— 
it's so crucial to pay artists," she said, "Especially BIPOC artists because of the wealth gap."
Williams, a self-proclaimed "Roxbury kid," was born and raised in Boston and has lived in Jamaica Plain, Hyde Park, the South End and Mattapan over the years. For her, centering BIPOC artists felt refreshing after seeing so many other festivals in Boston that were "completely white."
"It's about time that our voices are centered, and heard and appreciated," said Williams. 
Festival attendees were also supportive of the changes. Jaryd Petroski, 28, recently relocated to Jamaica Plain. A musician himself, he first attended the festival in 2017 and was excited and surprised to find out the festival was on again this year.
"I moved to JP in part because there's a lot of progressive goals that this community has and kind of seeing [Dunamis] take over and do those things; it's awesome," said Petroski. "I think we should definitely invest more in that."
Although unequal representation and displacement of BIPOC folks in Boston (particularly in gentrified neighborhoods like Jamaica Plain) remains a complex and looming issue, events like Porchfest can create a renewed sense of solidarity, progress and pride in the community as it is.
"I don't think a festival will immediately solve [these issues]," said Garcia. "But I think it's a start to really be very clear and be very intentional about what we think this community really should look like."
Even if you missed last Saturday's festivities, Porchfest resumes this weekend, meaning another full day left of free live music performances to explore all around the neighborhood. Initially, the festival was planned to span the weekend, but Sunday's inclement weather bumped the day's lineup to August 28.
Videos of the main stage performances filmed over the course of the festival will be streamed from the event YouTube page in the coming weeks. You can look out for the announcement on their Facebook and Instagram accounts.