Back to school event brings families to Franklin Park
Franklin Park filled with families and special guests on Saturday to celebrate the start of the school year
A remarkable turnout of families, Boston City Council candidates and celebrity guests such as rapper Mr. Cheeks and former television host Marie "Free" Wright, from the popular BET music show '106 & Park,' took over part of Franklin Park on Saturday.
The 11th annual Back to School Block Party for Peace hosted by Violence In Boston, a social justice nonprofit led by community organizer Monica Cannon-Grant, brought out family and friends for a day of fun as parents gear up to send their children back to school.
Attendees received free children's books and backpacks stuffed with necessities. An ice cream truck and vendor tables featuring homemade wellness brands and fashion products also mapped the park. 
"I've been missing this," said Debbie Gray of Roxbury, who brought her grandson out to the fun. "I told my [grandson], we've gotta get out there and see all the people. We've been inside because of Covid for way too long."
Kids were able to enjoy various games, including a giant moonbounce, an inflatable basketball court and a game of cornhole provided by Hot 96.9.
While the event was held outdoors, guests were still encouraged to wear masks and social distance. Gaming stations and seating areas were frequently wiped down and sanitized by volunteers wearing proper PPE gear.
Tomorrow Peeples, the founder of the Boston Lions Track Club, said that she was excited when she got the call to partner up with Violence in Boston for the event. Both organizations have similar missions in supporting inner-city youth.
"I believe that with kids, it's like caterpillars to butterflies," Peeples said. "And it's my job to turn them into butterflies."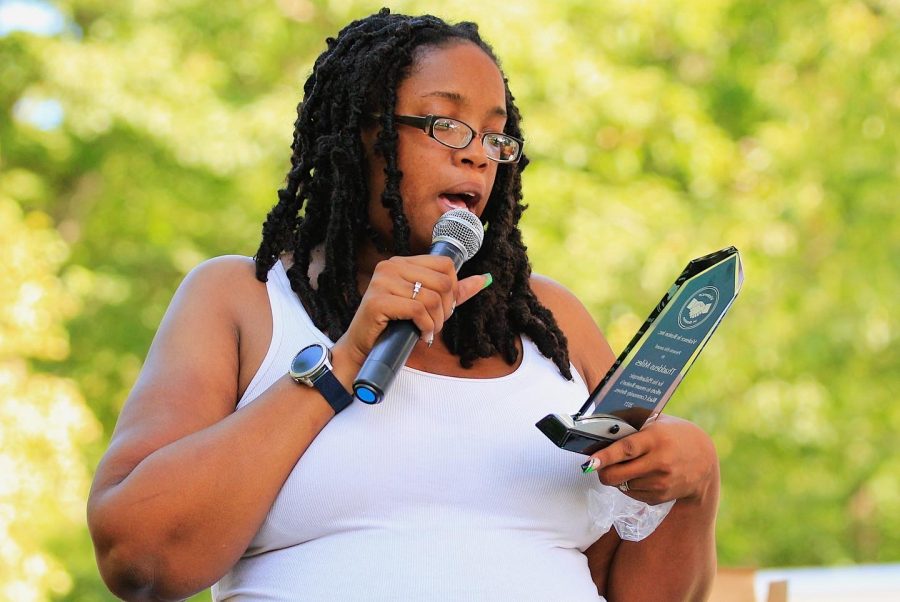 Peeples spent a greater part of the day handling the distribution of free books to children and their families, while youth volunteers from her track team helped serve free food and drinks.
The Boston Lions Track Club was created three years ago because Peeples felt that track didn't get as much popularity as other sports. The track team, based in Mattapan, runs year-round and also isn't just for sports.
"It's not just a track team; it's more of a mentoring," she said. "Because the things that I teach them are for life. If you listen to the things that I teach you in life, you're going to be a good athlete, a good student and a good person."
Violence in Boston awarded three individuals, Thaddeus Miles, Monica Coleman and Aisha Miller, for their philanthropic endeavors in Boston and contributions and assistance to the Hyde Park-based nonprofit.
Acting Mayor Kim Janey took the stage to briefly greet the crowd and remind everyone of her latest indoor mask mandate to start this Friday.
"It's not so that we can go back to normal," the acting mayor said. "It's so that we can create a stronger Boston, where no is left out; where we have a better city that is more equitable, just and resilient."
Later, Free served as the emcee for the children's dance battle and introduced local music artists before their performance.
A special surprise came toward the end of the event when Violence in Boston received a $1,500 donation from the DDS Foundation for the nonprofit's continuous work with youth and assisting city residents.
The Scope was there to check out the event. Please enjoy some photos from the day: