City council race: Bridget Nee-Walsh running for at-large seat
Bridget Nee-Walsh, ironworker and union rep, is running for a Boston City Council At-Large seat. She is running against at least 17 other candidates, including incumbents Michael Flaherty and Julia Mejia.
Walsh joined the Iron Workers Local 7 in 2006 and since has successfully recruited dozens of women and minorities to the trade, yet, she considers herself the average person.
"I'm not the polished politician. I'm just everyone else in the room," Nee-Walsh said. She believes that the City Council doesn't need another lawyer or teacher, but rather a "blue-collar voice" — the voice of someone who worked multiple jobs to get by, pay for college and save enough to start her own business.
The single mother's experience informs the focus of her platform — workforce training and job creation, public schools, public safety, and affordable housing.
The Scope spoke with Nee-Walsh about her campaign's top issues and plans to address them if elected City Councilor At-Large. This interview has been edited for length and clarity.
What has your experience been like living and working in Boston?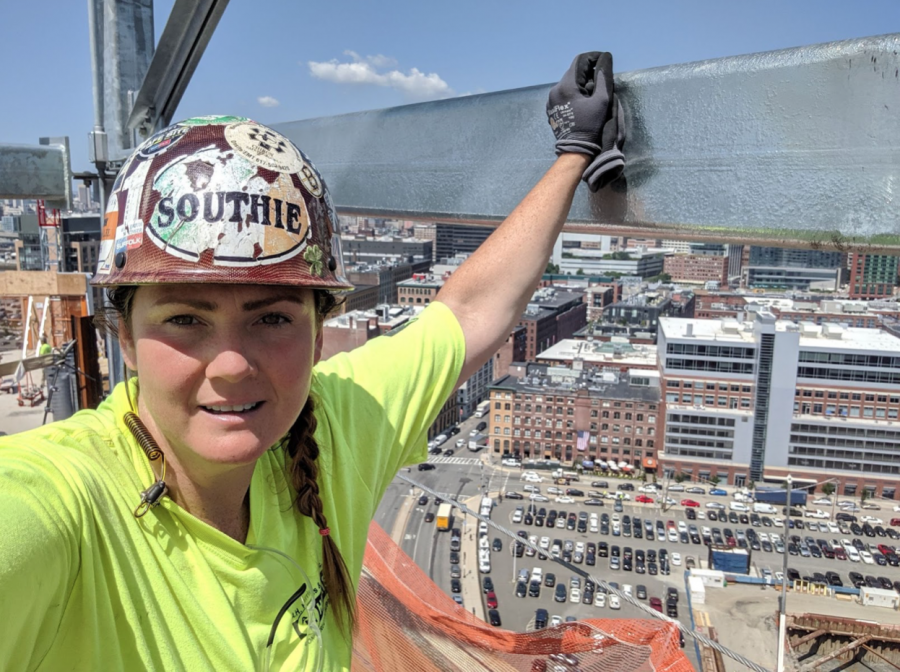 I'm the youngest of six. My mother was a single mother. My mother worked 54 years in City Hall and was also a union rep when I was a child. My father was a union letter carrier. I worked at a very young age. I started working in Fanueil Hall when I was about 14 on the pushcarts. I paid my way through high school and college.
While working on the pushcarts, I kind of saw the American Dream. I got that taste of entrepreneurship. After I graduated college, I started nannying. And I was working night shifts waitressing, and I worked on yachts captaining and I just couldn't get by.
Once you graduate college, you lose your parent's health insurance — you lose all those benefits. So, I knew I had to get into a union if I wanted to fulfill my American Dream. Two years after I graduated college, I got into the Iron Workers on the merits that I knew how to weld through sculpture.
So, it was five short years in the Iron Workers, still working nights on the boats and stuff;  I saved and scraped together enough money to open my first small business, Southie's Own, which has been serving the community of South Boston for 10 years now.
Through being in the Iron Workers for 15 years now, seven years in, I started teaching the apprenticeship. I was the first female to teach the apprenticeships for [them]. And through that door opening for me, I started recruiting more females and minorities at vocational schools.
In 2006, when I first got in, I was one of about 30 females. Today, I'm proud to say there's about 150 females out there working as ironworkers on the job just in the past seven or eight years.
Four years ago, I ran for local office within the Iron Workers. I became the first female nominated by the members to serve on the executive board as the recording secretary. I'm currently serving my second term.
What motivated you to run for City Council At-Large, and how are you different from the other candidates for the same seat?
As a single mother of a five-year-old in the Boston Public School system, a small business owner and a union rep, I think we really need a champion for working-class families. In the City Council, we don't need another lawyer or school teacher.
I'm not [the] polished politician that everyone else is. I'm a blue-collar voice that stands for union jobs and vocations, good working wages and safe working conditions.
We need more public safety. We need more police — more police training, more fire training. 
We need more affordable housing, not just for the families but also for the seniors. I know many seniors in their 70s, and they're getting pushed out of South Boston right now. They're all on a waitlist to get back. They're all saving and scrounging and using what little money they have.
What are the key issues of your platform?
Public schools, working families, job training, public safety and affordable housing.
I think the public schools need a whole overhaul in general, but I would love to see vocations brought back into the high schools, like all high schools, the way it was 16 years ago. For the past 20 years, kids have been pushed into college, and they're getting bachelor's degrees—some of them are getting bachelor's degrees—and they're still not finding jobs. Other ones just aren't college-bound.
Let's teach them a skill. Let's boost their self-esteem and give them that dream of the future of, 'I can work my way out of this.' [Suppose] they can learn a sheet metal class or woodworking class, even basic home economic. Everybody can Tik Tok, but they can't balance a checkbook.
How has your background prepared you for this job, and what else makes you uniquely qualified?
I think I'm more of a life experience person. Like I said, I've been working my whole life. I've had a million different jobs all simultaneously. Until I was in the union, I always had more than one job. I'm the average person.
Nothing's ever been handed to me. If I wanted to go to the best school, I worked three jobs.
What do you love about the city of Boston, and what do you want to see changed?
I love the history of it. Growing up in Fanueil Hall, I was kind of enthralled by it; being across from Paul Revere's house and the Freedom Trail and talking to tourists all day and telling them where their next stop should be. As a latchkey kid, I took the Bayview bus into downtown Boston and walked on Washington Street to City Hall to meet my mom, and it was safe. It was totally safe. I wouldn't put an eight-year-old on the bus by themselves to downtown Boston today.
Downtown has always been a place to go back-to-school shopping, to go Christmas shopping. It's not that anymore. It's desolate. It's boarded up. It's not as safe as it used to be. We need to take back Boston and make it the metropolis that it used to be. It was always like a little New York, and it needs to get back to that.
What are your policies to address these issues, and how do you plan to achieve your goals?
We need to utilize more rent-to-own as far as affordable housing goes. We need to build more infrastructure. We need to build more long-term substance abuse facilities. We just need to have more resources. We're getting this once-in-a-lifetime lump sum of money to rebuild, and we need to utilize it the best we can.
A lot of schools… they're dilapidated. The tiles are buckling up off the floors, and the water bubblers haven't worked in 15 years. A lot of them don't have HVAC systems. The last two months of the year, the poor kids are in there melting.
Is there anything I didn't ask you about that you'd like to mention?
I'm a 15-year union ironworker, single mom [and a] small business owner. I'm not the polished politician; I'm just everyone else in the room.