Family reunion event at The Lawn on D celebrates a year of Boston While Black membership network
Hugs and smiles filled The Lawn on D last Saturday as families and Boston residents reunited. The joyful sounds of children at play mixed with the laughter of many friends, together, again
Boston While Black hosted a "Family Reunion" event at the popular gathering spot in South Boston.Adults and children celebrated by playing lawn games, dancing, and enjoying the live music and planned activities: a spades tournament, storytelling and face painting for the kids, double dutch,Trillfit exercise classes, Black trivia and more.
"Black people deserve more play, more relaxation, more fun, so I wanted to make sure to open up this space for all of us," said Sheena Collier, the lead community organizer behind the day, "What better than a family reunion? Because we're all family."
The celebration of family coincided with the network's first birthday. Boston While Black, a membership community organization marks its first year on July 27. Membership sign ups will also reopen the same day. 
Collier, the founding force of Boston While Black and visionary behind the Family Reunion, spoke about the importance of taking up space in different Boston neighborhoods when she spoke to the attendees from one of the outdoor stages.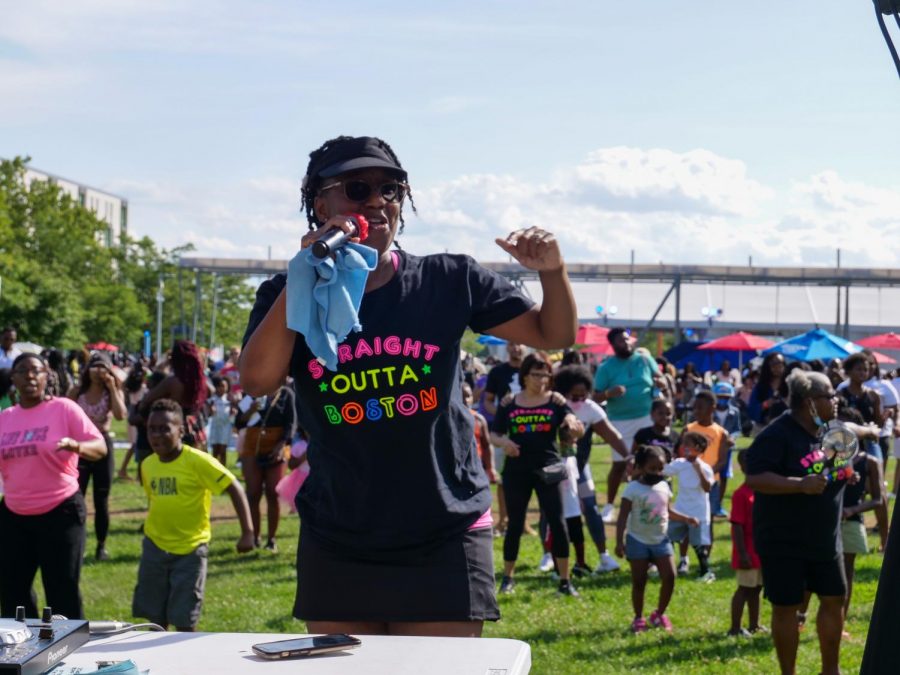 "I hope you all feel like this is somewhere you can come back to," she said. Collier was inspired to organize the gathering after noticing an absence of members from Boston's Black community at the event. That wasn't for a lack of desire to be there.
"Bringing all these Black people together in the South of Boston, which has a long legacy and history of…being less than welcoming and sometimes hostile to people of color and Black people," said Hannah Greene, the program coordinator for Boston While Black, "It just warms my heart that all these people trusted us enough to come and attend this event." 
Greene was responsible for coordinating logistics for a long list of moving parts, between event volunteers and The Lawn on D staff, plus about 20 vendors and a catering company一a feat she executed successfully, despite the fact it was the first large event she had a hand in leading with the community organization.  
"Something where it's about celebrating and just really relaxing, letting us be, feels really good," said Devorah Satcher, 23, who attended the event with her sister, Alexandria, 26. The two South End residents are founding members of Boston Wwhile Black, so they have witnessed the organization's growth over the past year firsthand.
For the past year, the organization has encouraged personal connections, professional development and community building despite a pandemic that kept members physically separated. The movement of creating a Boston where Black people want to live continued through online meetups. But there was no substitute for the uplifting energy of in-person, outdoor gatherings, so Saturday's reunion was a long-awaited chance to get together.
"It's so important for us to define our tribe," said the elder Satcher. "Just to be here on this beautiful day, I think it's important to have these types of events."
Both sisters were happy to get involved with the Black community in a different capacity than fighting for social justice. They noted that last summer was filled with activism work, so to just enjoy the day felt like a relief.
Shaumba-Yandje Dibinga, the founder of OrigiNations (a non-profit organization that provides artistic education to underserved youths in Boston), taught dance classes throughout the day, bringing people together through movement.
"It really builds community when you're in a space that allows you to just be free," said Dibiga. She was thankful for the family event where people had the chance to be active and get fit in an environment that was free from violence. "Coming out of the pandemic, it's important for us, specifically Black people to understand…all of this belongs to us too," she said. 
For Dabinga, who was reunited with about 10 former students, some she hadn't seen in a couple decades, the day was a reignition of a  community whose support for one another has remained strong through it all. 
"I bumped into so many people," said Dabinga, "It really is a family reunion."
The Scope was there to take photos at the event. Please enjoy this media gallery: