Mental health professionals provide free teletherapy to healthcare workers during pandemic
When Ariel Brown texted her longtime friend, a doctor at Massachusetts General Hospital, asking how she could help as he battled COVID-19 from the front lines, she wasn't planning on starting a non-profit organization. But that's what happened.
The friend, critical care physician and anesthesiologist Dr. Daniel Saddawi-Konefka, called her and said he wasn't sure how to support the emotional needs of the physicians he supervised.
Brown tapped into her professional network that night in hopes of finding licensed mental health professionals willing to volunteer their services to frontline healthcare workers. Within eight hours, she had generated a list of 69 willing volunteers. 
That list has since developed into a non-profit organization called The Emotional PPE Project, a directory of over 500 mental health counselors from across the country who are on call to support COVID-19 responders.
"I'm constantly surprised at how many people are signing up, particularly when that's happening in one ear and in the other ear I'm hearing like 'oh my god, my phone's ringing off the hook and my practice has never been so booming.' Telehealth allows them to see more people," said Brown, a neuroscientist and associate director of medical science at Sage Therapeutics, a biotech company in Cambridge.
Matthew Mishkind, vice chair of the American Telemedicine Association's Telemental Health Special Interest Group, said that the ability for frontline workers to access mental health care from home is part of what makes telemedicine so effective.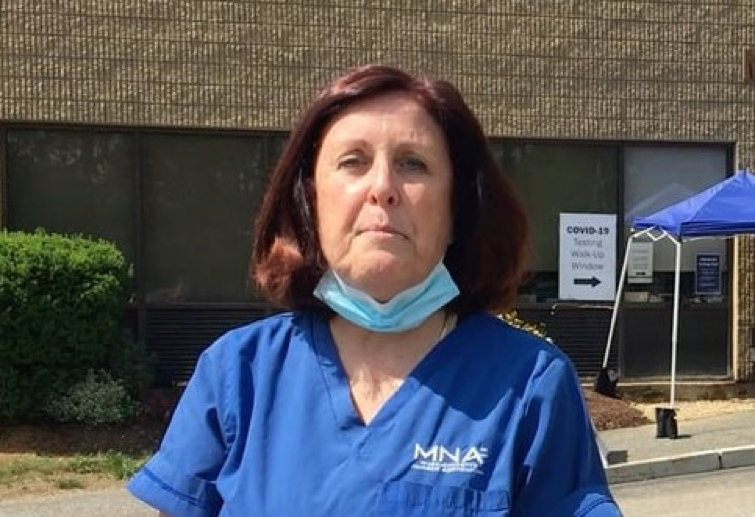 "They might even prefer [teletherapy] because they've already been in a clinic setting and they don't want to go back into a clinic setting to see a therapist. Given how much time, pressure and stressors there are on health care providers right now, the ability to connect from their homes makes it a lot more convenient for them," said Mishkind.
According to Mishkind, research shows that teletherapy is just as effective as in-person counseling for most people seeking outpatient services. "There's really no concern in my mind about the effectiveness of telehealth… I don't think there's any reason that healthcare workers would be any different than your average adult population," he said.
Because the services are offered remotely, healthcare workers can see any provider licensed in their state, making it possible for frontliners to connect with counselors hundreds of miles away. "The attractive thing about [teletherapy] is that it's so flexible," noted Brown.
The Emotional PPE Project isn't the only directory of mental health counselors that was created to support pandemic frontliners. Project Parachute, which began as a local network of therapists in North Carolina, has its own directory of over 650 volunteer therapists offering pro bono counseling through a HIPAA-compliant digital telehealth platform. Over 500 frontline workers have received counseling through Project Parachute, according to Project Parachute founder Stephanie Zerwas, an associate professor at UNC Psychiatry and owner of Flourish Chapel Hill.
"There was sort of this collective consciousness that happened at the beginning of the pandemic where a bunch of us realized that there might be a need for therapy for frontline workers,"  Zerwas said.
For Zerwas, Project Parachute has highlighted why it's so important that healthcare workers have access to counseling services. "They are really tired and there's a gap between how healthcare workers are doing, how their hospitals are doing and the behavior they're seeing happen outside of hospitals," she added.
Katie Murphy, a registered nurse at Brigham and Women's Hospital in Boston and the president of the Massachusetts Nursing Association, which consists of over 23,000 nurses and other healthcare workers across the state. She has witnessed the toll of the pandemic on healthcare workers firsthand.
"I remember one nurse, this big strong guy, saying to me that he struggled to put one foot in front of the other as he walked up to the hospital garage those final days [of the first wave]," she said.
Physicians, nurses and other healthcare workers that worked tirelessly through the initial outbreak are now bracing for a winter with grim projections. "As we're facing another surge, everybody is moving full steam ahead but I sense that, you know, they've been beaten down a little bit," Murphy said.
One of nearly 200 Massachusetts providers who have added their names to The Emotional PPE Project's directory, Nancy Bloomstein, who is a licensed clinical social worker in Massachusetts, said she aims to serve as an outlet for healthcare workers to disclose their anxieties related to COVID-19 and talk about what they see at work. "This opportunity feels like a way to give back to these people who are doing the work and provide them with a person they can confide in on a different level," she said. 
Kristen Lee, the lead faculty member for behavioral sciences at Northeastern University and a licensed clinical social worker, described mental health professionals' willingness to offer pro bono services, even as the demand for mental health care rises, as a model of resilience.
"We were dealing with a critical shortage of mental health professionals before [COVID-19]," Lee said. "Health care providers on the front line are at such particular risk right now and… the fact that there's a concerted effort to really support the needs of these frontline workers is just phenomenal."