The grassroots battle against food insecurity in Boston, a photo essay
As community fridges continue to pop up across the nation, Boston residents are coming together to address food insecurity across the city.
On the bustling corner of Centre and Dyer Streets in Jamaica Plain stands a brightly painted fridge as a symbol of a grassroots action against food insecurity in Boston. Anyone can open its doors to find a variety of fruits, vegetables and frozen goods, all free for the taking.
These community fridges, often set up by members of the neighborhood with the help of local businesses supplying electricity, are a part of a growing hyper-local food donation movement. The movement picked up momentum during the start of the COVID-19 pandemic, when millions of people across the country lost their jobs and many experienced food insecurity for the first time.
The Jamaica Plain fridge was the first of its kind in Boston and inspired a wave of subsequent fridges across the city. An enthusiastic team of Boston residents help maintain the fridge by dropping off food, contributing their own local business connections to organize donations, designing crowdsourced, promotional social media content and more. An Instagram account primarily dedicated to the Jamaica Plain (JP) fridge consists of photos and promotional posts that share news about fundraisers, drop-offs and other events geared toward expanding the fridge's network.
The fridge shelves fill up and empty out every day and night, displaying the level of community support it receives as well as its importance to those experiencing food insecurity in Jamaica Plain.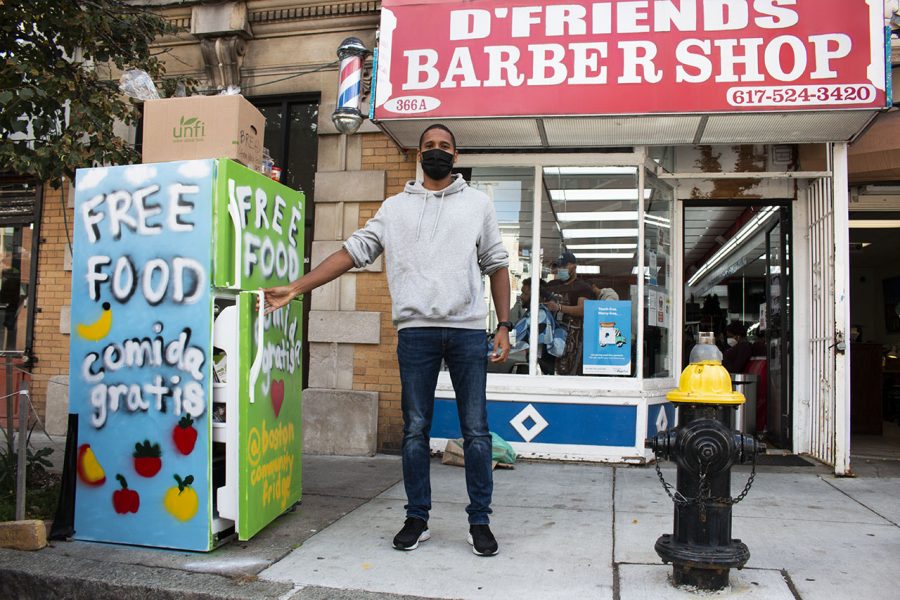 Josiel Gonzalez, 27, one of the main organizers for the JP fridge, said he is proud of what can be accomplished when community members come together — especially during the pandemic. Inspired by the rapid spread of community fridges in New York City, Gonzalez and his friends were motivated to see if something similar could take root in Boston.
"The idea and the initiative of a community coming together, it's so important," he said. "All it takes is one fridge."
Conversations with JP residents have made Gonzalez consider other items that can be donated, such as hand sanitizer and menstrual products. Gonzalez hopes the fridge is a safe space for fridge users. "Please stop by, we're not going to judge you — we want people to take the food."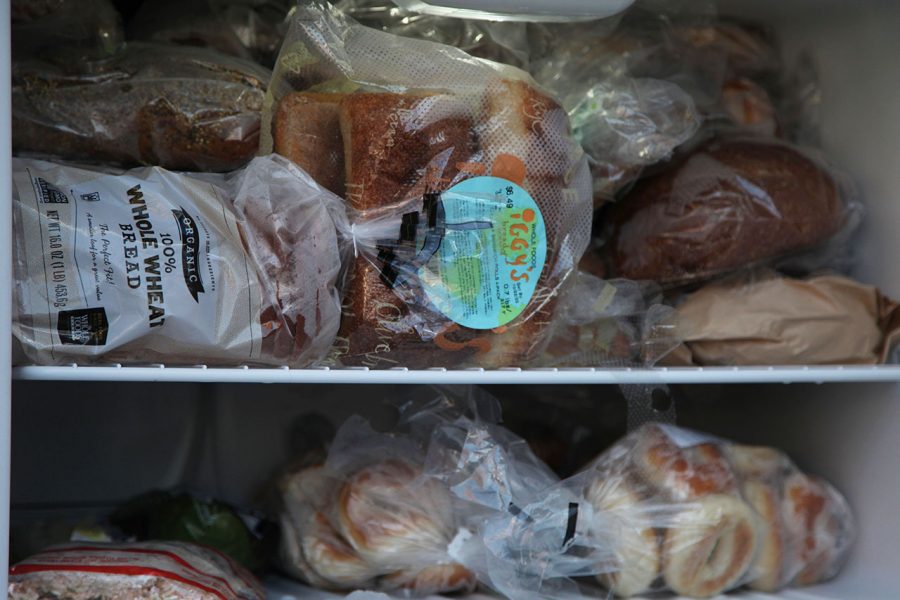 The fridge is stocked with a wide array of baked goods — bagels, rolls and loaves of bread –– along with an assortment of fresh produce, dairy products and perishable foods. Some donations come from local businesses, like Allandale Farm and When Pigs Fly bakery. Within the first week of operations, When Pigs Fly donated 80 loaves of bread that would have otherwise been thrown out due to state regulations.
"I was just like, wow, this fridge can give that bread a chance like for somebody else to eat it and possibly feed their family and possibly have breakfast the next day," Gonzalez said. "Something like 25–30 percent of food in America goes to waste every day. That's a lot of food. And this is just, small-scale, something that we can do in our community to give that food a chance."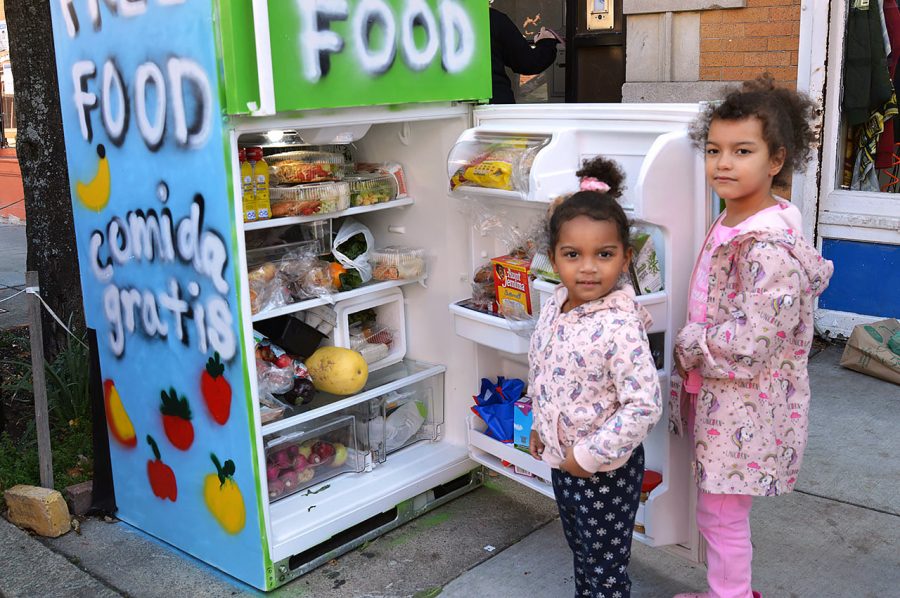 Cheriai, 2, and Bryana, 5, stand in front of the fridge as they drop off donations of chocolate milk and snacks. Their mother wants to instill a sense of giving back in the girls at a young age, and donating food to the fridge in their neighborhood has done just that.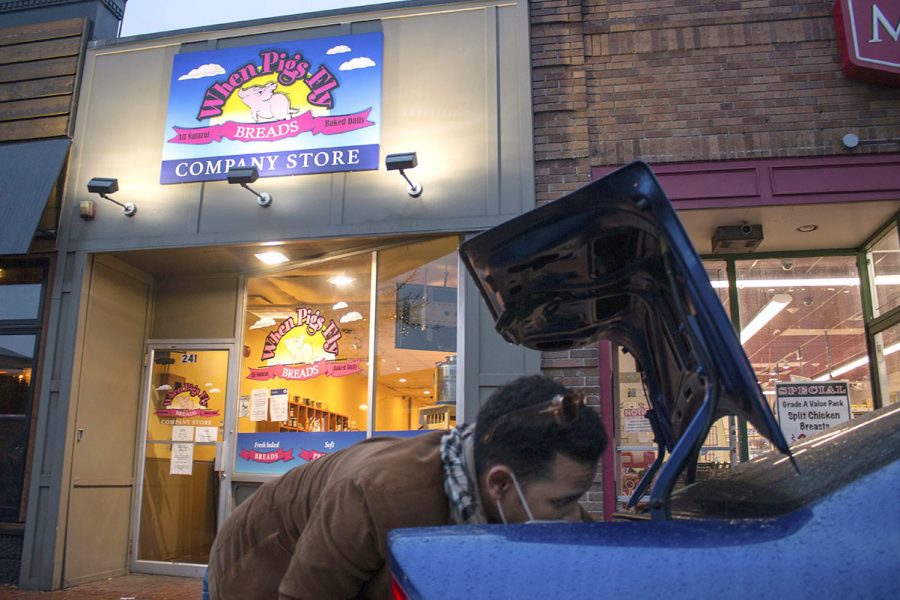 Haithem Abdella, 32, has been going to When Pigs Fly in Davis Square and delivering leftover bread to community fridges in the Boston area a few times a week.
"When Pigs Fly aims for zero waste," Abdella said. "They only sell fresh, daily-baked bread so they carry no bread over to the next day. Anything at the end of the day they donate."
When Pigs Fly declined to comment but Abdella said he suspects they make more bread than they can sell daily to ensure that there is leftover to donate to fridges and other charities.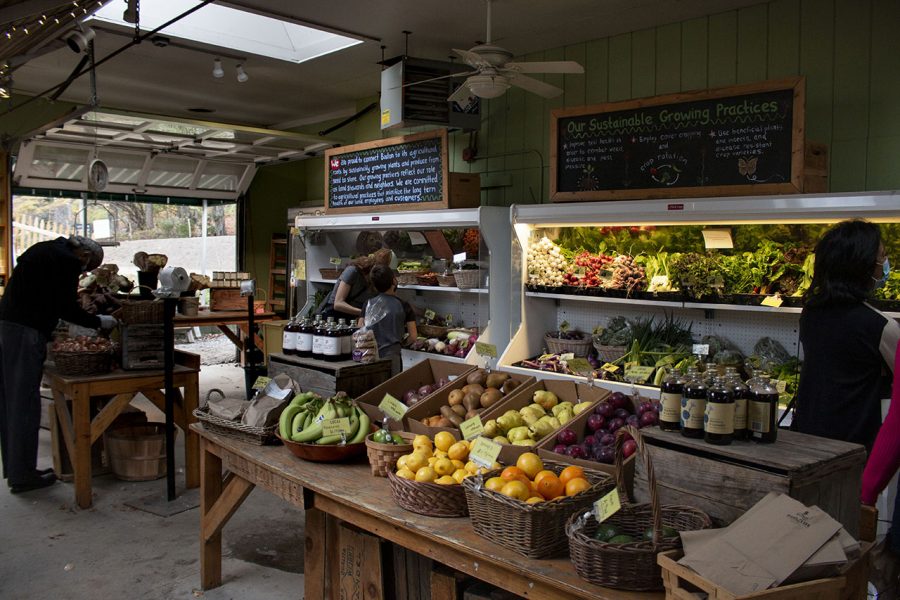 Nearby Allandale Farm in Brookline donates fresh produce weekly, accounting for the majority of fruits and vegetables in the fridge. Volunteers made the connection with Allandale, which operates with an emphasis on sustainable nutrition and community-based initiatives. Gonzalez explained that one major reason for starting the fridge was to provide community members with the healthy produce that is out of many families' grocery budgets.
"Fresh fruits and fresh veggies are just such a good way to keep your immune system up," he said. "Because we can all wear masks. But another thing that can stop the spread of the virus is taking care of ourselves as well."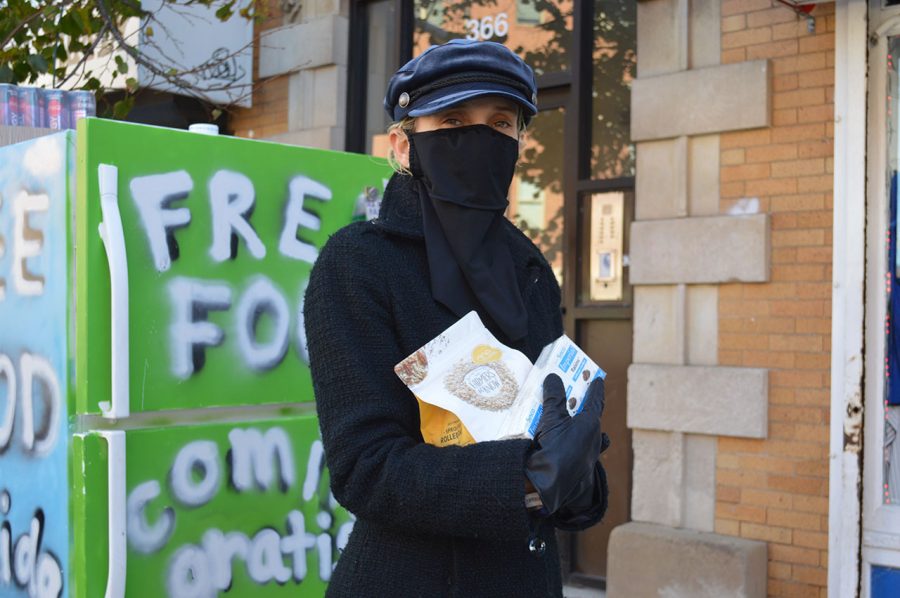 40-year-old Jamaica Plain resident Jenny Kenny stands in front of the fridge with a bag of oats and boxes of raisins. Kenny and her husband lost their jobs in the pandemic and have been without electricity since their landlord shut off their power in June. Since then, Kenny has only been able to store food for short periods of time in coolers. Having the community fridge right around the corner helps her find fresh food on a daily basis. Kenny also uses the resources she finds in the fridge to cook for other JP residents in need whenever she gets the opportunity.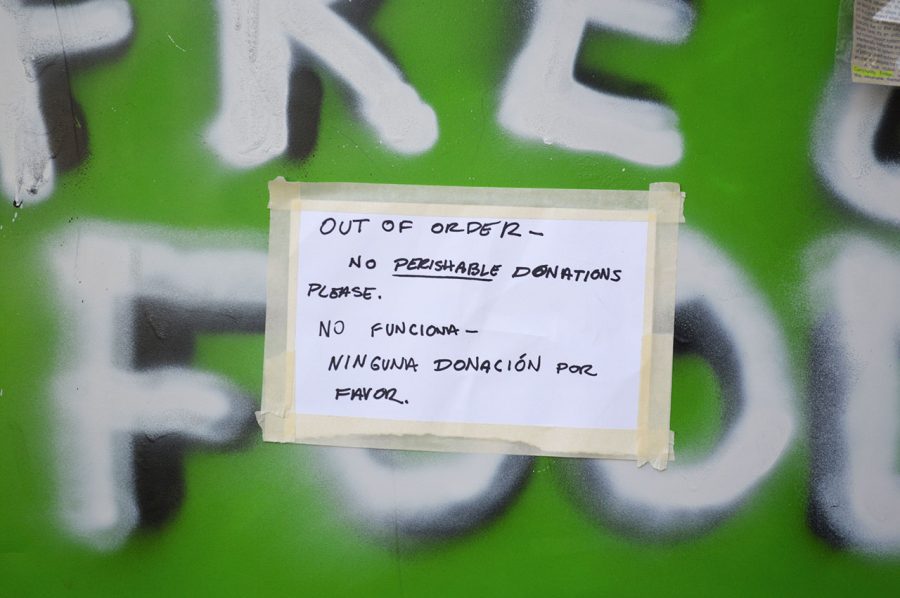 Late at night Nov. 6, a round of shots was fired as a car veered off of Centre Street and into the fridge. The driver quickly took off, leaving the fridge's door wide open and food scattered all over the sidewalk. The next morning, neighbors found that the door would no longer fully close. Despite this setback, community members immediately began searching for a new fridge and host location.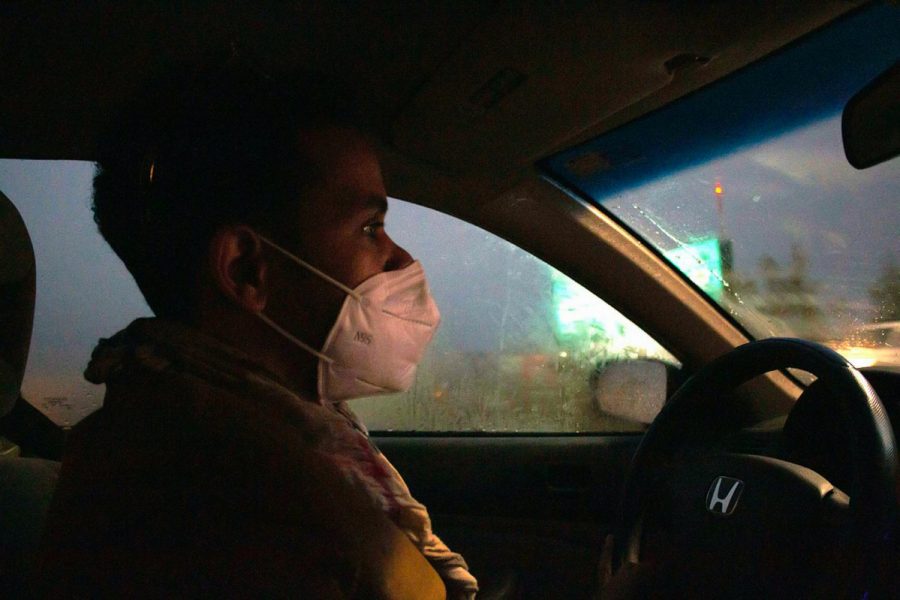 Abdella previously distributed bread primarily to the JP fridge but he said he hasn't let the Nov. 6 incident stop him from volunteering with other Boston-area fridges. After picking up donations, he visits as many fridges as he can stock.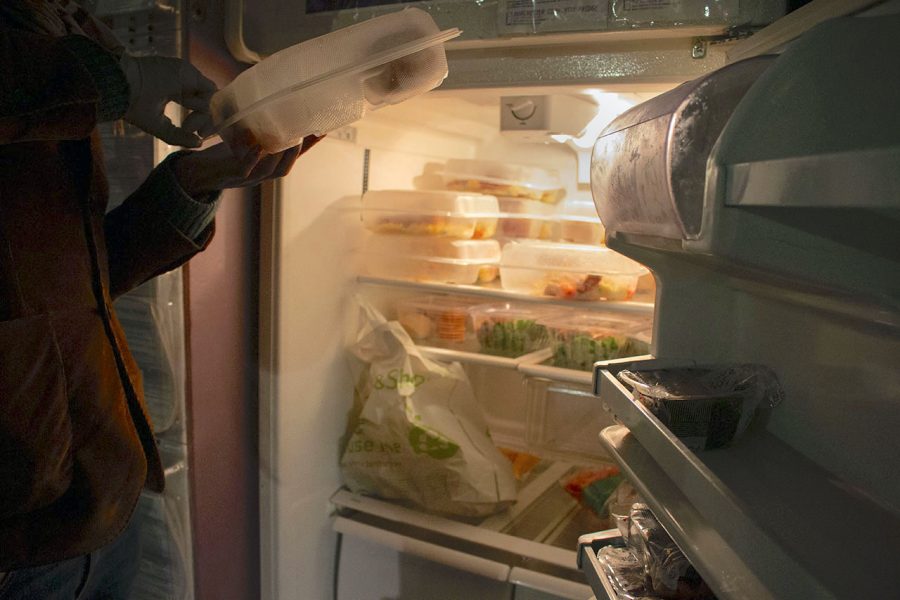 Bread and other donated food is split among the other local fridges while the JP fridge is down. For Abdella, distributing donations to community fridges is a labor of love. He dons nitrile gloves to hand package donated bread before placing it in the freezer at the Roslindale fridge.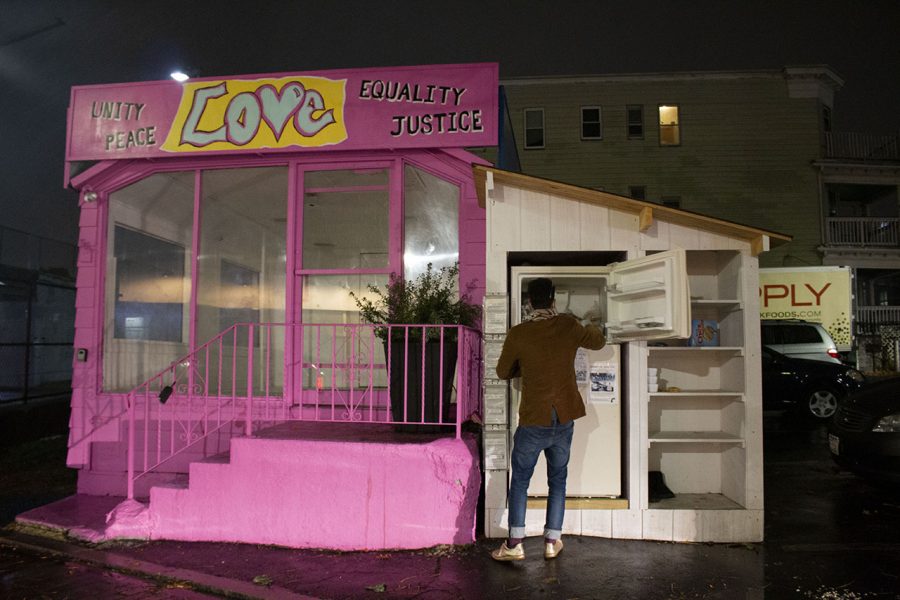 Abdella places packaged bread in the freezer of the Dorchester community fridge –– the first location to install shelving for dry goods. "It seems like that's the way to go, to put them in a shed, especially for the winter," said Abdella. "It's been something we've actually been looking to do with the JP fridge."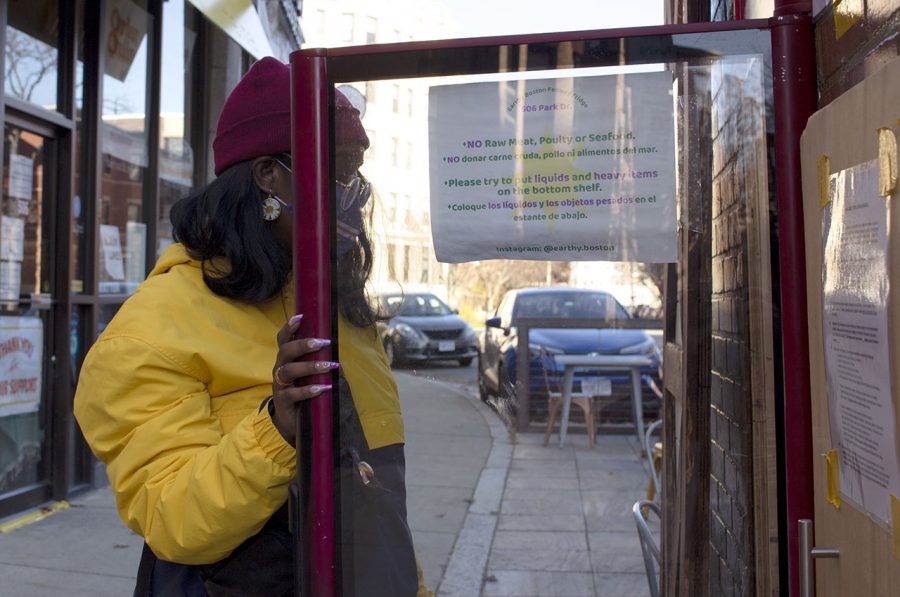 Ari Goncalves, 21, is the primary organizer of the Fenway fridge located on Park Drive. She has been wanting to organize a community fridge for a while now, having participated in weekly pantry events in the past.
"I really just started passing out items in the Dorchester area, Back Bay, downtown Boston," she said. "And then we finally got a fridge. When she's not checking up on the Fenway fridge, she's searching for ways to help the fridge in Jamaica Plain. "So helping them find hosts, more volunteers and also just helping spread the word as well — helping them find a fridge as well because they need a whole new fridge," Goncalves said. "So far they have their own network of people to help them out, so we're kind of just there for moral support."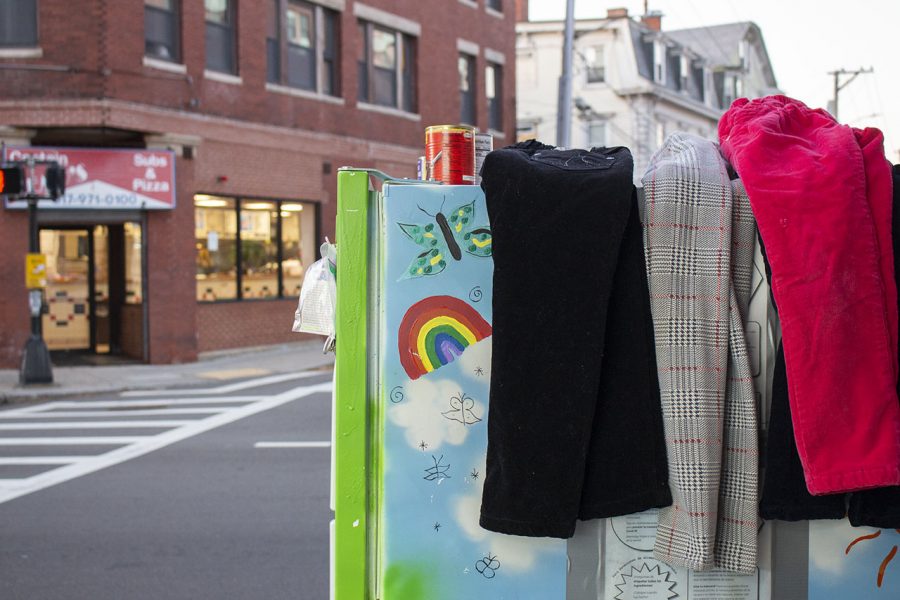 After the fridge's damage, community members have found ways to repurpose the space. In place of fresh fruits and vegetables, clothing, canned goods and non-perishables sit on top of the fridge and line its shelves.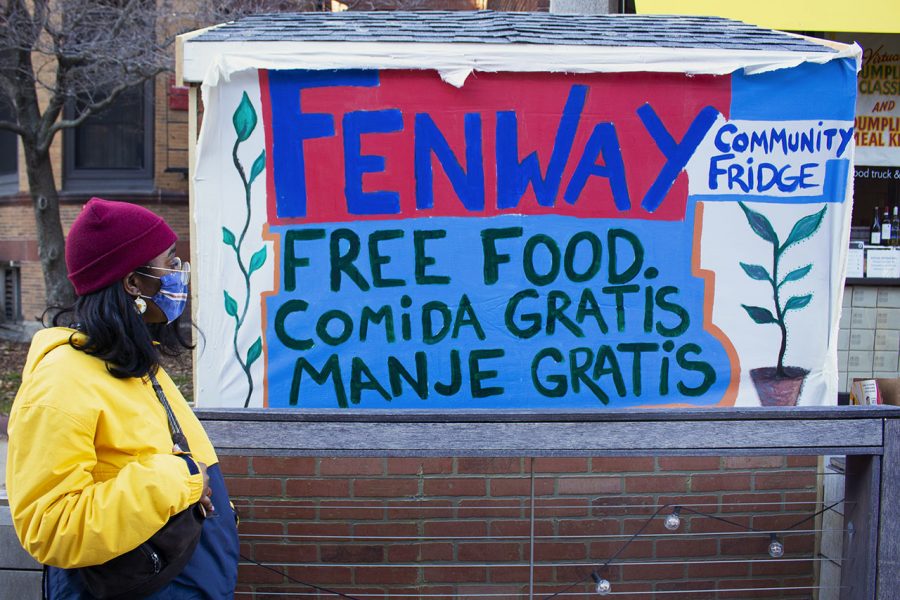 Goncalves admires the colorful sign that faces Park Drive near Boston University. Although the first fridge is out of commission, the Boston-based initiative is alive and well. Jamaica Plain inspired a chain reaction of community engagement and mutual kindness throughout Boston's neighborhoods, including the recently established Fenway location. The Boston community fridge movement has firmly rooted itself across the city, too resilient to be stopped by the loss of the fridge that started it all.