Have old clothes you plan to throw in the trash? You can now recycle them through city drop boxes instead
Ha Ta, Editor-in-chief
November 17, 2020
The city of Boston is installing drop boxes in neighborhoods throughout the city for residents to dispose of household textiles, including clothes, shoes, sneakers, bags, stuffed animals, bedding and towels.
The initiative, run by the Boston Public Works Department in partnership with Helpsy, a textile recycling company, aims to expand recycling services and reduce trash to landfills or incinerators.
According to a press release from the Mayor's office, 95 percent of the textiles collected are reused, upcycled, or recycled with 75 percent being reused, and 20 percent being recycled. Items in good condition are resold to thrift stores in North America and other second hand markets around the world while others get turned into rags for industrial use or alternative functions like stuffing or insulation, according to the press release.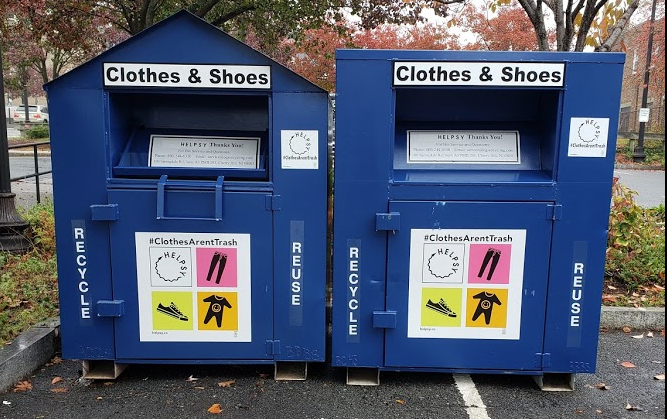 Residents must dry and put the items they want to dispose of in the drop boxes in a secured plastic bag. The drop boxes are now at municipal parking lots in Brighton, Dorchester, East Boston, Hyde Park, Jamaica Plain, South Boston, Roslindale and West Roxbury. Please find below a detailed list of the locations:
398 Market Street, Brighton

191 Adams Street, Dorchester

20 Georgia Street, Dorchester

575 Washington Street, Dorchester

166 London Street, East Boston

37 Winthrop Street, Hyde Park

490 Centre Street, Jamaica Plain

450 West Broadway, South Boston

10 Taft Hill Terrace, Roslindale

39-41 Corey Street, West Roxbury
The city is also encouraging residents to separate compostables such as leaf and yard waste from trash. The city said it has expanded its leaf and yard waste curbside collection program from 17 to 20 weeks a year, continuing through December 11th. Residents can also drop off yard waste at the Public Works composting facility on American Legion Highway. 
Residential yard waste is turned into compost and distributed to the city gardens and Boston Parks and Recreation Department greenhouses, according to the city.