Activists demand support for housing justice in Suffolk Downs at Mass Dems DNC screening
Activists from the People United in East Boston for Liberating & Organizing coalition, or PUEBLO, attended a screening of the 2020 Democratic National Convention hosted by the Mass Dems at Suffolk Downs yesterday to raise awareness of housing and environmental justice in East Boston. 
The mayor of Boston gave an address to attendants at the event, many of whom were delegates, elected officials and party donors, said Matt Walsh, a member of PUEBLO coalition who was at the screening yesterday.
"These are all sorts of avenues of power that aren't available to the organizations in our coalition. We don't have a large event with high paying donors or elected officials, which we can invite the mayor to speak," Walsh said. "So we wanted to go there ourselves to make sure that our voice was heard."
PUEBLO is a coalition of different East Boston organizations that share the concern over Suffolk Downs redevelopment. Members of the coalition include Center for Cooperative Development and Solidarity, Center for Immigrant Workers of MassCOSH, City Life/Vida Urbana, among others.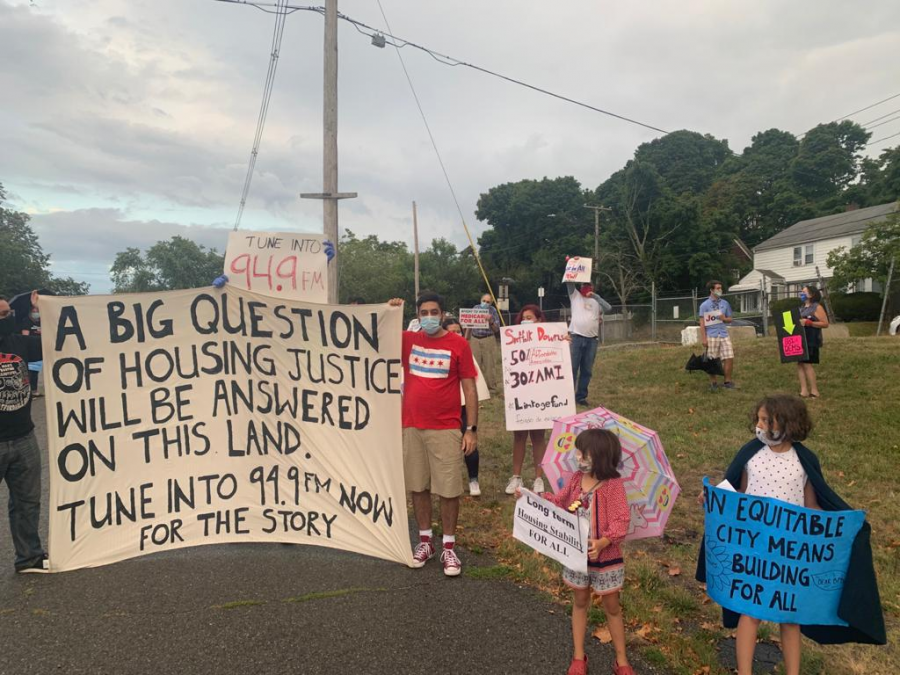 Suffolk Downs, the location that Mass Dems were using to screen the Democratic National Convention (DNC), is at the center of the fight for housing justice in East Boston.
Last year, protesters gathered in East Boston to oppose the redevelopment proposal for Suffolk Downs by HYM Investment Group, citing the addition of luxury housing would increase housing prices and drive out the neighborhood's current residents who are mainly working-class Latino immigrants. The 161-acre redevelopment project was slated to create restaurants, commercial office, retail, and 10,000 new units of housing. 
"The lack of affordable housing, the high price of affordable housing, the fact that the Suffolk Downs redevelopment breaks with the net carbon zero development goals of the city and the mayor, and that the development doesn't pay sufficiently into an anti-displacement stabilization fund," said Walsh, are among the issues members of PUEBLO coalition wanted to bring attention to yesterday. 
When he brought up the issues to attendants at the screening, Walsh said there were many sympathetic delegates. "A lot of the delegates that were there listened to what we had to say and appeared to be in support of our fight for more affordable housing and more affordability in affordable housing."
"
We've been fighting this for almost a year and we haven't seen much response. We've been to the community meetings that the developers and the BPDA provide. And we were made promises and nothing happens.
— Carolina Ticona
The decision by Mass Dems to host the event at Suffolk Downs, Walsh said, runs contrary to a good faith representation of and relationship with East Boston. "I'd say that it shows a lack of awareness about the struggle that we're in right now. And it signals not only a lack of awareness but the lack of support for it. And so we're calling on the Mass Dems to, in fact, publicly support our fight and to support the demands that [PUEBLO] outlined."
PUEBLO's demands for the redevelopment, according to Walsh, include an agreement to a minimum of 20% of all units as affordable housing at 30% Area Median Income (AMI), down from 70% AMI. This translates to affordable housing targeting households earning $30,000 to $35,000 instead of $75,000 to $80,000. East Boston's median household income in 2015 was $51,549, according to the Boston Planning & Development Agency. 
PUEBLO also demands that an annual percentage of the site's revenues be contributed permanently to a stabilization fund for housing and environmental justice in East Boston.
"We've been fighting this for almost a year and we haven't seen much response. We've been to the community meetings that the developers and the [Boston Planning & Development Agency] provide. And, you know, we were made promises and nothing happens," said Carolina Ticona, an East Boston resident of over 17 years and a member of PUEBLO. "I'll say there's some anger because we're just aware and fed up with all the injustice and misfortunes our community is going through, and how they have been worsened by the pandemic. And they're still, in a way, being ignored and neglected."
In February, before COVID-19 forced the city to go into quarantine, Ticona said, members of the PUEBLO coalition and residents had a march in East Boston to try to bring more awareness to the issues of Suffolk Downs redevelopment. "We were asking people to sign and what we ended up doing was printing all the letters. I think we had about 1000 or close to that," she said. "And we went to the mayor's office and brought the physical copies of the letters and demanded to get a meeting with him because we've been trying to reach him before and it wasn't happening."
"[Suffolk Downs] is one of the largest, I guess, developments that the city has had in years and at the same time it plays a role of a model for future developments and other spaces in the city that are equally big or bigger than the property of Suffolk Downs," said Carolina as she talks about what motivates her and other residents to continue the fight. "So it's not only a local fight, but it's also a greater gentrification and anti-displacement fight that the nation is going through."