Boston community gardens offer a refuge for residents during the pandemic
Lack of access to fresh, healthy and affordable food has been a concern for many families in the Boston area and the problem is further exacerbated by the pandemic. Many Bostonians turn to gardening not only to find relaxation and a sense of community in the face of uncertainties but also to supplement their family meals with fresh, healthy foods. 
At the Boston Community Gardens, demand for garden plots has doubled this year as the pandemic hit, according to Vidya Tikku, director of Greater Boston Trustees of Reservations, an organization that oversees many community gardens and parks in Boston. 
The Trustees, Tikku said, were able to keep their community gardens open since March as they are deemed a part of Governor Baker's critical services to make sure people have the means to supplement their family food budgets. 
"Community gardens give residents access to outdoors, fresh food, an opportunity to connect back to their cultural diet, connections to their communities and local organizations," said Tikku. "All of this offers a healthier lifestyle for them and their families."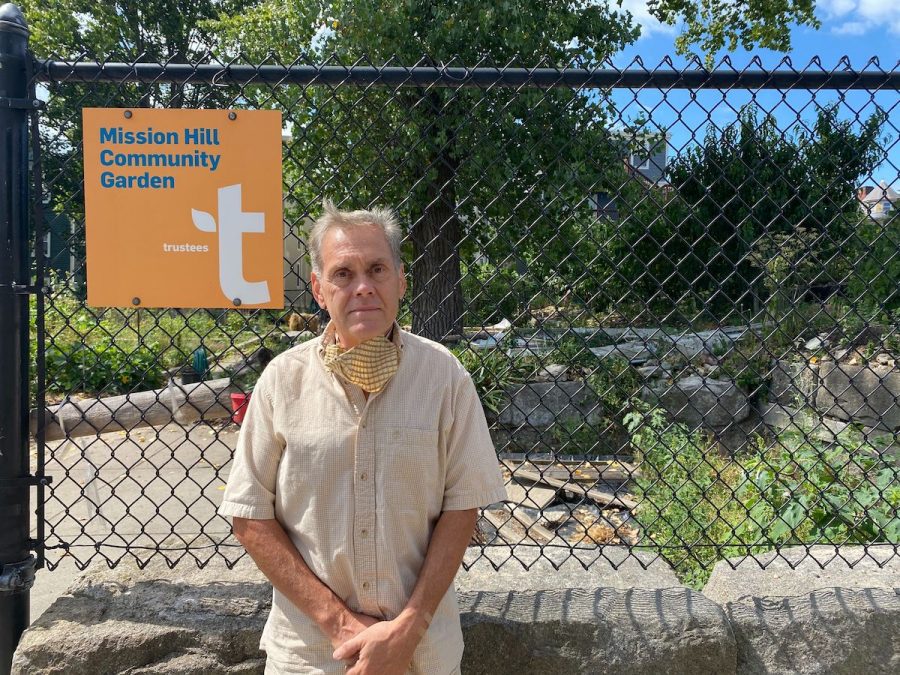 Suffolk County has a food insecurity rate of 11.9%, well above the state average of 8.9%, according to a 2018 report from Feeding America. The county's food insecurity rate in 2020 is projected to be 16.7% due to COVID-19.
Tikku said the 56 gardens in the Boston Community Gardens provide more than 1,500 plots yielding crops that could feed 10,000 to 15,000 people annually. 
"It gives the community the opportunity to garden when they wouldn't otherwise have it," said Bob Francey, coordinator for the community garden in Mission Hill. "Many of our gardeners live in apartments or houses that don't have good soil or good sunlight, or maybe access to water, or maybe their landlord just doesn't allow it." 
Francey has been a member of the garden for 15 years and is in charge of repairs and cleanups to ensure that the garden is kept without weeds and well tended for. He also answers questions from gardeners about proper gardening techniques or pest management. There are around 50 members in the garden as of late and Francey said there is a waiting list for when spaces are available.
Members who join the garden pay a yearly fee that covers water and maintenance. The gardens also get donations from local universities, businesses and developers.
"
"Some people grow vegetables, some people grow flowers, some people garden both. And some people garden just for exercise and camaraderie.
— Bob Francey
Each gardener, Francey said, is given some tools and a plot in the garden to plant what they wish. "Some people grow vegetables, some people grow flowers, some people garden both," he said. "And some people garden just for exercise and camaraderie."
Taking precautions for COVID-19, gardeners now wear masks and gloves and stay at a good distance when they are near someone else.  
Gardeners sometimes work together, help each other garden and share the crop among themselves. "We have extended families, or ethnic groups who tend to work together," Francey said. "And we have people who cross those socio-economic differences and just share. We have people who like to give things away to other gardeners and help them." Gardeners also donate extra vegetables to the nearby food pantry or to people in the neighborhood who need it.
Members of the community garden in Mission Hill also have bigger group projects. They have been planting fruit trees and working to keep the area between the public and the garden well manicured and full of flowers throughout the year. 
"The overall thing just adds a sense of beauty and harmony to the neighborhood just by having a yard," Francey said. "And [people] just love to smile and wave and comment about the garden or have a question or a suggestion. So it just makes for a pleasant neighborhood."
During this tough time when the world is going through a pandemic, Francey said he wants more people to know about the benefits of gardening, enjoying fresh air and a good exercise. "You get the sense of well being," he said. "And then the lovely things are that you can grow the fruit, the vegetables, very healthy, very delicious, much tastier than what you get in the supermarket."
"I think it's pretty good to know that what we're doing inspires other people so much that my neighbors have gotten together and are working with the city to open another community garden, about a block away from theirs," Francey said. "They've asked me to be on that committee as well. So I'm happy about it."
Even though maintaining the community space keeps him plenty busy, Francey has plans to improve the garden. With the help of other members, he is close to having a greenhouse that was donated to the Mission Hill community garden a couple of years ago installed. He is also thinking about bringing solar or wind power to the garden to help keep the greenhouse lit and extend the growing season. 
For residents who can't get a garden plot due to high demands, Director Tikku said the Boston Community Gardens provides free gardening workshops for people to learn to grow plants in their yards, patios or even window boxes.
"I want people to know that there exists this robust network of neighborhood open spaces in Boston that is powered by local residents and volunteers that is making our neighborhoods more livable," she said. "This network of open spaces is a vital part of Boston's efforts to combat climate change and empowers local communities to … create resilient cities."
"Always the people," replied Tikku when asked what gives her the motivation to keep doing the work at Boston Community Gardens. "I am an immigrant myself and the gardeners are a big part of my family here in Boston," she said. "Food is a common denominator for all of us. It brings us together in the most grounding manner, connecting us to each other and nature's elements: soil, water and air.